Red Meters LLC are the creators of disruptive measurement technologies used across multiple blue ocean markets and applications.
Its flagship product, the Red Meter, is best described as a process characterization device. Deployed in conjunction with process control methodologies, the Red Meter enables continuous, real-time, in-line measurement of critical media characteristics.
Driven by breakthrough technology, the device has a novel approach to safely measuring the process characteristics of any media on a continuous basis in various environments.
Process Characterization Device
An inline measurement instrument, the Red Meters' technology is based around its patented flexible cartridge. As material flows through the pipe, the cartridge deflects slightly under the weight of the media. This flexion or bend is minimal, think 1/60th of a piece of paper, minimal.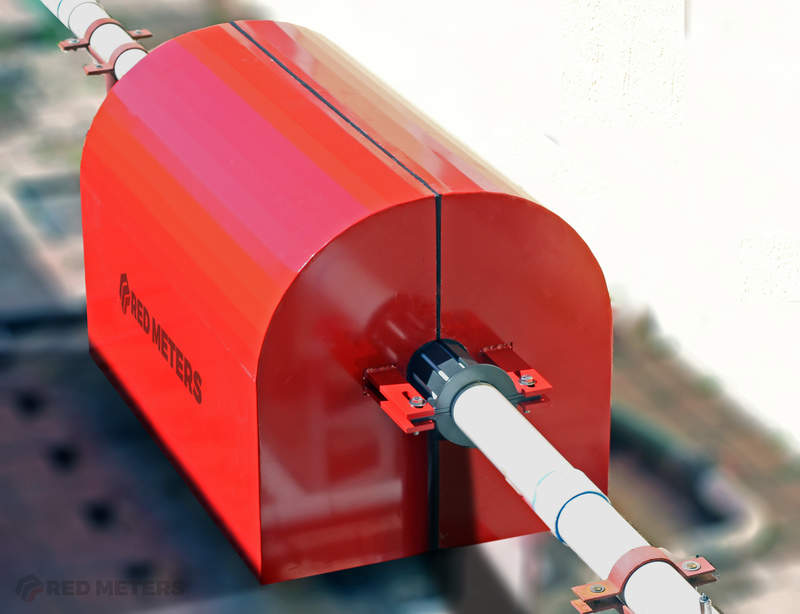 Red Meters provides real-time, precise density meters with unique features in the mining industry.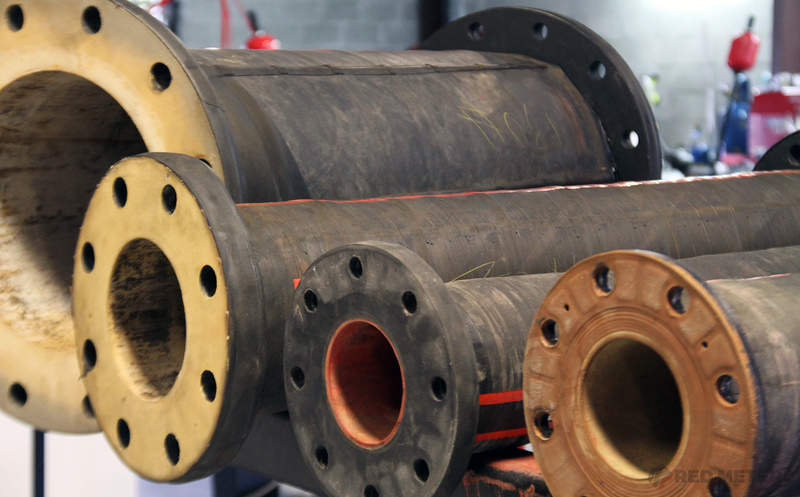 Built into the slurry channel pipeline, each RM series installation is customized for each project for diameters from 2in to 42in.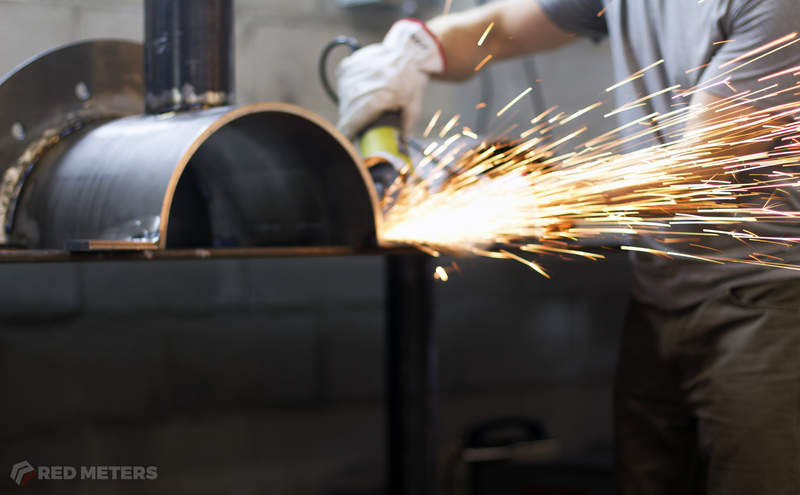 Each RM series configuration is designed and assembled by hand before entering production.
Our engineers work carefully to ensure that each meter is designed and assembled to exact specifications.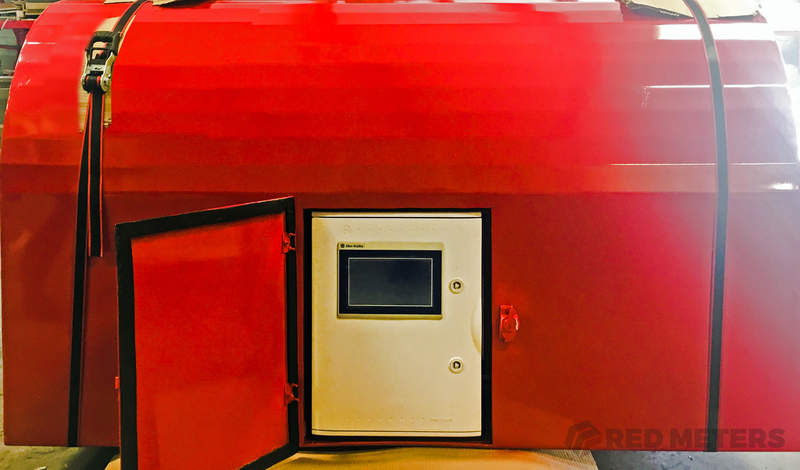 Red Meters' technology incorporates a customizable touchscreen built into the meter, with ethernet and Wi-Fi connection capabilities.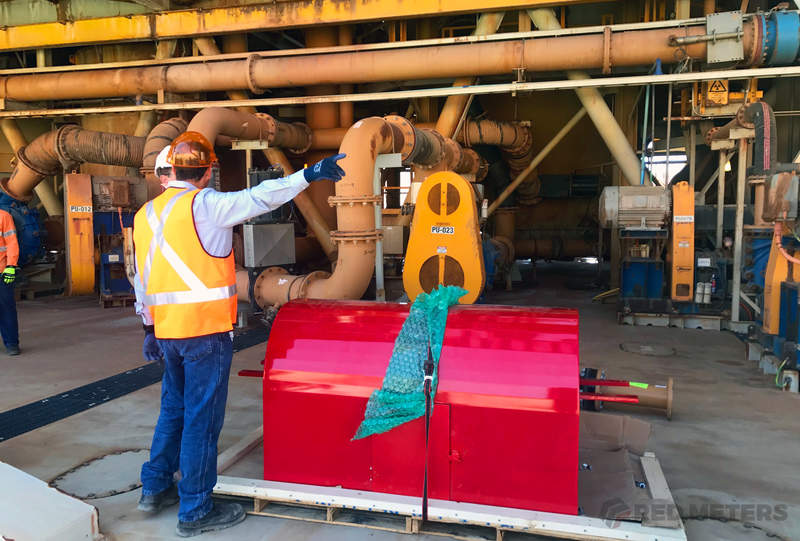 Red Meters engineers guide clients through installation to ensure everything is correctly fitted and functional.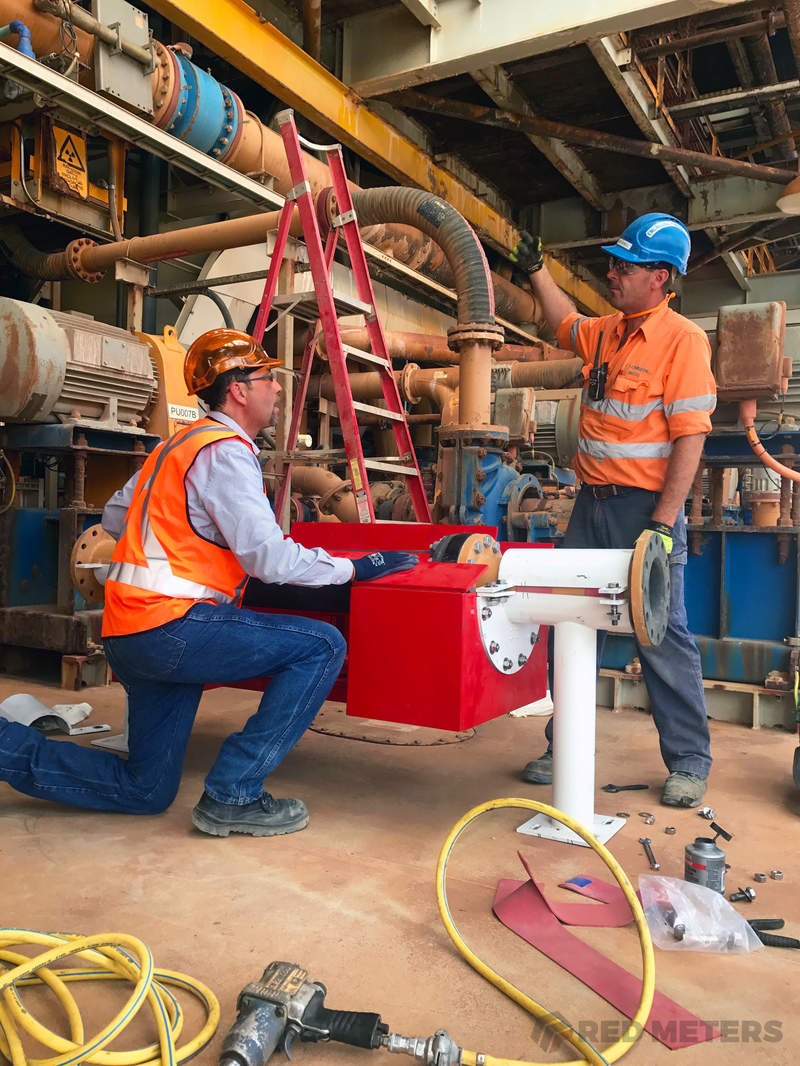 Each Red Meter is built with pipe supports to anchor in-line with the process without adding strain to the existing pipeline.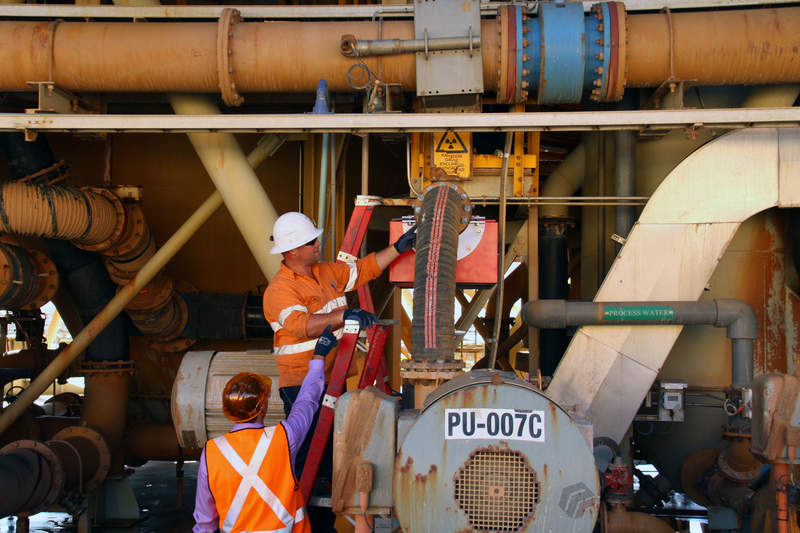 Red Meters removes any need for nuclear devices, eliminating costs from related licences, training, and personnel.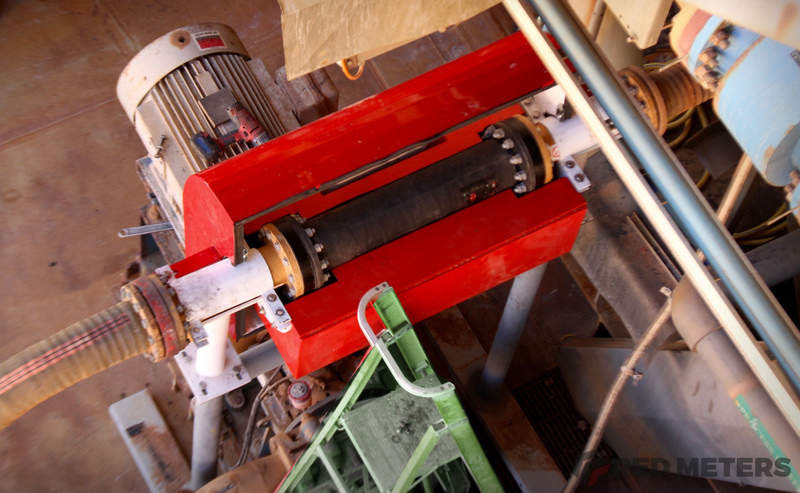 The compact size and weight of the RM series increases flexibility in determining installation location.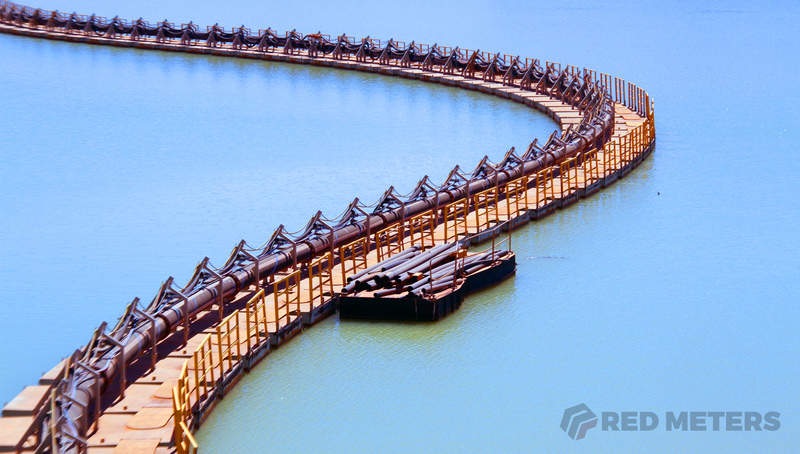 Red Meters enable real-time measurements in mining slurry.
A high precision laser is used to detect the displacement in the deflection of the cartridge. Acting as a scale, the measurement of deflection is equated to a measurement of mass. In a fixed volume, the change in mass is equated to the change in density. A variety of additional sensors measure pressure, temperature, wear and even velocity in the line to establish direct measurements of the essential variables that enable Statistical Process Control (SPC). The combination of these measured variables, allows the operator not only to truly measure their process but also accurately and efficiently make changes downstream and/or automate troubleshooting.
These measurements provide the first true process characterization device, allowing operators to capture the process 'signature' and to use as much or as little of the processing data to achieve their desired level of process control. For full details and specifications, please consult our Technical Specifications Datasheet.
Non-Nuclear Slurry Density Meter
A Red Meter can be used as a replacement for multiple measurement instruments throughout industrial processes. However, it's most common role is as a non-nuclear slurry density meter for both wet and dry slurries.
Extensive testing has been conducted comparing the Red Meter to legacy instruments such as nuclear density gauges or Coriolis meters. Further information on these tests along with detailed data can be downloaded to the right of this page.
As an overview, through these tests, the Red Meter proved to be a superior alternative to measuring density thanks to the following characteristics.
Measures entire volume of material
Does not obstruct or redirect flow
Does not induce a pressure change
No regulatory restrictions and no safety concerns
Evaluates liquids, slurries and dry bulk
Material process characteristics
Operates at any flow rate in any direction
Accommodates chemically and physically aggressive media
Is not restricted by density magnitude changes
May be manufactured for NSF/FDA compliance
Low maintenance device which integrates into existing system
Compensation for changes in temperature, pressure and vibration
Red Meter Process Signature
The Red Meter produces a unique 'Process Signature' or Red Meter Signature when deployed in any continuous liquid, slurry or dry bulk media pipeline or conduit. Using advanced artificial intelligence and machine learning capabilities, the unit enables the instantaneous interpretation of the Red Meters Signature. This process information and interpretation can be presented instantaneously on a built-in display, or delivered to a remote location using 4-20mA, HART, Modbus or any other standard industry communication protocol.
Further utilizing advanced machine learning techniques, accurate interpretation of the Process Signature may provide additional useful information, such as 'sticky' valves, slow actuators, leakage, media flocculation, process anomalies, gas entrapment, process kicks etc. and may alert the operator to take corrective action to avoid process or production issues or interruptions should any anomalies be detected.
Disruptive Industrial Measurement Technology
The Red Meter process characterization device is only the beginning. To fulfill its mission of disrupting industrial measurement, Red Meters will be releasing a single unit mass flow density meter, as well as a vehicle-mounted truck meter in the coming months.