Red Meters
Real-time Density Meter Solutions for Mining Environments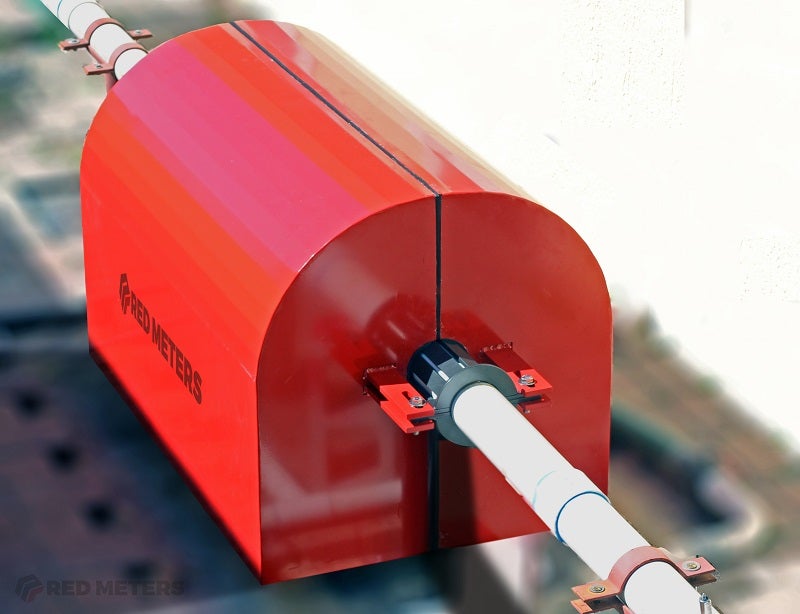 Red Meters provides non-nuclear density gauges for slurry measurement requirements and specializes in real-time exact density measurement, using non-intrusive and non-nuclear technology.
The Red Meter (RM) series is used in a wide range of industries, including mining, wastewater treatment, pulp and paper, oil and gas, food, and petrochemical processing.
Density meters for mine sites
The RM3 Series is an in-line, continuous density meter that calculates and measures direct mass over a known volume within a flow tube.
A gamma-free, highly accurate density meter poised to transform density measurement in the mining industry, the RM3 is a safer and more cost-effective alternative to nuclear techniques within any slurry processing operation.
The RM series is designed to fit pipe sizes from 2in into 60in (50mm to 1,524mm), and offers density calculations that improves accuracy, value and environmental viability.
Durable, tailored slurry measurement units
Each customised RM comes with an insulated housing to shield the cartridge and laser from changes in ambient temperature and weather. The case is designed with a polished, curved top to minimise any build-up from dust, snow or other surrounding elements to shield against any potential damage.
The density meter measures abrasive media due to its highly resilient, purpose-built flow tube with options for high-pressure and extreme temperature applications.
All RM units are equipped with alarms in the event of suspicious changes in pressure (signs of pipe leaks) or significant wear of the replaceable in-line cartridge.
Accurate density data management capabilities
Raw data is channelled through an easy-to-read 7in touchscreen human machine interface (HMI). A high-tech algorithm translates the data to compensate for temperature, pressure, and vibration, as well as displays figures onto the HMI screen.
Users can choose which figures are displayed such as density, pressure, percent solids and totalized mass, and the output can be set to graph figures for easier review. Each HMI can be connected via ethernet or wirelessly to the main server for data transfer.
Each RM offers a wide range of benefits to the mining sector, including:
Accurate measurement of percent solids after comminuting the ore
Precise measurement of the slurry during chemical mineral processing, enabling more minerals to be extracted from tailings that would otherwise be lost
A clear history of the frothing separation process
A controlled sludge activation during sludge thickening
An understanding the composition of water being treated
About Red Meters
Red Meters is traceable to National Institute of Standards and Technology (NIST), American Society for Testing and Materials (ASTM), and International Organization of Legal Metrology (OIML) standards.
The company works closely with experienced engineers and scientists to develop, patent, and produce a technically advanced, easy-to-use, environment-friendly density measurement system.
Press Release
Last week, Red Meters unveiled a brand new social media persona, complete with new profiles.
Read more
Red Meters, the trailblazer in real-time, full-volume density measurement technology, has launched its completely redesigned website.
Read more