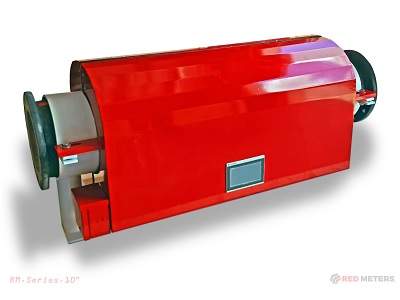 Red Meters density measurement systems deliver real-time exact density measurement, providing accurate, repeatable data for slurries, liquids and powders.
Built into a process pipeline, the scalable, abrasion-resistant system can accommodate nearly any material and pipe diameter with low maintenance, no obstructions and no process interruptions. A Class 2 industrial laser measures microscopic flexes in the RM4 Series cartridge as material passes through, performing 20 readings a second with +/-0.25% accuracy of reading. Red Meters' customer-tailored algorithms account for temperature, pressure, and vibration before displaying density, percent solids, pressure, totalized mass, and more to an integrated Human Machine Interface (HMI).
Live and archived data can be accessed anytime via ethernet, Modbus, 4-20mA or Wi-Fi. Designed for process control and automation, data parameters can be used to set alerts for unusual changes in temperature, pressure, etc.
The RM Series is the only density meter certified by NIST, OIML, and ASTM.