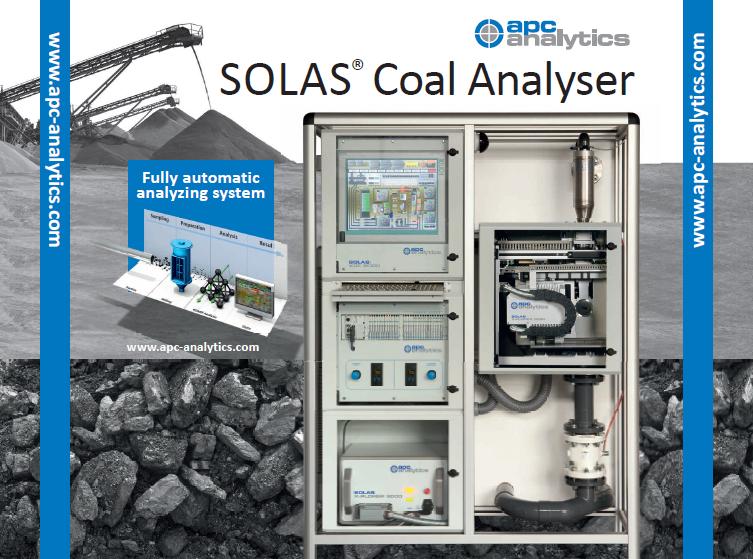 APC Analytics' products are based on a well-proven technology, more than 25 years of experience and innovative ideas. The equipment designed and produced by APC Analytics, which is used in the mining and mineral processing industries as well as in thermal power plants, works absolutely reliably even under rough conditions.
All products have successfully stood their tests under the rough conditions in open-cast lignite mines and in power plants 24 hours a day and seven days a week.
APC Analytics' SOLAS system with its patented sampling technology as introduced as well as various additional components open up a wide field to analyse bulk materials like coal, lignite, ore, cement.
SOLAS has already been used for more than 15 years:
in the lignite/coal industry in several mines all over Europe
in nearly all lignite-fired power plants in Germany
in the world's largest iron ore mine in Brazil
SOLAS® online analyser: a fully automated sampling and analysing system
SOLAS is a fully automated sampling and analysing system for the rapid determination of the chemical elemental composition of bulk goods. Typical installations sites in mines, mineral industry, cement plant and power stations industry are conveyor transfers, crushers, loading stations etc.
SOLAS can work as a standalone system and together with additional (or already installed) sampling and preparation systems.
The smart sample transport system of SOLAS will make it possible to take samples from different sampling points and convey them to the analytical unit of SOLAS. There are applications, with plants of up to six sampling points up to maximum distance 50m being implemented so far.
The energy dispersive X-ray analyser X-PLORER 9000 (EDXRF) speedily and simultaneously analyses chemical elements, including aluminum and uranium. Other parameters and variables can be calculated on the basis of the element content such as the calorific value of lignite/coal, the sulphur and ash contents, as well as the composition of the ash.
Detection limits of common elements (lignite/coal)
Al: 100ppm / Si: 80ppm / S: 50ppm / K: <50ppm
Ca: <50ppm/ Ti: <50ppm/ Mn: <50ppm/ Fe: <50ppm
Please use the form below to send us your business enquiry.
Sample preparation for lignite, coal, ore: hammer mills, turbo mills
APC Analytics' products include hammer mills, turbo mills, conventional sampling systems to prepare bulk materials like coal, lignite, ore, cement.
Actually there are two sizes of hammer mills available. The HAMILL 4000 has been designed for a mass flow of approx. 4t/h and a grain size of less than 10mm, while the HAMILL 250 has been designed for a mass flow of 250kg/h and a grains size of less than 2mm.
A new large hammer mill for input grain size 300mm and output grain size of less than 50mm is in the pipeline. Other variants of this hammer mill can be designed according to the customer's specifications.
The turbo mill Airmill 6000 with its special milling technique will comminute the material in the air stream to powder, i.e. to an average grain size of approx. 50µm (median value) in the case of lignite, depending on the field of application and the design.
Conventional sampling systems for lignite, coal, ore
In order to sample large mass flows continuously, the installation of a stake box (rod box) is suggested. Here, the samples will drop at a transfer point onto the stake (or rod) box which only takes off a part stream of the material conveyed (or a partial fraction of it). The stake or rod box can be designed flexibly, so as to be able to clear up blockages or to stop the sampling process (e.g. during the overburden production in open-cast lignite mines).
APC Analytics offers hammer-type samplers for various conveyor belt dimensions and sample sizes to fans of classic sampling techniques.
KOLA: a fully automatic sample conditioner and analyzer including SOLAS
KOLA is the combination of SOLAS with sample preparation machines. The components are usually mounted in two equal modules.
The module with the preparation unit contains: (in the order of material flow):
Hamilll 4000/screw conveyor/Hamill 250
The module with the analysing unit contains:
The bulk good has to be conveyed to the top of the module with the preparation unit. Depending on the local situation there is a conventional sampling system or a sample splitting device necessary.
Additional hardware to prepare and analyse bulk materials
APC Analytics offers conveying equipment (belt conveyor, screw conveyor, troughed chain conveyor etc.) for the transportation of bulk materials.
APC Analytics offers additional modules for KOLA / SOLAS to provide or analyse laboratory samples.
It is possible to install a sampling system to a combination KOLA for establishing mean sample values in a shift.
Facts:
Sample grain size less than 2mm
Samples are automatically filled in a bin to be retained or can be made available for further laboratory tests
Laboratory samples can be stored and automatically fed into the pneumatically operated sample transport system SOLAS with the automatic sample feeder ADOP.
Facts:
RFID reader, so that the samples cannot get mixed up
Amount of sample bins to be analysed can be defined according to the customer's specifications
APC Analytics engineering services
Solutions for analytical tasks and consulting
Solutions for sampling and sample processing and consulting
Automation engineering (Siemens S7, visualisation WinCC)
Planning and manufacturing switching cabinets (cubicles)
Planning and manufacturing steel structures (platforms, conveying equipment, conventional samplers)
Project execution
Steel construction
APC Analytics develops and manufactures sampling, sample processing and analyzing equipment for industrial use.
With an ore body 4km-long, 80m-thick and reaching a depth of 2km, LKAB's Kiruna is the world's largest, most modern underground iron ore mine located in northern Sweden.
The Rhenish (Rhineland) lignite-mining region covers a 2,500km² area to the west of Cologne.
apc analytics develops and manufactures sampling, sample processing and analyzing equipment for industrial use.
APC Analytics GmbH
Dipl.-Ing. Stefan Brauer
Daimlerstrasse 17
DE-61449 Steinbach(Ts.)
Germany