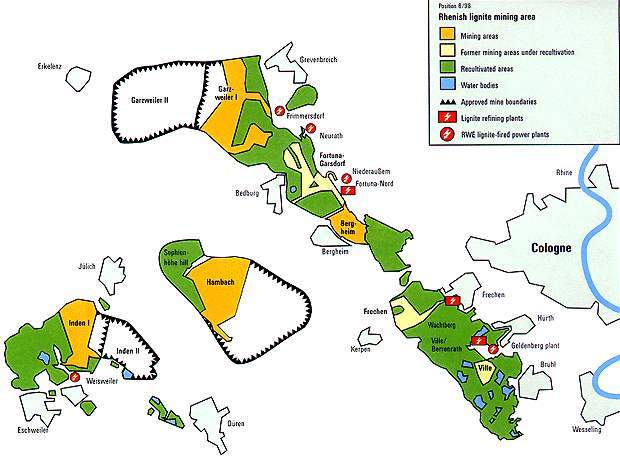 Map of the Rhineland lignite basin.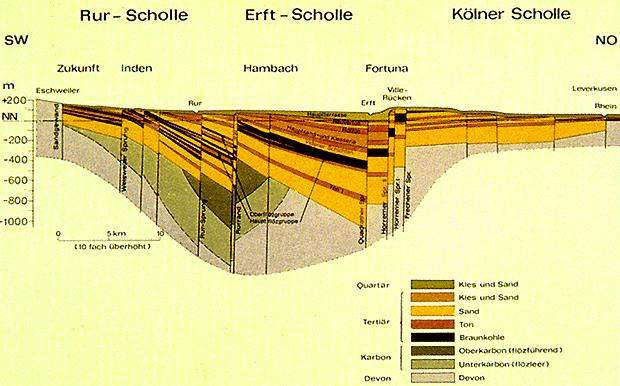 Geological section.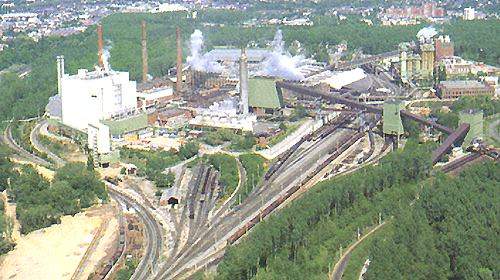 One of RWE Power's lignite refining plants.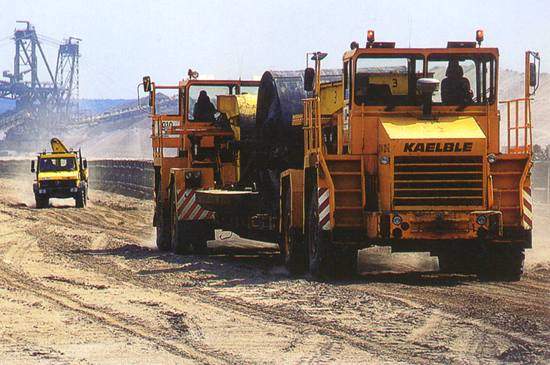 Moving rolls of conveyor belting requires specialist vehicles.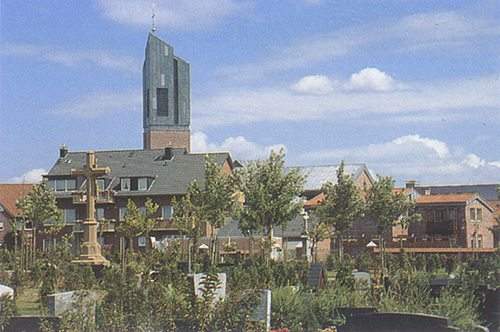 The resettled community of Garzweiler, one of several developed by RWE Power.
The Rhenish (Rhineland) lignite-mining region covers a 2,500km² area to the west of Cologne.
RWE Power AG, which was created during 2003 by the merger of RWE Rheinbraun with other RWE interests, operates four large opencast mines in the district – Hambach, Garzweiler, Inden and Bergheim – which between them produced 96.2Mt of lignite in 2006.
The plan is to maintain output at around 100Mt/y for the foreseeable future. The new Garzweiler II mine will replace capacity from Bergheim and Garzweiler, which are nearly worked out. Employment totalled 11,200 at the end of 2004, of whom 8,200 worked directly in the company's mining operations.
Geology and resources
Miocene (26–6Ma) age lignites are overlain by more recent clays, sands and gravels. Lignite deposits extend to a depth of around 500m, while overburden thicknesses can be to up to 300m.
Reserves of surface-mineable lignite are estimated to be 35,000Mt, of which 4,600Mt are contained in current areas planned for mining. Garzweiler II alone contains 1,300Mt.
Lignite quality and usage
Quality parameters for the Rhineland lignites are:
Heating value: 7.8 to 10.5MJ/kg
Ash: 1.5–8.0%
Moisture: 50–60%
Sulphur: 0.15–0.50%
History of mining
Mechanised lignite mining began in the 1890s, the first bucket-wheel excavator was commissioned in 1933 and, by 1940, output was over 60Mt/y from 23 surface mines. The 15 operating companies were amalgamated into Rheinbraun in 1959. Current plans are for three huge mines, Hambach, Garzweiler and Inden, giving a total capacity of 120Mt/y of lignite if required.
Open-pit mining
Central to the overburden stripping and lignite mining are Rheinbraun's fleet of 22 bucket-wheel excavators. The seven largest, manufactured to Rheinbraun's design by companies such as Krupp, O&K and MAN Takraf, weigh some 13,000t and can handle up to 240,000m³/d of overburden.
Overburden removal is followed by mining the uppermost lignite seam, then inter burden to uncover further lignite seams. The average stripping ratio is around 4.9m³ of overburden for each tonne of lignite produced.
Rheinbraun operates 266km of conveyors and 300km of rail track for handling both overburden and lignite. Its fleet of 19 stackers replaces the overburden either into surface dumps or sequentially into worked-out areas of the open casts for landscape rehabilitation. The mines are currently working at depths of up to 350m and will reach 500m in the future.
Production
Rheinbraun's production for the period 1995-2004 was:
2002: 99.4: 456.2
2003: 97.5: 463.2
2004: 100.3: 454.5
2005: 97.3: 454.5
2006: 96.2: 415.8
[Year: Lignite (Mt): Waste (Mm³)]
Power generation
Rheinbraun's mines provide fuel for five power stations operated by RWE Energie AG, with a combined capacity of 10,289MW.
Taking German lignite production as a whole, some 97% of the country's total output was used for electricity generation in 2003, with the remainder being used to produce briquettes, pulverised lignite, fluidised-bed fuel and lignite coke.
Dewatering
Because of their depth below ground level, the Rhineland mines require extensive dewatering. Rheinbraun has developed sophisticated dewatering programmes that can handle up to 1,200Mmm³/y of groundwater without affecting neighbouring communities' water supplies. The company also has extensive flood control systems, aimed both at preventing in-pit flooding during heavy rain, and stopping dirty water from the mines from entering local watercourses.
Reclamation and resettlement
Rheinbraun carries out immediate reclamation of both outside waste dumps and mined-out areas of the open pits as part of its normal operations. Previously mined areas have been returned to farmland and for recreational use. To date, over 170km³ have been recultivated.
The scale of operations means that entire communities have had to be resettled into new villages. Since 1948, some 30,000 people have been moved, comprising around 70% of the entire population affected by the operations' progress.