With more than 120 years of experience in the distribution and processing of steel and as specialist dealers in abrasion resistant steel 'wear' plates and high strength quenched and tempered steel plates, Brown McFarlane is a leading supplier of steel plates and cut pieces to the world's mining, quarrying, tunneling, and mineral extraction industries.
The company's customer base includes original equipment manufacturers (OEMs) in mining and excavating equipment and yellow goods, as well as producers of ancillary equipment like excavator components and steel fabricators. Typical applications for abrasion resistant steel and high-strength quenched and tempered steel include truck bodies, crushing equipment, conveyors, cranes, vehicle chassis, bucket edges and sides and excavator buckets.
Brown McFarlane's product range is so comprehensive that you are advised to visit the company's website for full details.
Abrasion resistant steel plates and wear plates for mining applications
Brown McFarlane's abrasion resistant wear plate range is largely manufactured by Tata Steel in the UK under the brand name: Abrazo. The brand is well-known across the globe for combining hardness and wear-resistance with ease of fabrication and welding. Brown McFarlane also holds stocks of other proprietary brands of abrasion resistant steel manufactured by first-class manufacturers.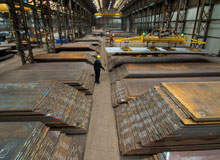 The company's abrasion resistant wear plates are supplied in three different levels of abrasion resistance with hardness levels of 400 Brinell, 450 Brinell and 500 Brinell and are available in the following dimensions:
3mm to 150mm thick
1,500mm to 3,000mm wide
2,000mm to 12,000mm long
High strength quenched and tempered steel plates
Quenched and tempered structural steel plates offer the considerable advantage of providing high strength while offering weight reductions in steel fabrications.
Brown McFarlane supply a range of sophisticated strong, low alloy steel plates from leading Western European producers. These steel plates are often used in the manufacture of cranes, forklift trucks, mining and quarrying equipment, and vehicle chassis to name but a few applications.
The company boasts one of the largest ranges of high strength quenched and tempered steel plates in Europe with material available with minimum yield strengths of 690 MPa, 890 MPa, and 960 MPa.
Plates are available from 3mm to 200mm in thickness, from 2,000mm to 3,000mm in width, and up to 12,000mm in length. Specifications available include EN10025 S690QL, S890QL, S960QL, as well as RQT 701 and RQT 901 (from Tata Steel).
Steel plate processing – cut pieces and components
Brown McFarlane is not only a supplier of abrasion resistant steel and high strength quenched and tempered steel to the mining industry in plate form, but also has comprehensive facilities to process steel plates. This processing involves cutting (through plasma, laser, and water jet technology), bending and machining. In this way steel plate products can be supplied as pre-cut components, saving time and money for the fabricator or manufacturer. Examples include liner kits for dumper truck bodies and "ready to weld" sets of components for making excavator buckets.
Abrasion resistant and quenched and tempered steel from stock or direct from the steel maker
Brown McFarlane has operations in the UK, Belgium, the United Arab Emirates (Dubai), Singapore and China, bringing the company closer to its international customer base.
Wear plate and quenched and tempered steel products can be supplied to any location in the world using the company's international logistics organisation. Steel plates can be supplied directly from stock or manufactured to order with ex-works delivery times as short as two weeks and with no minimum quantity requirements.
Steel plate experts
The expertise of our team of sales engineers is unrivalled in the steel plate industry and their knowledge can assist our clients in selecting the most cost-effective route for their requirements. Many of the team are mechanical engineers and can assist the customer in design and subsequent fabrication of the component or plate that may be required.
When specialist steel is supplied to the mining and quarrying industries robust quality systems are imperative. Brown McFarlane's quality systems are ISO 9001 accredited and every plate sold is uniquely identified by its own piece number allowing full traceability.
In addition, Brown McFarlane is accredited to ISO 14001 for environmental policy procedures and ISO 18001 for health and safety. The company implements a process of continuous improvement to ensure that its quality systems are permanently being appraised and upgraded.