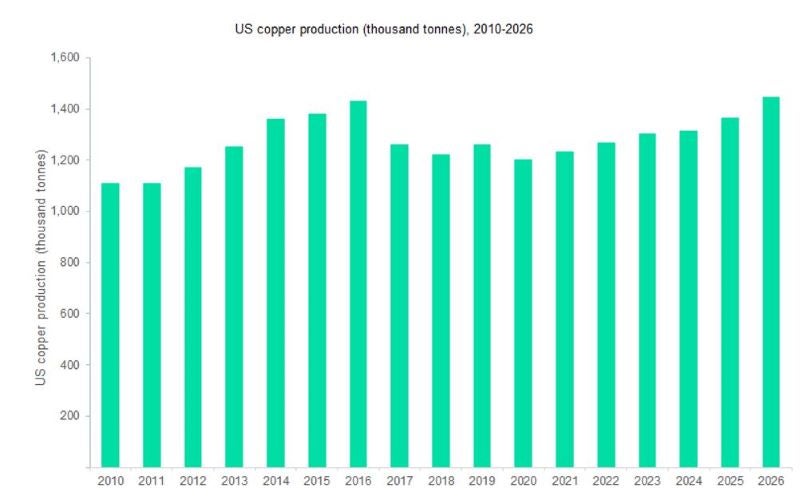 The US is the world's fifth-largest copper producer, with the world's sixth largest copper reserves at 48 million tonnes (Mt). After a decline of 4.8% in 2020, US copper production recovered by 2.5%, to 1,230 thousand tonnes (kt) in 2021, mainly supported by rising output from the country's major producers, Freeport-McMoRan Inc and Rio Tinto. Together, these two accounted for 66.8% of the total production with 821.6kt copper in 2021, up from 783.2kt in the previous year.
Copper production from Freeport-McMoRan, which accounted for 53.8% of the country's total production, grew by 3%, mainly due to production ramp-up from the Lone Star mine, which started operations in 2020, as well as the resumption of operations at the Chino mine, which operated at 50% of its employee capacity in 2021. Meanwhile, copper production at Rio Tinto's US operations rose by 13.9% to 159.4kt in 2021, owing to higher grades and recovery.
Looking ahead, production is forecast to grow by 3.0% to 1,267.4kt in 2022, with higher production anticipated from Freeport-McMoRan's Safford, Lone Star, and Bagdad mines. Over the forecast period from 2022 to 2026, spurred by rising demand and prices, production is forecast to grow at a CAGR of 3.3% to reach 1,445.6kt in 2026. This will be due to a number of upcoming projects which are expected to become operational and ramp up over this period. There are 19 copper projects which are currently under development and together have the potential to add 490kt of copper production capacity. The South Wall Pushback, Moonlight, Cumo, White Pine North, and Pickett Mountain projects are amongst the major ones which are expected to be operational in the next three years and will have a collective 278kt of copper production capacity.