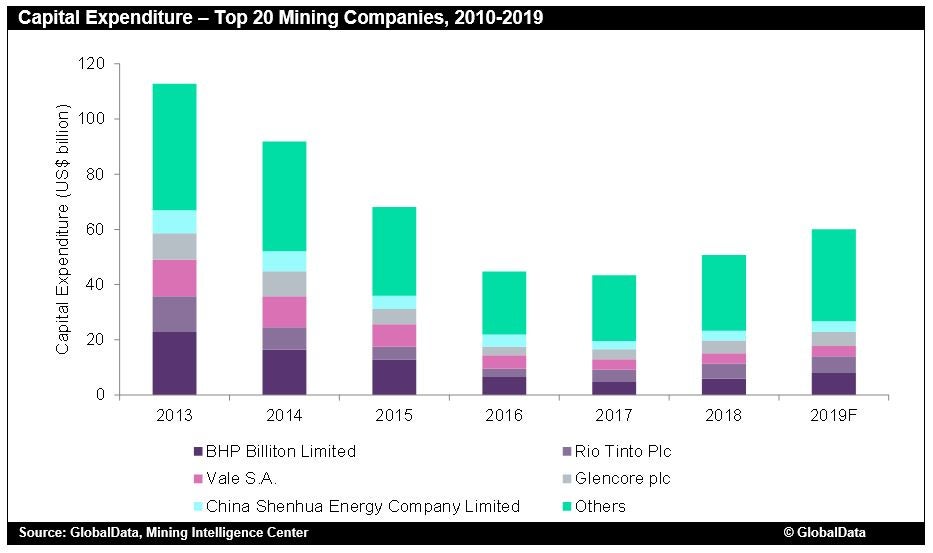 After an average annual decline of 16.6% from 2013 to 2017, total capital expenditure of the world's 20 leading mining companies recovered by 16.9%, to reach $50.7 billion in 2018.
Based on the latest announcements, it is expected to rise further, by 18.4% in 2019 as the mining sector continues to recover from the slump earlier in the decade.
The increase is being led by BHP Billiton, which is planning to spend around US$8 billion in each of the 2019 and 2020 and has some major projects in development including the South Flank project in Australia and Jansen Potash project in Canada.
These projects collectively represent total capital expenditure of $10.6bn, of which 77.6% will be utilised for mining projects and 22.4% for oil and gas projects such as Mad Dog phase two (BP's development in the Gulf of Mexico).
It is being followed by Rio Tinto Plc, which is predicted to spend around $6bn and $6.5bn in 2019 and 2020 respectively.
Rio Tinto has a number of ongoing projects, which include development of the West Angelas and Robe Valley operations in Western Australia, incorporation of an iron ore processing plant and infrastructure in the Pilbara region in Western Australia, and expansion of the capacity of the Compagnie des Bauxites de Guinée bauxite mine from 14.5 to 18.5 million tonnes.
Other major projects include Vale's $1bn worth expansion of Salobo copper mine in Brazil and construction of an open pit and processing plant worth $1.6 bn at Chitra mines by MMC Norilsk Nickel to utilise the untapped reserves. Glencore plc has also several brownfield projects, which will constitute average expansionary capital expenditure of $1.2 bn over the years 2019-2021.
In 2019, the overall capex of these mining companies is expected to reach $60bn, of which BHP Billiton Limited's share will be 13.3% and Rio Tinto's (10.0%). They will be followed by Glencore plc (8.3%), China Shenhua Energy Company Limited (6.6%) and Vale S.A. (6.3%).