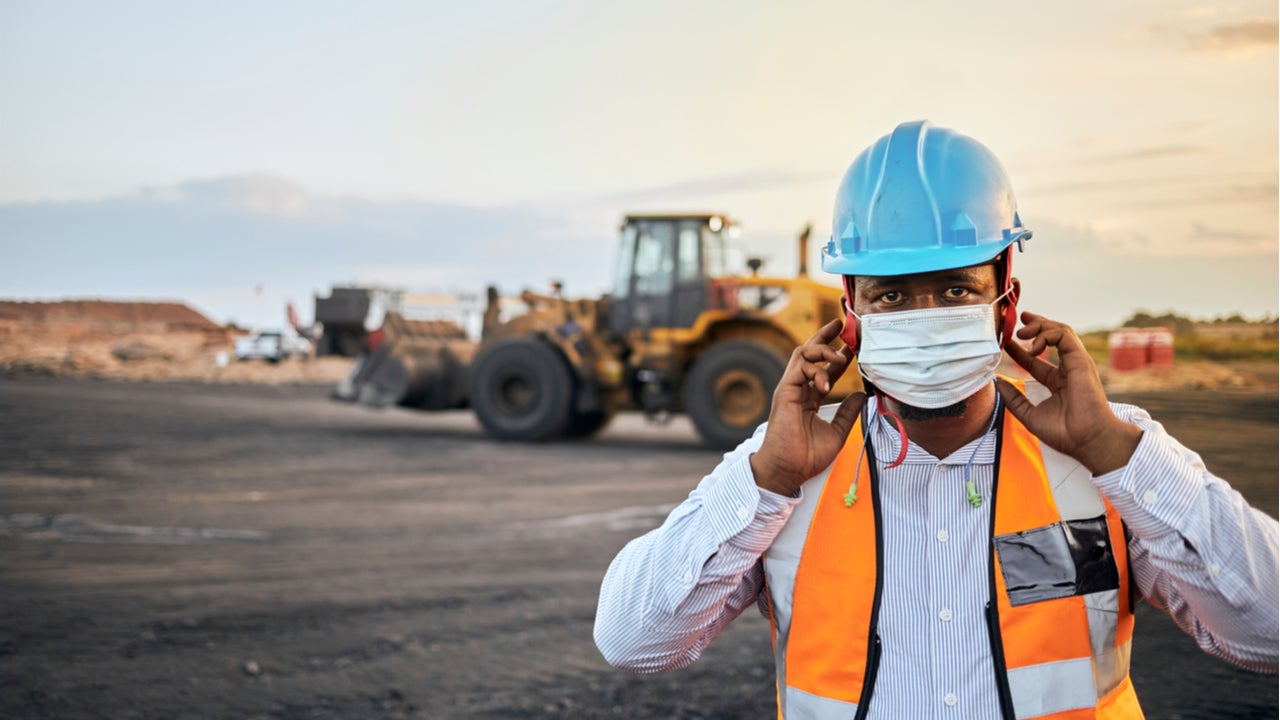 The top tweets were chosen from influencers as tracked by GlobalData's Influencer Platform, which is based on a scientific process that works on pre-defined parameters. Influencers are selected after a deep analysis of the influencer's relevance, network strength, engagement, and leading discussions on new and emerging trends.
The most popular tweets on mining in Q2 2021: Top five
ICMM's tweet on the mining industry's role in building community resilience amid Covid-19
The International Council on Mining and Metals (ICMM), an international organisation responsible for developing safe, sustainable, and fair mining practices in the industry, shared a report detailing how the mining industry can help communities recover from the crisis induced by the pandemic. The report, titled "Community resilience during and after Covid-19: What role for the mining industry", discusses how the mining industry focuses more on resilience factors that strengthen the industry, such as local engagement and community health.
Factors such as development of social networks, improvement of communication infrastructure and promotion of leadership skills within the community are often ignored. The mining industry can contribute in a positive way to the community by focusing on these factors, the report adds. Developing social and cultural networks, for example, can help in improving relationships between individuals and different communities. Similarly, company health and safety resources can be readily made available to local health providers to maintain the overall physical and mental health of a community.
Working with Voconiq's @kierenmoffat, ICMM is examining the role the mining industry can play in building community #resilience and accelerating #development, both during and after COVID-19.

Learn more about this key part of our #skills initiative here: https://t.co/HWLNiSISxe pic.twitter.com/PEsSi8rgnG

— ICMM (@ICMM_com) April 8, 2021
Username: ICMM
Twitter handle: @ICMM_com
Likes: 856
Retweets: 49
2. Anglo American's tweet on measures taken to protect its workforce from Covid-19
Anglo American, a UK-based mining company, shared the steps the company has taken to tackle coronavirus at the workplace. The prime objective of the measures taken by the company was to check the spread of the virus while ensuring a smooth workflow across the business. The company implemented a health awareness programme called WeCare that safeguards the health of more than 90,000 employees working across its branches worldwide from Covid-19. Employees and workers were made aware of the measures to protect and prevent infection, monitor early symptoms, and safeguard their health upon testing positive for Covid, as part of the programme.
Anglo American also designed a Community Response Plan (CRP), which works as a guide for site teams regarding the initiatives that need to be taken to support the employees and contractors in case of an outbreak.
Accountability is one of Anglo American's key company values. That's why we're working to to make sure that no one contracts coronavirus at work, a risk that greatly reduces as more people get vaccinated. Learn more here: https://t.co/syvnVdzrWL pic.twitter.com/h4Ap2fPOpH

— Anglo American (@AngloAmerican) May 25, 2021
Username: Anglo American
Twitter handle: @AngloAmerican
Likes: 382
Retweets: 23
3. Shereen Bhan's tweet on the challenges of using industrial oxygen for medical purposes
Shereen Bhan, managing editor at CNBC-TV18, a digital platform offering the latest news and information on finance, business and other sectors, shared an interview of TV Narendran, the CEO of Tata Steel, who shed light on the measures taken by India Inc to manage the shortfall of oxygen supply during the second Covid-19 wave in the country.
The Indian government had instructed that all industrial oxygen should be directed for medical purposes. Narendran detailed how steel industries have captive oxygen plants that produce oxygen for use in the manufacturing of steel. The oxygen plants are designed to produce oxygen in the gaseous form whereas liquid oxygen is needed for medical purposes.
Steel companies store only a fraction of the oxygen in liquid form as a buffer, which was being supplied for medical purposes. Transportation bottlenecks and supply chain constraints are the main hindrances to ensuring a steady flow of oxygen supply to hospitals. The shortage of cryogenic containers is another constraint, which companies such as Tata Steel were addressing by importing containers.
Tata Steel Ceo TV Narendran explains the challenges of using industrial oxygen for medical use. The biggest bottleneck is the shortage of cryogenic containers. Tatas hope to import 38 by month end. Good perspective on ground reality #OxygenShortage #CovidIndia @CNBCTV18Live https://t.co/OIrTYTJDzl

— Shereen Bhan (@ShereenBhan) April 22, 2021
Username: Shereen Bhan
Twitter handle: @ShereenBhan
Likes: 162
Retweets: 50
4. Amy Maxmen's tweet on the hypothesis that coronavirus leaked from a lab
Amy Maxmen, a news reporter at weekly science journal Nature, shared an article that examined whether coronavirus emerged from a lab in China. The origin of SARS-CoV-2 is unclear to date although majority of the scientists have opined that it is of natural origin. A hypothesis that the virus might have leaked from the Wuhan Institute of Virology (WIV), however, is getting increased attention.
Some scientists believe that SARS-CoV-2 might have originated from coronaviruses discovered in an unused mine from where researchers collected samples from bats between 2012 and 2015. Several miners reported being sick from an unknown respiratory disease during the period, although the cause was later found to be different from Covid-19. The US has demanded a full investigation into the theory of coronavirus leaking from WIV, but China has not agreed to such investigations.
If you want to read more about Baltimore's not-so smoking gun, the location of WIV in Wuhan, the coronaviruses found in mines, the lack of evidence on Covid's origins and more…

I wrote this explainer for you. https://t.co/SIEqQhbYXo

— Amy Maxmen, PhD (@amymaxmen) June 9, 2021
Username: Amy Maxmen, PhD
Twitter handle: @amymaxmen
Likes: 140
Retweets: 47
5. London Mining Network's tweet on the Latin American mining industry during Covid-19
London Mining Network, an alliance of various human rights, environment, and solidarity groups, shared a report on the response of the Latin American mining industry during Covid-19. The report prepared by the Observatory of Mining Conflicts in Latin America (OCMAL) examines the measures implemented by the countries in Latin America to contain the coronavirus pandemic. It also examines the response of the communities on how the governments handled the pandemic.
Some countries allow restricted operations in the mining sector, while others declare mining as an essential sector. Bolivia, for example, suspended all mining activities between March and April 2020, while Honduras imposed a total ban on mining. Argentina and Brazil, however, declared mining as an essential activity and allowed operations to continue during the pandemic. The report found that majority of the governments in Latin America promoted mining during the pandemic, which led to increased investments in the sector.
Mining and COVID-19 in Latin America: communities have strengthened their organization during the Pandemic to protect themselves from the impact of mining. Read the @conflictominero report on the impact of mining in Latin America https://t.co/lwmMEmIh6B pic.twitter.com/iFuqEdDOLJ

— London Mining Network (@londonmining) April 20, 2021
Username: London Mining Network
Twitter handle: @londonmining
Likes: 23
Retweets: 14