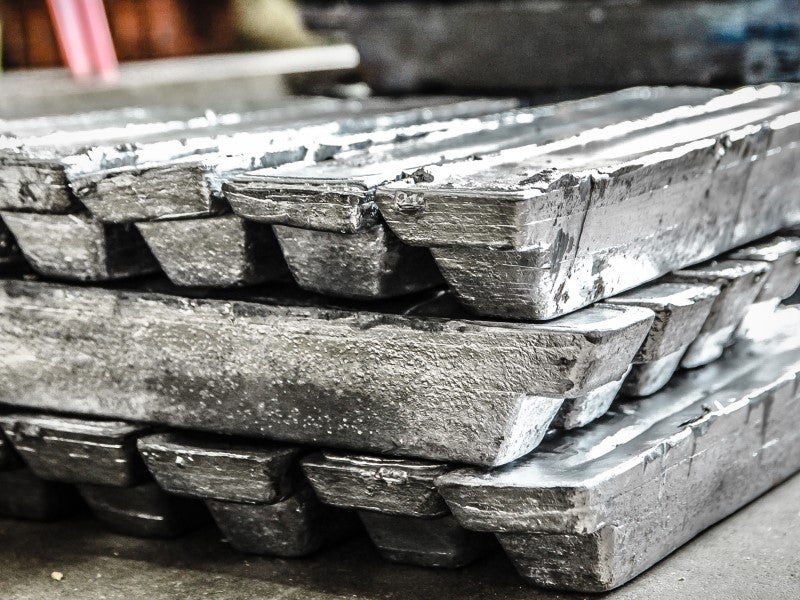 After registering an estimated 5% decline in 2020 to 4,482.0kt, global lead production is forecast to recover by 4.6% to reach 4,690.3kt in 2021. Increased output from mines in China (+3.3%) and Peru (+9.9%), as well as rising production from mines returning to the pre-COVID levels, will be the key contributors to global production growth.
The temporary suspension of several mines, including the Raura, Uchucchacua, Milpo No.1, Atacocha, the El Porvenir, Bismark, Francisco I, Madero, Antamina, Aguilar and Tara mines – coupled with mine-specific issues such as a pit failure at Vedanta's Skorpion mine, a breakdown in the ore conveyor belt at the Boliden's Tara mine and an illegal blockade at the Americas Gold and Silver Corporation's San Rafael mine – disrupted supply last year.
In Peru, the Antamina mine was suspended for around six weeks during Q2 2020, as part of the pandemic measures, while in February 2020, Mexico's San Rafael mine was also suspended due to an illegal blockade by the company's workforce.
Overall Peru suffered the greatest decline in output, with production down by 21.9%, as the country dropped from the third-largest producer to fifth-largest. Output fell by 1.8% in China, the world's largest producer, which accounted for 44% of global output in 2020, and was down by 2.1% in Australia, the world's second-largest producer, which accounted for 11.1% of output in 2020.
Looking ahead, lead production over the forecast period is expected to grow at a CAGR of 2.5% to reach 5.2Mt in 2025. China, Australia, Russia and Canada will be the key contributors to this growth. Combined production in these countries is expected to increase from a forecasted 2.8Mt in 2021 to 3.1Mt in 2025.
Key projects expected to commence operations during the forecast period include the Abra in Western Australia, which is currently undergoing construction. While the project's debt financing has been slowed due to the outbreak of COVID-19, the company is targeting its initial production in 2022, with an annual lead capacity of 95kt.
Brazil's Aripuana mine, which is jointly owned by Votorantim SA and Karmin Exploration, is also currently under construction. The project's mechanical works are anticipated to be completed by December 2021, before production commences in early 2022. The $547m project will have an annual lead production capacity of 25.2kt.
Lastly, the Sorby Hills project in Australia is currently on track, undergoing a fully funded feasibility study and awaiting regulatory approvals and permissions. With an initial lead production capacity of 50kt per annum, the project is expected to commence operations in 2023.