After a marginal 0.4% decline, global copper production is estimated to have increased by 2.8% to 21.2Mt in 2021, attributed to the post-pandemic economic recovery. The ramp-up of underground mining at Freeport-McMoRan's Grasberg mine helped Indonesia become a significant contributor to global growth in 2021. Lower ore grades and uncertainty across the Chilean and Peruvian mining industries, owing to strikes and protests, remain a key barrier. Despite this, Peru, with a 6.9% increase in production, was a key contributor to global growth in 2021, as was the DRC with 10.7% growth.
Global copper mine production is expected to increase by 2.9% to 21.84Mt in 2022, with output growth from Chile, Peru and the DRC crucial to this increase. Collective production from these countries is expected to expand from 9.47Mt in 2021 to 9.94Mt in 2022 – a 4.9% upswing. In contrast, the ongoing Russia-Ukraine war is expected to reduce Russia's copper output by 13.2% to 711.8Mt in 2022.
Overall, the long-term transition towards renewable energy is expected to boost demand creating a strong platform for development projects. Over the forecast period (2022-2026), global copper production is expected to grow at a compound average annual growth rate (CAGR) of 3.4% with production reaching 25Mt by 2026. Chile, Peru, China and the DRC will be the key contributors to the growth. The combined production from these countries is expected to grow from 11.7Mt in 2022 to 13.1Mt in 2026.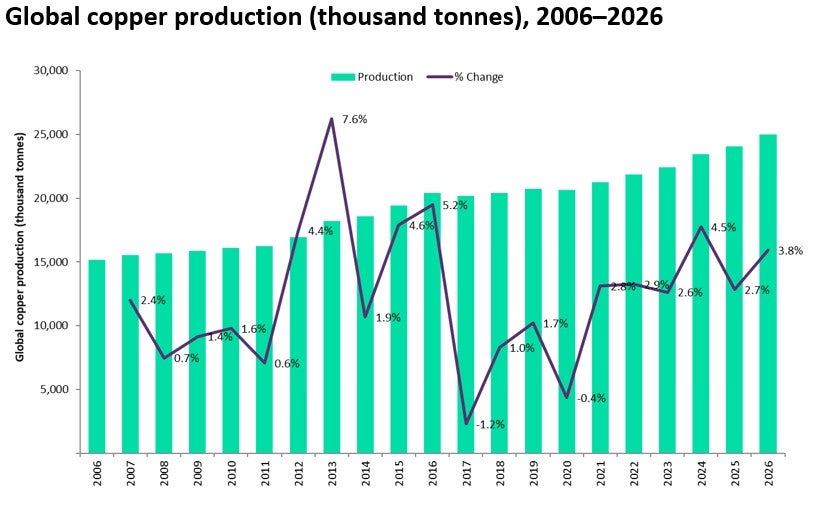 Key upcoming projects include the $5.2bn Quebrada Blanca Phase 2, which is one of the world's largest copper projects and is currently under construction. The project, with an annual copper production capacity of 247kt and an initial mine life of up to 28 years, was initially expected to commence in Q4 2021. However, construction activities were suspended from March and August 2020, owing to the pandemic-related restrictions, with production expected to commence in H2 2022.
The Esperanza Sur Pit in Antofagasta will have an annual copper production capacity of 15kt. Antofagasta Plc holds a 70% stake in the project, with the remaining 30% stake held by Marubeni Corp. The project requires an initial development CAPEX of $175m. Construction work at the mine site was suspended in March 2020 due to the Covid-19 outbreak and restarted in H2 2020 with new Covid-19 protocols. The project is now expected to commence by the end of 2022.
The expansion of Los Pelambres was initially scheduled to commence operations in 2021 but was delayed to H2 2022, owing to pandemic-related disruptions. The expected CAPEX also increased by up to $400m to $1.7bn. Of that total increase, $235m will be utilised for revised marine work, pipeline, and desalination plant, $140m for the extension of construction activities and the remaining for other adjustments, including changes in input costs and exchange rates.