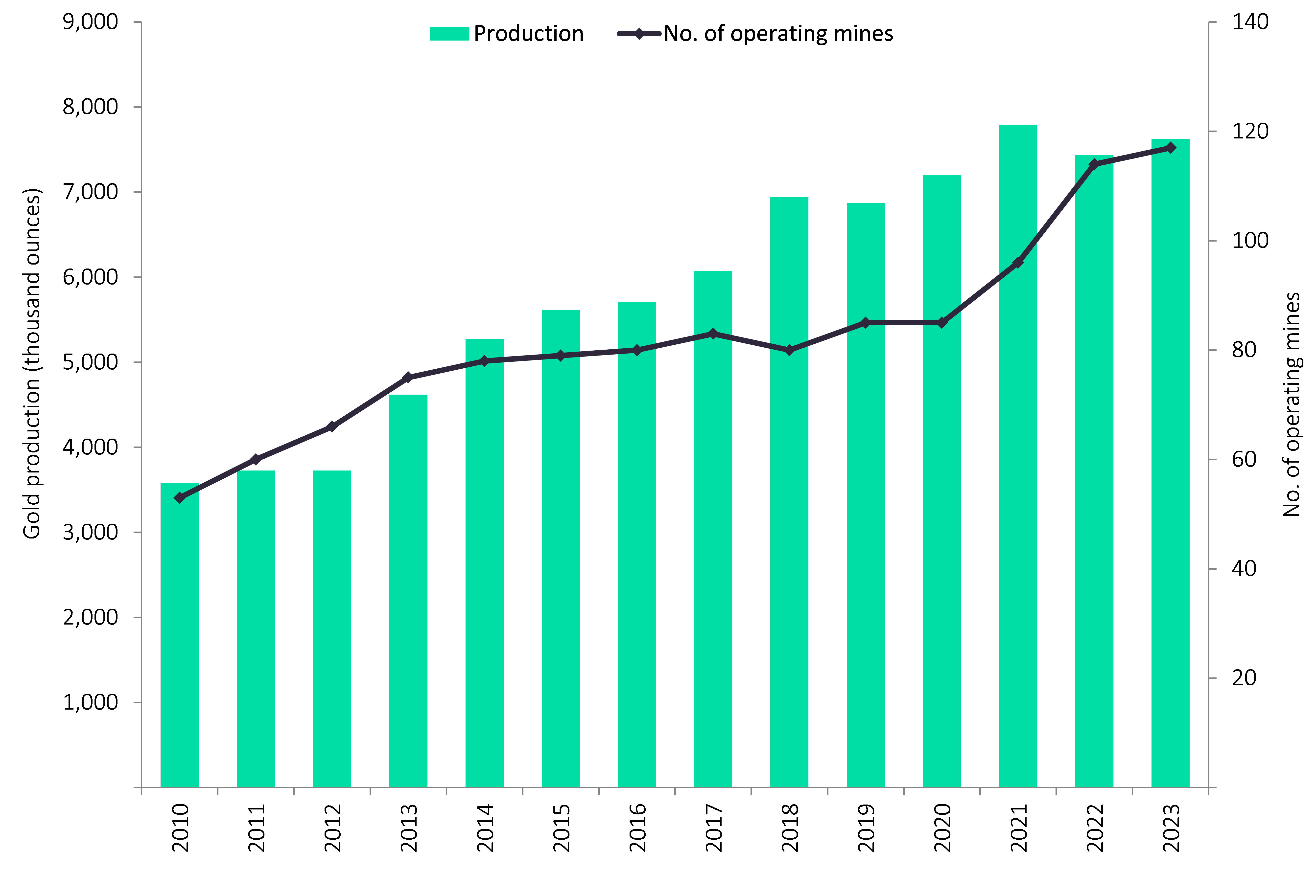 Canada's gold mine production is expected to grow by a CAGR of 2.7% from 2019 to 2023 to reach 7.6Moz. Commencement of new projects such as Meliadine in Nunavat, Eagle Gold in Yukon, and Lamaque Gold in Quebec in 2019 will support growth in 2020. These will be followed by the start of production at KSM (Kerr-Sulphurets-Mitchell) in 2020, Blackwater Gold in 2021, and New Prosperity in 2022, all of which are located in British Columbia. These six mines, having a combined annual gold production capacity of over 2.2Moz, will help deliver high growth to the market in 2021 and then support a recovery in 2023. In addition, this will also offset the impact of several closures including the Minto and Taylor mines in 2021 and 777, Croinor, and Touquoy in 2022, as the sector struggles with mine financing, rising production costs and declining ores grades.
Canada was the fourth-largest gold producer in 2018, behind China, Australia and Russia. Its 6.9Moz was 14.2% higher than in 2017 and represented 6% of the global total. Production from Pretium Resources' Brucejack and New Gold's Rainy River Gold project were the key contributors towards the significant rise in production. These two projects produced a combined 603koz of gold in 2018, versus 189koz in 2017. According to the Canadian Department of Natural Resources, gold is a primary target among other mineral exploration activities in Canada. In 2018, gold production was valued at an estimated CAD9.6bn, accounting for nearly 21% of the country's overall mineral production. Ontario, Quebec, and British Colombia were the three largest contributors to this, accounting for a collective 87% of the country's gold value.
Goldcorp was already Canada's largest gold producer before the $10bn Newmont takeover was concluded in April 2019. The newly-formed 'Newmont Goldcorp Corporation' is now not just the largest gold mining company for Canada, but also the largest globally. Other prominent companies operating in the Canadian gold mining industry include Agnico-Eagle Mines, Vale SA and Kirkland Lake Gold.
Canada gold production, 2010–2023
Source: GlobalData, Mining Intelligence Center                                                                                                                               © GlobalData