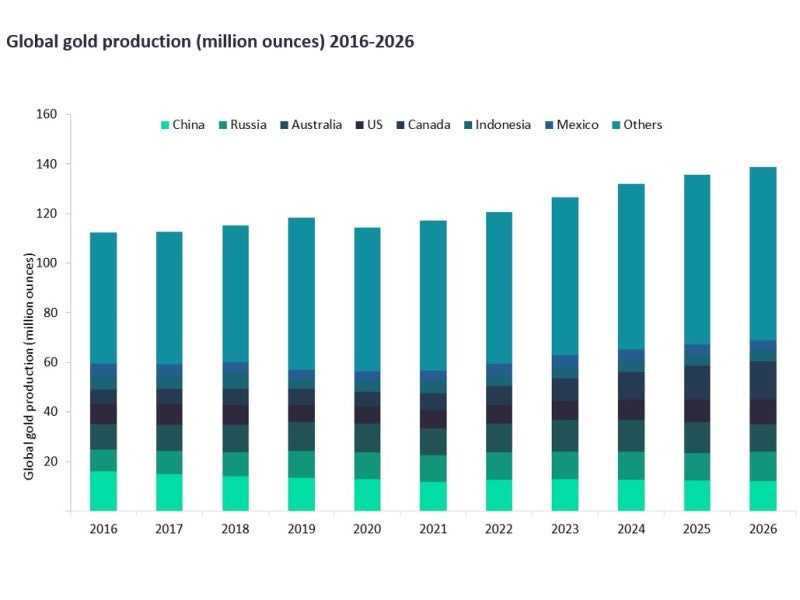 Following an estimated 2.4% increase in 2021, the world gold mine production is forecast to grow by 3.1% to 120.7 million ounces (Moz) in 2022 linked to post-pandemic recoveries and improvement in the global demand prospects. Canada will continue to remain the largest contributor to the growth in 2022, with output forecast to increase from an estimated 7Moz to 7.8Moz, an 11.4% increase. This will be followed by Australia (8.3%) and China (+5.9%).
Canada was also the largest contributor to the growth in 2021, with output then growing from 6Moz to 7Moz. In addition, South Africa (up by 620.4koz), the US (+543.5koz) and Mexico (+385.7koz) were the other key contributors in 2021. The growth markets completely offset declines elsewhere, including China, Australia and Papua New Guinea.
Russia is among the world's top three producers of gold and is estimated to have accounted for about 9% of the global total in 2021. However, it remains to be seen how the Russia-Ukraine war and sanctions imposed on Russia by major economies, such as Japan, the EU and UK, will affect gold production in the coming months. In the equity markets shares of several mining companies operating in Russia and Ukraine, such as ALROSA, Evraz, Ferrexpo, and Polymetal International, were slashed within a week.
Overall, gold production over the forecast period (2022-2026) is expected to grow at a compound annual growth rate (CAGR) of 3.6%, to reach 138.8Moz in 2026. While Canada is expected to register the strongest growth rate during the forecast period, China is expected to record a substantial decline, amid depleting gold resources. Canada, the US and Chile will be the key contributors to this growth. Combined production in these countries is expected to increase from an estimated 16.6Moz in 2022 to 27Moz in 2026.
Projects with the potential to commence operations during the forecast period include the Mponeng Expansion (in 2022), which was acquired by Harmony Gold Mining in October 2020 from AngloGold Ashanti, and the US Donlin Gold project (2022), which is jointly owned by Barrick and NovaGold. Potential mineralisation results from the final batch of drilling in 2021 have helped the project advance towards production in 2022. It has an annual gold production capacity of up to 1.5Moz.
The Turquoise Ridge underground expansion project in the US, which is jointly owned by Barrick (61.5%) and Newmont (38.5%), is currently undergoing construction. In 2021, the company continued the construction of the third shaft at the project, in line with the schedule and within the planned budget. The project has an annual gold production capacity of 500koz and is expected to be commissioned in late-2022. The project is expected to facilitate additional ventilation capacity for underground mining operations and provide shorter material haulage distances.