Australia's lithium production is set to increase by 24.5% to 68.45 thousand tonnes (kt) in 2022, as projects that were operating at reduced capacity, mostly due to the pandemic restrictions, returned to regular levels back in 2021 and are expected to continue operations going forward. However, ongoing labour shortages due to continued cases of Covid-19 remain a key challenge for Australia, which accounts for more than half of the global lithium output.
For example, first quarter 2022 output at Pilbara Minerals dropped by 2.4% to 81,431 dry metric tonnes (dmt) of spodumene concentrate, having been impacted by the community transmission of Covid-19 in Western Australia, resulting in the shortage of staff and contractors. This is anticipated to continue in the current quarter, ending June 2022.
Overall, Australia's lithium output is expected to increase at a CAGR of 14.2% to 116.24kt in 2026, supported mainly by scheduled expansions alongside consistent output from existing mines. A sharp increase in the country's production is expected to take place in 2023, when the Wodinga lithium mine, which was put under care and maintenance in late 2019, returns to operations.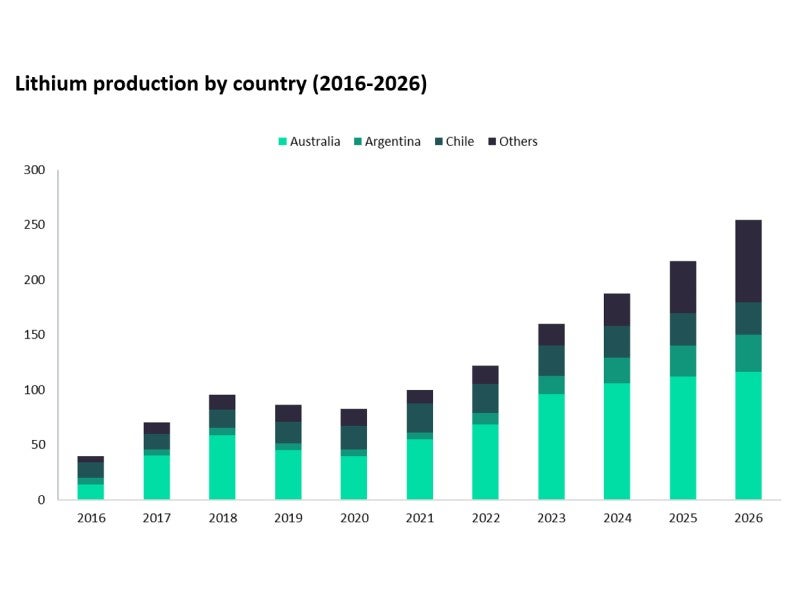 GlobalData also anticipates the resumption of mining activities at Bald Hill Lithium and Tantalum (2023) and the commencement of Mt Holland Lithium (2023) and Kathleen Valley (2024) projects to further boost Australia production.
In May 2022, Tianqi Lithium produced Australia's first lithium hydroxide monohydrate, also known as battery-grade lithium, from its plant in Kwinana, which will add significant value to the Australian lithium industry.
With an objective to reduce fuel consumption and greenhouse gas (GHG) emissions, due to concerns over global warming, global demand for batteries continues to increase, driven by demand from electrical appliances and electric vehicles. As a result, the global demand for lithium, a key raw material for batteries, is expected to rise from a forecasted 114.4kt in 2022 to 248.4kt in 2026, at a 21.4% CAGR.