Between May 2021 and May 2022, the number of autonomous haul trucks in operation globally rose from 769 to 1,068, an increase of 39%, with the figure expected to exceed 1,800 by the end of 2025. Major additions are coming from BHP, which has plans to automate up to 500 haul trucks across its Western Australia iron ore and Queensland coal mines through to 2023, while both Canadian Natural Resources and Suncor Energy are expecting to add over 100 autonomous trucks to their oil sands mines before the end of 2025.
By country, the largest population of autonomous trucks is in Australia with 706, up from 561 in 2021 and 381 two years earlier. It is followed by Canada with 177, up from 143 in 2021, China with 69 and Chile with 33. Autonomous haul trucks are present at 25 mines in Australia, compared with 19 across the rest of the world.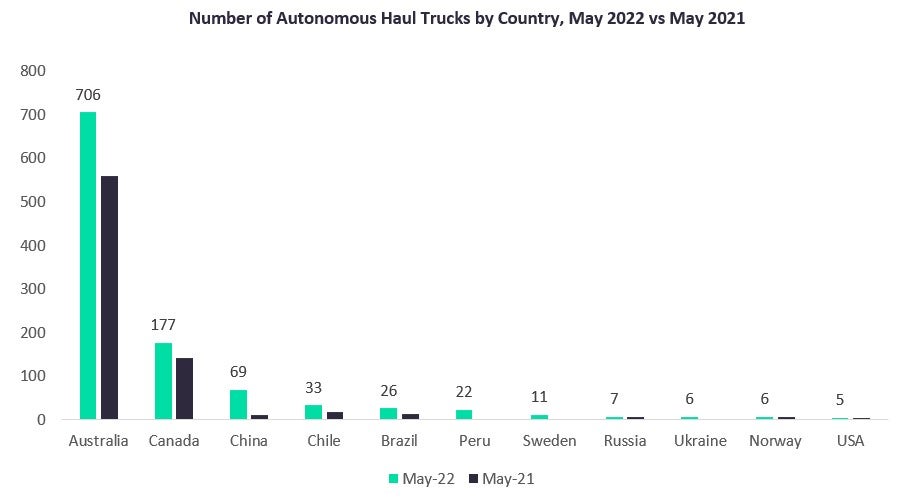 BHP accounts for the largest number of autonomous trucks in operation with 300, followed by Fortescue Metals Group with 193 trucks and Rio Tinto with 187 trucks. BHP's numbers include 95 at the Goonyella Riverside mine and have been boosted by its rollout of a fleet of 34 trucks at the Daunia Mine, where the mine's entire truck fleet is now autonomous, and 42 Komatsu 930E-5 ultra-class haul trucks at its South Flank iron ore mine in the Pilbara region of Western Australia. Meanwhile, Anglo American's first fleet of autonomous mining trucks has been deployed at its Quellaveco copper project. Currently, there are 22 fully autonomous trucks on-site, with plans for a full fleet of 27 automated trucks by the second half of 2022.
Caterpillar and Komatsu are the two main suppliers of autonomous vehicles, accounting for 86.5% of the trucks tracked by the Mining Intelligence Center, with the 793F and 930E the most popular models for the two OEMs respectively.
Free Report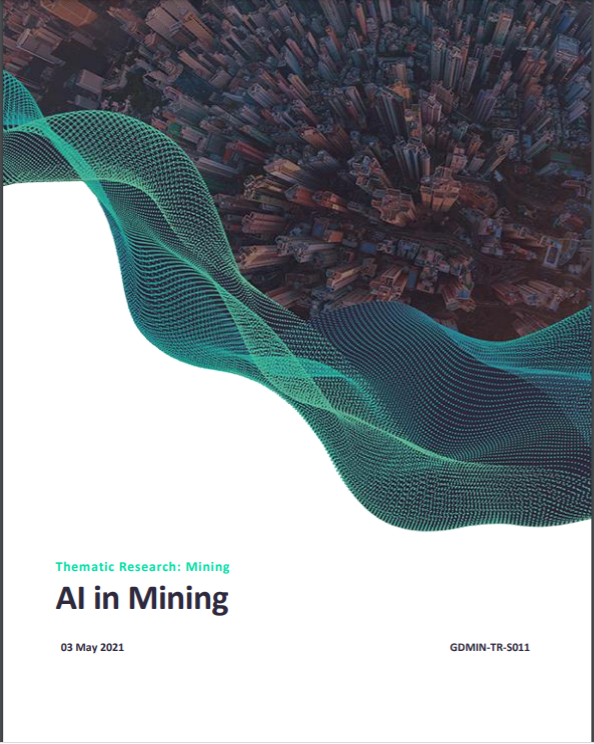 How is AI impacting the future of Mining?
The mining industry is under more pressure than ever to increase efficiency. There is also a strong focus on ensuring safety and sustainability within mines. AI can address many of these challenges and inefficiencies through several key technologies in the value chain, including computer vision, smart robots, data science, and machine learning. GlobalData's AI in Mining Thematic Research report provides you with an in-depth lens into the impact of artificial intelligence on the industry. We highlight both the challenges and opportunities associated with the innovative technology now, and in the future. Our report also covers:
Major players and companies
Market size and growth forecasts
Case studies
Sector scorecard
Mining firms are expected to spend $218m on AI platforms worldwide by 2024. This is up from $76m in 2019, representing a CAGR of 23.4%. Ensure your company is proactive in adapting strategies and processes to help you remain competitive. Download the full report to get ahead of the competition.
by GlobalData