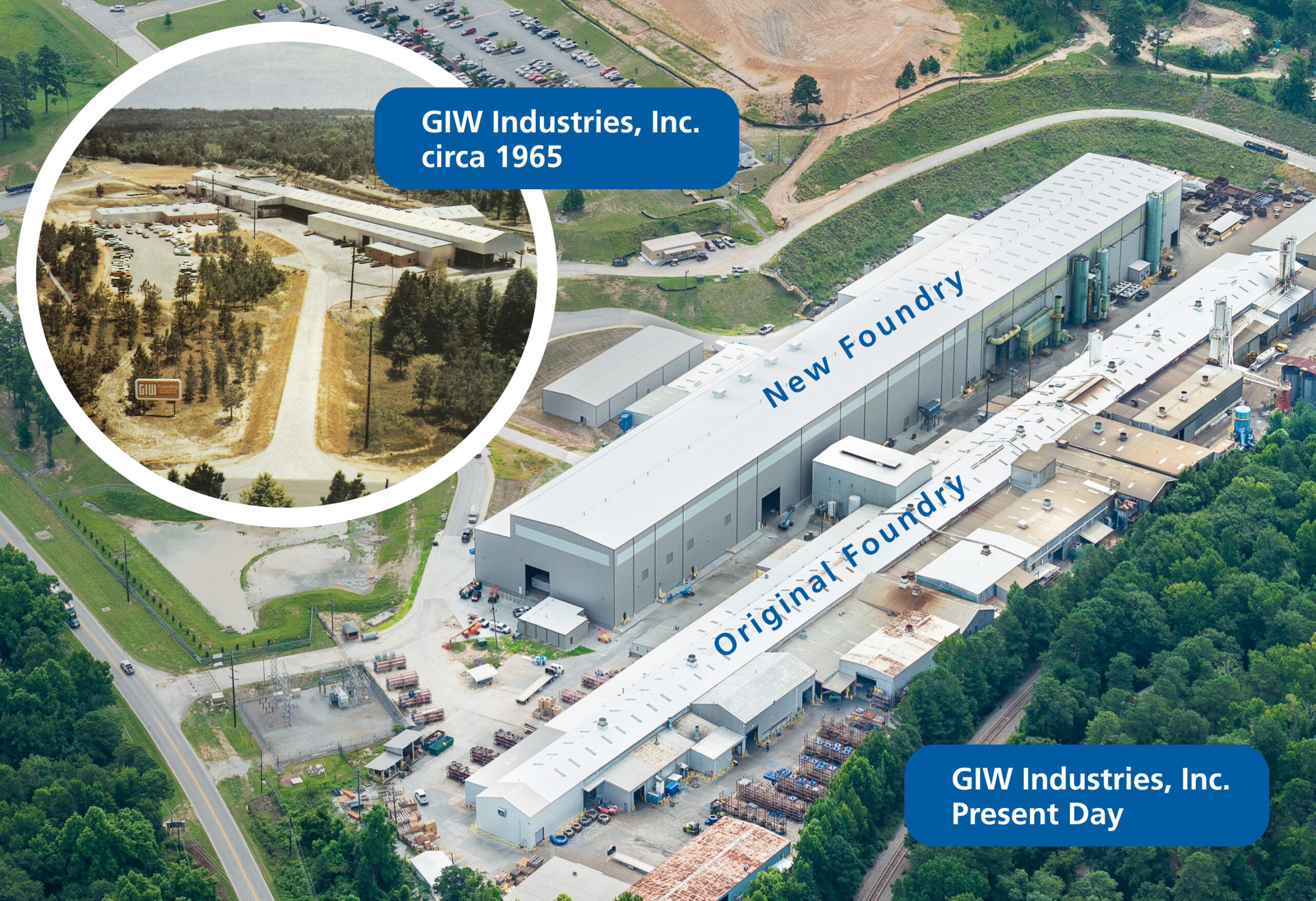 Capable of producing 20,000 tons (18,000 tonnes) of white iron and turning out efficient slurry pumps and parts that can weigh up to 60,000lbs, the new KSB foundry is at the end of a more than US $100 million capital investment that began in 2014.
As of April 2022, the next stage of a large white iron material manufacturing and handling project that GIW Industries, Inc. (now a part of KSB Mining) had begun in early 2014, ended. The new facilities in the 140,000-square-foot (13,000 sq/m) unit at its Grovetown, Georgia, complex expand production and handling capabilities at the site of the world's largest white iron foundry.
The new foundry is capable of producing pumps at a whopping 1,000 castings over 12,000lbs each per year. This means it can easily accommodate the production of its large-scale slurry pumps from start to finish, like the MDX-850 (the largest hard rock pump that KSB produces), the TBC-92 – one of the largest and heaviest slurry pumps available for the mining industry, and the DWD – which is even larger than the MDX or TBC, and is used for dredging.
As some pump castings produced can weigh well up to 60,000lb, the 12 heavy-duty cranes installed in the foundry will certainly have to pull their weight. The building is 72ft (22m) tall and houses facilities to produce these giant pumps, including three custom heat treatment systems manufactured by McLaughlin Furnace of Indiana, USA, which are capable of loads up to 100,000 lbs each.
Original foundry expansion
The mining market was expanding ahead of 2014 and, to meet rising global demand, GIW Industries had to expand its production capabilities to remain competitive. At that time, only ten percent of the world's foundries made white iron, so increasing GIW's manufacturing capabilities in this product allowed it to maintain its position, with a view to capturing more of the market in the future.
This also gave them the opportunity to draw up plans for making the new facility a real game-changer. GIW's view of the future was that there would be a strong market for larger and larger pump castings, so they created an appropriate space where these could be manufactured.
The first stage of the expanded foundry at the Grovetown, Georgia, site became fully operational in 2016, but further expansion was needed to meet the growing demand for these types of large pumps. The decision was made so GIW and KSB could quote for large casting orders competitively without having concerns about extended lead times and quality issues.
Raw material quality guarantee
By producing white iron itself, the company could guarantee the standards of its raw materials (50% of which come from recycled material) and could be more confident in the calibre of the end products. This further underpinned a rise in the number of large castings that could be made, and a commensurate increase in headcount to cope with the expanded production capabilities.
These capabilities include a large increase in the physical size of castings the site is able to handle to finished castings over 50,000 lbs (22,500 kg) and pour output by up to 66,000 lb (30,000 kg).
The expansion also included the addition of a state-of-the-art shot blast system by Blast Cleaning Technology. The new system has an integrated crane and allows both sides of the part to be cleaned at the same time reducing the number of required shot blast runs by 50%.
New custom CNC (Computer Numerical Control) equipment by Pietro Carnaghi SpA of Italy also provides efficiency gains. Its AC62 machine reduces setup time on large shells by 50% due to its multi-axis head that can articulate to machine the flange surface. Moulding innovations allow casting at closer tolerances, resulting in a superior finished product.
The refined production processes and additions repeatedly ensure that each casting is exactly the same quality as the next.
To cope with handling the increase in the number of units coming off the production line, the company has also expanded services to move them out to market.
Handling and distribution
Apart from the new expanded white iron foundry, an appropriate 59,000-sq-ft (5,500 sq/m) distribution centre was constructed to handle the rise in production, and consideration has been given for further expansion in the event demand rises again.
White iron is generally considered to be brittle, with good hardness and abrasion- and wear-resistance properties that are ideal for the types of slurry pumps and other products where such hard-wear metals are needed.
As a part of the project related to white iron, GIW's plant in Thomson, Georgia, is being redesigned to handle small and medium castings, with further enhancements and upgrades to the metals laboratory and the hydraulic test facility, which is another GIW facility that is the largest of its kind in the world.
As stated earlier, the group's huge investment in several of its foundry operations to upgrade all white iron production, product finishing and distribution facilities is at a close and, now that it is online, it is projected to produce more than 20,000 tons (18,000 tonnes) annually.
Additional services
The additional manufacturing and logistical services of the new facility add a host of extra benefits to current and prospective customers. One trend in the mining industry is that the demand for larger and larger slurry pumps and other oversize mining equipment is rising and, thanks to the available space and material handling capabilities of the expansion, KSB/GIW Industries can meet that demand easily for the foreseeable future.
Its plans include improved efficiencies that make white iron production more sustainable with its state-of-the-art facility that lowers energy consumption and reduces water usage.
KSB/GIW Industries' reduced energy usage during manufacturing is regularly audited so customers can be confident they are working with a green energy-conscious supplier who additionally provides services to recycle materials and equipment through refurbishing of old pumps and parts with its white iron scrap buyback program.
Total cost of ownership for its customers is reduced by careful inventory controls of stock pumps and parts, which in turn helps its customer become more efficient by employing just-in-time purchasing when buying from KSB/GIW.