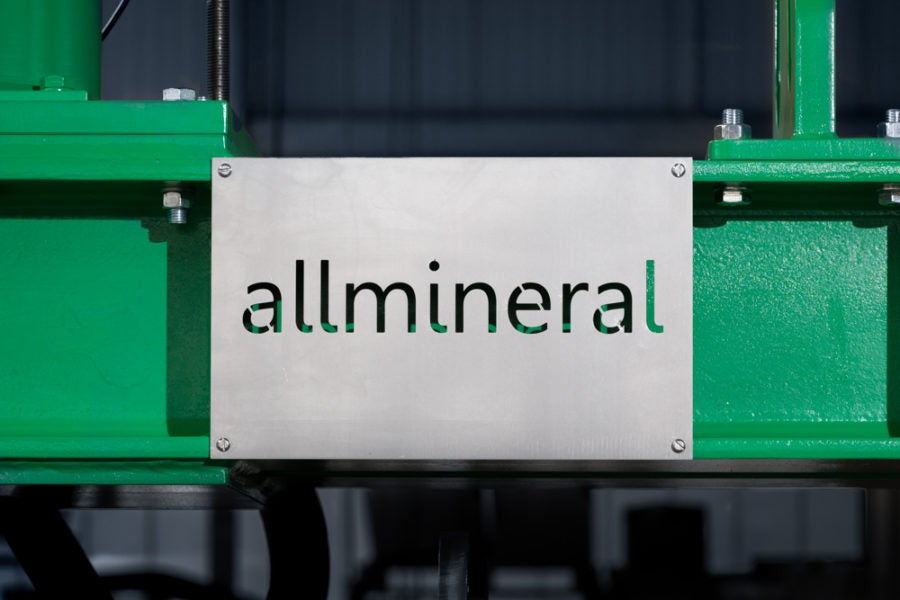 Based in Duisburg, allmineral Aufbereitungstechnik celebrated its 30th anniversary last year. An industry leader in wet and dry processing technologies, allmineral CEO Marco Steinberg tells us more about allmineral's innovative solutions and key achievements in the mining sector.
For more than 30 years, allmineral has established a market-leading position with several pieces of mineral processing equipment, including the alljig® jigging machines, allflux® fluidised bed separators, allair® dry jigging systems and the allgauss®WHIMS (wet high-intensity magnetic separator).
With key developments in Australia, Indonesia and South Africa, the company is gradually becoming a turnkey supplier for processing plants worldwide.
Mining-Technology: You provide processing equipment such as alljig®, allflux®, allair®, allgauss®. Can you explain a bit more about what these solutions do and their advantages?
Marco Steinberg: We originally come from the sand and gravel industry. alljig® has been developed for the coal industry in Germany, so we took this kind of technology to the sand and gravel industry to remove impurities and coal mud to make an aggregate for the concrete industry. This is where we have introduced the jigging technology, and from there, we took it to the iron ore, starting in India and then Australia.
As far as the jigs are concerned, there are huge variety of applications starting from coal, iron ore, sand and gravel, now slack and recycling industry.
M-T: Can you explain more about this technology and what makes allmineral a leader?
Steinberg: The jigging technology was invented in 1880s, what we are doing is putting the material into a water bath and you let the water move up and down. With that, the material is stretched to the specific density. At the end of the day, we are separating heavy and light materials.
We developed that kind of technology to a stage where we offer high efficiencies in terms of recovery rates and high-quality products.
M-T: What are some of the applications for your dry processing technology?
MS: In principle, it is the same system as the alljig®. So instead of water, we are using air and the main application right now is the coal industry because the main rival for that industry is the demand for a environmentally friendly process without using water.
Right now, we have a lot of projects in Australia, South Africa and Russia, so BHP Rio Tinto are looking for dry beneficitation.
M-T: allmineral is currently involved in bringing three processing projects online in Georgia, Indonesia, and Spain. What can you tell us about these projects?
MS: In Georgia, the main beneficiation plant is similar to what you find in the iron industry. The beauty of this project is that all of our equipment, besides the dry equipment, is used over there. We have the alljig®, allflux®, allgauss® in operation and this plans to increase the manganese content. It's our turnkey project and we have now comissioned the plant.
The 500tph coal washery in Indonesia is an EPC project together with our major shareholder HAZEMAG. Here, we are providing everything from the feeder breaker to the dewatering circuit, with our alljig® as the core equipment. We do everything: earthworks, service works, construction, equipment supply, commissioning.
Another turnkey delivery is La Parrilla in Spain, which is a tungsten beneficiation plant. We have provided two packages: the first is a jigging pre-concentration plant consisting of the alljig® and two roller mills from our shareholder HAZEMAG. The second is the concentrator, which includes allgauss®, flotation and electrostatic separators, drying equipment so everything you can imagine in terms of beneficiation is included in the plant.
M-T: Are there any fast-emerging markets you wish to target?
MS: The focus of iron ore lies on dry beneficiation and further R&D and we are developing new equipment, which we aim to launch in 2019-2020. With the allair®, we see huge potential in countries such as Australia, South Africa and Kazakhstan over the next five years.
The main rival in the industry is definitely environmental impact so recent incidents in Brazil involving broken dams will force the mining industry into looking into dry beneficiation. This is where we see huge opportunities and where we can be of assistance to the industry with our technologies.
M-T: Is Brazil a possible market that you wish to target in the near future?
MS: Not really, because there are no new projects in development over there. We see Australia offers more opportunities for dry beneficiation because they are scarce right now.
M-T: Your company celebrated its 30th anniversary last year. What have been some of the biggest industry changes during these three decades?
MS: The foundation of the company is technology provider, in terms of equipment. What we have seen in the last couple of years is us turning more into a solutions provider.
If you can see with the big EPC turnkey projects, we are turning into providing solutions for the entire plant.
The next step what we can see is to bring also the service components into focus. Right now, the demand from the industry is definitely supplying solutions.
M-T: Can you tell us about some of the key projects undertaken during the last 30 years?
MS: Our jigging technologies have been used in South Africa, which has the largest iron ore jigging plant in the world with a capacity of almost 4,000tph. This is a major breakthrough.
We supplied allair® to a 600tph dry coal beneficiation plant in Spain, which is, in terms of the dry beneficiation, another major breakthrough. We supplied the alljig® and allflux® into the beneficiation plant of Australia's biggest iron ore producers such as BHP FMG Rio Tinto and Roy Hill. In addition, we supplied the core components in most of the sand and gravel plants in Europe.
The aforementioned projects are key points in the company's future direction.
M-T: Are you working on any new and enhanced solutions?
MS: We are right now investing a lot of money into R&D to provide a product range to enable us to provide a good solution to the client. It's definitely dry beneficiation and ultra-fine processing.