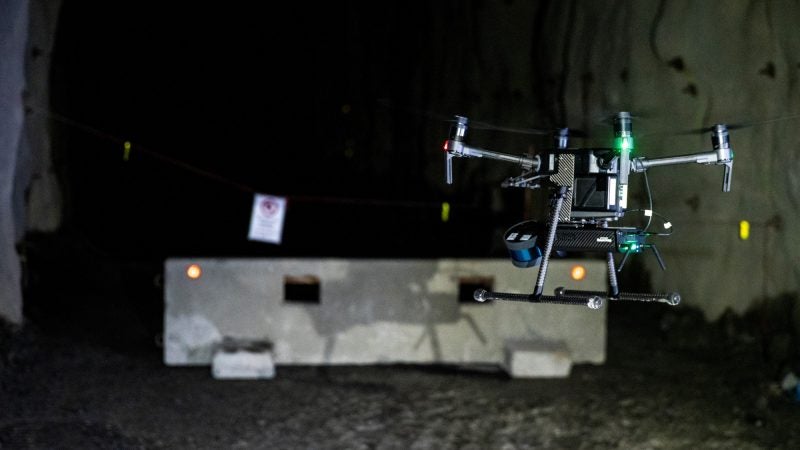 Emesent delivers the world's most versatile LiDAR mapping solution, Hovermap, making the mapping of inaccessible areas safe, easy and fast. Designed as a drone payload, Hovermap combines advanced collision avoidance and autonomous flight technologies to accurately map hazardous and GPS-denied environments. Hovermap easily mounts on any vehicle or can be handheld, capturing high-resolution point clouds when flying, driving or walking.
Hovermap is a versatile LiDAR scanning system. It can easily move between autonomous, beyond- visual-line-of-site flight to vehicle-mounted scanning or simply walking through indoor and outdoor spaces. World-class Simultaneous Localization and Mapping (SLAM) delivers high-density point clouds of unparalleled accuracy.
We speak to Emesent CEO and co-founder Stefan Hrabar (pictured), who has more than 20 years of experience working in remote sensing and drone autonomy.
What problems does Hovermap solve for mining customers?
Underground mines contain large inaccessible areas, such as stopes. These unsupported underground voids are a source of ground falls that can endanger personnel, underground infrastructure and equipment. Mining engineers and surveyors are required to regularly inspect these areas. Traditionally, they use a cavity monitoring system (CMS) scanner deployed from a boom, which is time-consuming, produces poor quality, incomplete scans, and endangers personnel.
Hovermap takes away all of those issues. Rather than take three hours to scan a stope with a CMS, it can be achieved in 15 minutes with Hovermap. This is a significant time saving and allows for the stope to resume production quickly. Using Hovermap also ensures personnel keep a safe distance from the edge of the stope and means they are in unsupported ground for far less time.
Hovermap produces 'shadowless' point clouds, which means scan data covers the entire stope and has a consistent spatial resolution. Mining engineers can identify geological features or conduct volumetric analyses, which is not possible with low point density CMS data. Our customers are using Hovermap to map any underground area, draw points, ore passes, and old underground workings.
Image credit: Dwyko Mining Services.
Which other industries use Hovermap to capture LiDAR data?
Hovermap is widely used in other GPS-denied areas. Emesent has about 70 customers around the world and half of those are mining; the others are using it for applications like inspecting cellphone towers or bridges, where it is easy to lose GPS signal underneath and it's hard to keep the drone a safe distance away from the structure.
Forestry is another industry using LiDAR data. Hovermap allows mapping both above and below the forest canopy, creating digital twins for forest management, such as taking accurate volume measurements from the point clouds without having to go into the forest.
What role does Hovermap play within the digital mine landscape?
The digital mine and analytics are increasingly important areas for improving mine productivity and efficiency, and Hovermap plays a significant role in the creation of digital twins. It provides a quick, safe way of capturing 3D as-builts of the mining environment. Not just the excavated part of the mine but the drives, draw points, vent shafts, and also the plant and infrastructure aboveground.
Underground, you can fly a Hovermap-equipped drone into areas that are difficult and hazardous to access; you can take it off the drone and walk around to capture 3D as-built models of processing plants, or you can attach it to a tether and drop it down a vertical shaft and use it to scan for integrity, etc. It can also be used to survey stockpiles, both indoors and outdoors. All these data sets can be interrogated for measurement or other analyses.
What are Emesent's most notable achievements?
We're very proud to have taken more than ten years of R&D from CSIRO's robotics group and turned it into a successful commercial product that is solving challenging, real-world problems. It's amazing to receive positive feedback from our customers.
The commercial launch of Hovermap was a significant milestone, and more than a year later there is still nothing else like it in the market.
Having Hovermap deployed with our first mining customer was a big step too – BHP's Olympic Dam was the first mining customer in Australia, and they have been using it heavily for almost 1.5 years in daily operations. We know it is generating a lot of value for their operations.
There have also been a couple of world-firsts along the way – we performed the world's first autonomous beyond-line-of-sight drone flight in an underground mine in 2017 for example. One of our customers in Canada operates three Hovermap systems to perform underground scanning services and they have registered a couple of Guinness World Records, for example, the deepest autonomous drone flight in an underground mine. Glencore's Kidd Creek mine basically gets you the closest to the centre of the Earth, and Hovermap is being used there.
In which countries does Emesent operate and in which markets is your business growing?
We have distributors in North and South America, South Africa, across Asia and Australia. Our distributors in North America have been very active in helping raise awareness of the benefits of Hovermap to underground mining operators, performing trials and closing deals.
The number of customers in North America has grown substantially, with customers across a range of hard rock mining commodities. Some of the biggest mining companies in the world already use Hovermap as their underground mapping platform.
What are the plans for the next 12 months to grow the business?
There's ongoing development of the technology, especially in flight autonomy, and multiple product enhancements will be released over the next year. We're improving data analytics capability, not just collecting the data but actually automating the analysis because we can add a lot of value for our customers.
In terms of Emesent business development, we are opening new distribution channels in different parts of the world and growing the R&D and commercial teams. We are also growing into other verticals that have similar problems to mining.