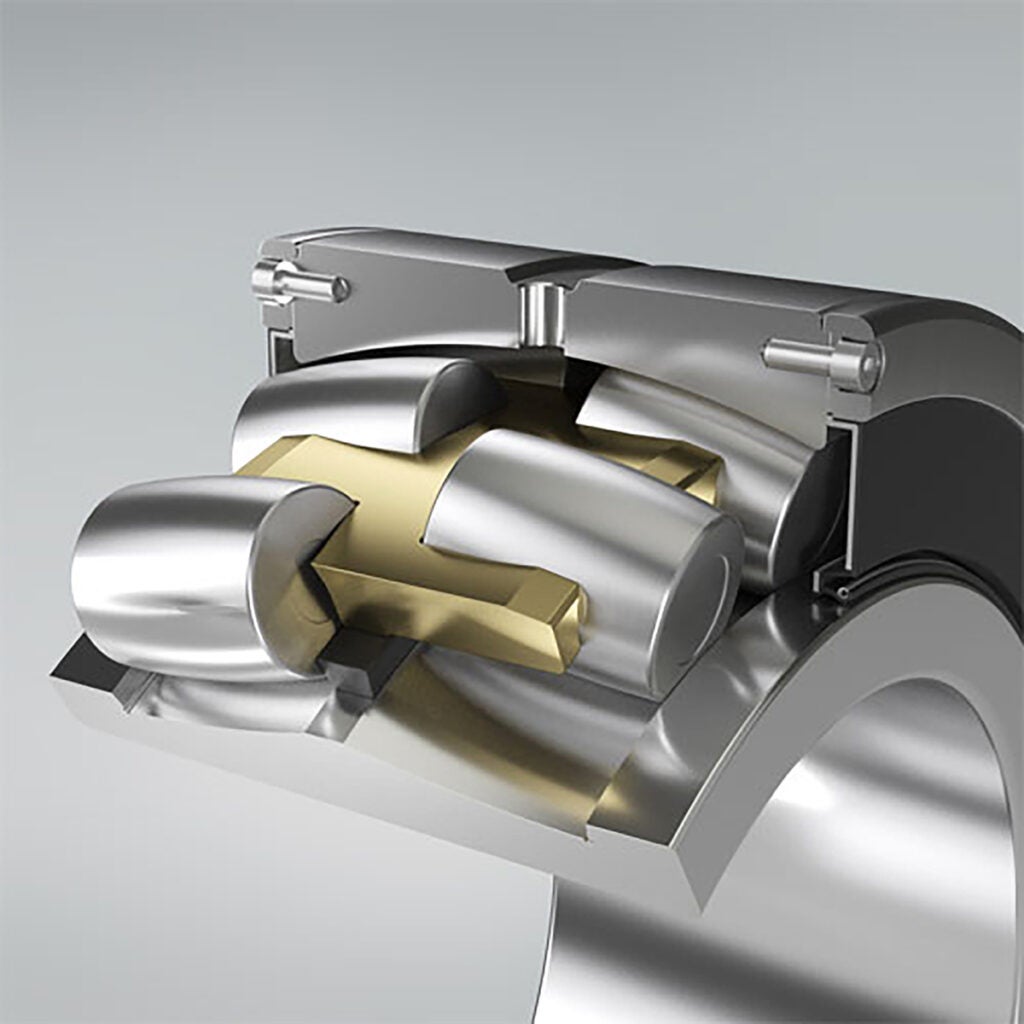 Throughout mines and quarries around the globe, NSK rolling bearings are increasingly specified for diverse applications requiring ultimate toughness. NSK works to achieve optimum machine and equipment performance and uptime, with product development that overcomes the challenges of arduous loads, misalignment, contamination, and marginal lubrication conditions.
Here's one such example.
Problem: Frequent bearing failure on conveyor pulleys
The life expectancy of open spherical roller bearings for head, tail, drive, and tensioning pulleys on mining and quarrying conveyors is relatively short, typically only months. These bearings are subject to contamination from hard particles (dirt, dust) and water penetrating housing seals and entering the open bearings. In the absence of a better solution, this costly replacement cycle has prevailed for many years.
In Australia, NSK worked closely with a number of major mining companies to establish site trials in problematic conveyor pulley locations where the mean time between failures (MTBF) was as low as 6 months.
Solution: A World-First Innovation
NSK developed a bearing solution that virtually eliminates the contamination problem and dramatically extends bearing service life, yet is as easy to install as a conventional open bearing. Utilizing the company's Hi-TF Tough Steel, NSK engineered a bearing with a removable seal that is dimensionally interchangeable with standard spherical roller bearings and requires no modification of shafts or housings. It incorporates a removable heavy-duty nitrile (HBNR) seal capable of operating up to 100ºC that provides 30% greater sealing performance than standard seals, due to advanced spring-loaded lip technology. The detachable seal allows for conventional installation with access to clearance measurement during bearing drive-up, and packing of the bearing with the end user's grease preference.
Engineered endurance: Tough Steel
Engineered with advanced material properties and innovative heat treatment technology, NSK Tough Steel™ bearings deliver considerable performance benefits when compared with conventional bearing steel:
Exponentially longer service life in contaminated and marginal lubrication conditions
Up to four times the service life at 160°C
Less than one-third the rate of wear
As much as 40% improvement in seizure resistance
Increased service life. From 6 months to 10 years
Some of the trial spherical roller bearings fitted by NSK ten years ago remain in service with problem-free running. As further testament, NSK removed one set of perfectly operating bearings after two years and conducted X-ray fatigue analysis. The result indicated that a residual life of more than eight years remained. The NSK solution demonstrated a reliable ten-year service life – far longer than anything previously experienced in these applications.
NSK has since supplied more than 1,600 long-life spherical roller bearings with removable seal technology across the country's mining industry. A full range of standard sizes from 120mm to 480mm bore diameter is now available worldwide.
About NSK
Globally, NSK is an acknowledged leader in advanced motion and control technology, rapidly driving major developments in materials, mechanical design, lubrication, and sealing to downsize bearings, extend mean time between failures (MTBF), and reduce costs without compromising machine performance. And NSK Mining Industry Experts have worked on-site for decades, in the field with mine operators around the world. This accumulated expertise means we understand the manifold challenges they face, and apply that knowledge to deliver highly engineered, application-specific solutions that have sustainable, documented impact on mine productivity, efficiency, and profitability.
Visit NSKAmericas.com to learn more.