A survey of the soil's composition will inform as to the best method to dig a new mineshaft, road, rail, or underground transport tunnel.
For mines, there will be decisions made as to what 'route' the tunnel will take and, most importantly, the infrastructure that will be installed in the bores to ensure safe and speedy retrieval and movement of raw ore, together with how personnel operating within the mine system will move in and out.
For the others, considerations could include routing, the substrate on which the roadway or track will be laid, fire safety, ventilation, escape and rescue portals, signalling infrastructure, etc.
Excavating a tunnel bore can be done by handheld power tools or a by the relevant machine for relatively softer ground, but for harder surfaces, a combination of steps including drilling, loading explosives, blasting, and ventilating fumes.
For both methods, however, removing the excavated material has to be arranged so the tunnel can progress. This task is usually given over to a front-end loaded system that moves the broken rock using a conveyor belt that forms a transport chain system of cars or trucks.
And as all of the above actions take place in a very congested area, so this process has to be designed for maximum efficiency.
Some of the route considerations for a tunnel might be:
What opportunities will the new tunnel create?
How long does it need to be?
What profile will it be? Round, square, straight, curved, sloping (up or down) or spiral.
How deep will it be?
How long does it need to be before mining ore can be reached?
It is usual practice for companies to have several partners that can provide diverse equipment and services related to its smooth functioning. Here, we will talk about transport systems for moving earth, equipment, and people safely and quickly within and without the tunnel project.
Careful consideration is given to the mix of equipment and machinery that will comprise the total transport solution. Will it be powered by diesel or electricity, or perhaps a balanced hybrid mixture of both?
Successfully integrating tunnelling support projects
Ferrit has been a successful integrator of many tunnelling support projects where clients have approached them with a particular range of needs that need careful planning and delivery to fulfil. To help those with requirements, it has a broad portfolio of machinery and equipment, and something much more valuable – expertise across a diverse set of use cases.
Its tunnel design engineers have delivered against many scenarios presented to them and have been successful in satisfying project requirements for efficient operations post installation.
The global manufacturer of underground and above-ground suspended, rail, and trackless transport systems to move people, equipment, and materials through different types of tunnels has both diesel- and electric-powered products that fit any profile.
Their total solutions provide custom-designed, optimised transportation and other technical solutions to lift health & safety, minimise downtime, and help reduce costs, all the while ensuring greenhouse gas emissions levels stay low. Ferrit has a presence across 22 countries on four continents that provide ongoing support across sales, design projects, products, and services.
Some of Ferrit's diesel- and battery-powered products for tunnelling are:
PLP450F large ground rail locomotive
The PLP450F ground rail locomotive travels on horizontal or inclined track on 750mm – 1000mm-gauge tracks at gradients of up to 50‰.
It supports equipment group II category 3 as per EU Directive 2014/34/EU and the Czech Republic Government Regulation No. 116/2016 Coll.
It is usually supplied as two main assembly units (cab and engine) to make transporting it simpler. Control of the assembled unit is from the cab, which is equipped with driving, monitoring, and safety equipment. A wide viewing angle is provided to the driver to ensure operational safety against accidents and adverse external influences.
It can also be operated through a sophisticated remote-control system that uses wide-angle cameras for driving and recording its journeys. It also has many types of smaller diesel- or battery-powered ground rail locomotives.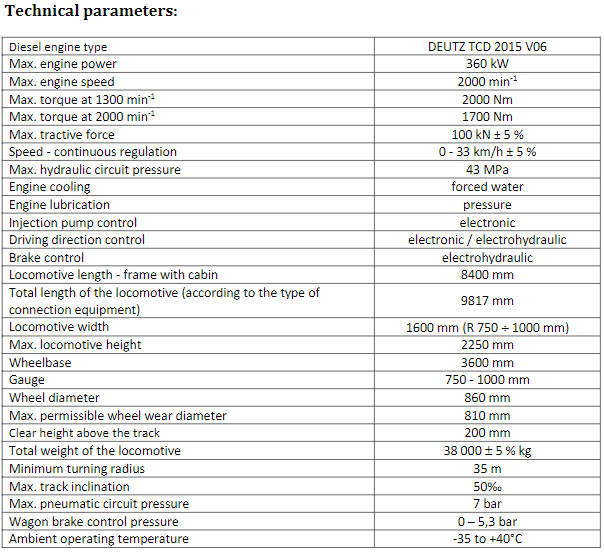 Trackless LHD loaders
Wide range of models with diesel or electric power with variable bucket sizes (to fit use). The buckets have a vibration feature to facilitate complete material removal. These can also have autonomous or remote controls if needed.
Universal trackless vehicles
A wide range of fixed body or roll-on/roll-off cassette systems for the transport of materials, heavy goods, or personnel. They can be platforms or tippers with mechanical arms, scissor lifts, etc., and are cab certified as ROPS/FOPS (Roll-Over Protective Structures and Falling-Object Protective Structures) protective structures.
Rack and pinion transport systems
Suspended rail installations using a suspended track eliminate the need for subsoil management. They can have a 4m horizontal turning radius and 8m vertical turning radius, contributing to a shorter tunnel length. The ultra-efficient modular design of cabins and containers for personnel, equipment, or material enables low-cost operations.