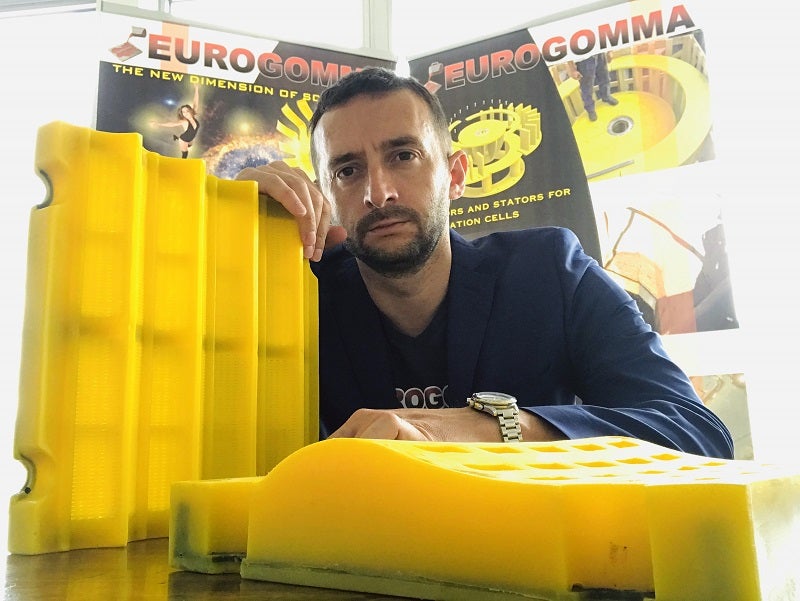 We talk with Eurogomma marketing and sales director Cristian Annoni about the Italian company and its innovative polyurethane screens.
Tell us about the company:
In 1975, Luciano Annoni started the company in Bergamo, Italy.
It was quite a simple factory with two punching machines and a stock of rubber sheets to manufacture rubber screens for the Italian quarries. The period between the 1970s and 1980s was a significant time for the Italian economy and quarries worked to full capacity.
This economical boom allowed Eurogomma to grow and transformed the existing production to polyurethane – that was the beginning of our success.
After a number of trials with some suppliers in polyurethane materials, Eurogomma formed a technical and technological partnership with BASF AG, which has been lasting for the last 30 years.
All the right choices have allowed Eurogomma to gain numerous key clients in the global mining business and several companies were attracted by the opportunity to represent us in their country.
Now, Eurogomma is selling globally and we are grateful to our distributors and especially to the people deserving our trust and now being part of the Eurogomma companies, including Eurogomma Russia and Eurogomma West Africa.
What are your company's latest innovations in screening solutions?
It is strategic to our philosophy to always listen to our clients to understand what problems they have and/or what improvements they wish and that is the input that we constantly demand to innovate.
A few examples of our latest innovations include wavy top polyurethane screen panels, roll-on polyurethane screen panels, screen panels with rounded weir bar, and flip flow screens with boomerang-shaped apertures.
These are unique products of Eurogomma and they were created essentially for one reason: our clients had a problem and nobody was able or was interested to offer a solution and that is exactly what we never do.
Once we are called to create an improvement, we work until we succeed. Always.
How does Eurogomma's screening technology optimises mining applications?
Taking the innovations mentioned before as a matter of example, we can offer some case studies.
Wavy top screen panels:
One of our gold mining clients was suffering constant overflow on their two trash screens where modular 305mmx305mm screen panels from another manufacturer were installed.
The throughput target of 450tph with the two screens was practically impossible to achieve and the loss of efficiency was so high that it affected the productivity of the plant.
When we proposed our special wavy top screen panels to solve their problem, our client decided to try four rows of our screen panels on one of their 8inx20in trash screens. The result is an increased throughput to 458tph, 11oz of gold more each day using an average head grade of 2g/t and recovery of 92%.
Roll-on polyurethane screen panels:
The product was designed for our client Perseus Gold in Ghana, West Africa.
After eight months passed from the first installation, the client provided overwhelmingly positive feedback:
"The roll-on panels hardly gets pegged, an indication that almost all the scats rolled on for clean-up which is very good. The roll-on did ten days better than the tough boy installed in the same area or region on the screen. So we had roughly 1.5 months of usage where others were barely making one month."
These case studies together with many others demonstrate how Eurogomma is capable to design products being industrially, economically and technically suitable to optimise every application.
What are the most notable achievements of the company's history?
Since 1975, when the company was established the key moments of our history are these:
Early 1990s – Eurogomma starts the co-operation with BASF AG.
1995 – Eurogomma is one of the 1st hundred Italian companies achieving the ISO Quality certificate in plastic
2000 – Eurogomma significantly increases its spaces reaching a total cover surface of 7,000m²
2007 – Eurogomma opens a factory in Russia, the first site outside of Italy
Since 2007, Eurogomma has kept growing in the mining market, thanks to the creation of subsidiaries such as Eurogomma West Africa in Ghana.
What screening challenges are you hoping to address in the future?
For our company and our philosophy, a future challenge is something sounding just too far for us.
Our challenges happen every week if not every day. As a matter of example, this is a case study that we have afforded in the month of May:
In mid-2019, one of our clients – a drilling and foundation equipment manufacturer – contacted us as they needed a special and unique screening solution for a new application in the extension of a Paris subway. In fact, the limit in available space in the contraction site demanded to screen two fractions on the same screen deck, one flowing along the other.
Of course, our answer was "yes, we can" and actually, we could, because we designed and manufactured polyurethane tensioned screen panels with 2.5mm non-blinding apertures on one side and with 0.3mm slot apertures on the other.
Since mid-2019, the system had been operating and granting the required screening efficiency with great satisfaction with all the parties involved.
In May 2020, the client asked for some technical change to the product to create a further improvement.
It took us one day to confirm we could change the product and two weeks to make it available.
This is what we do every single day – our future challenges will be just new challenges, following the one from the day before.