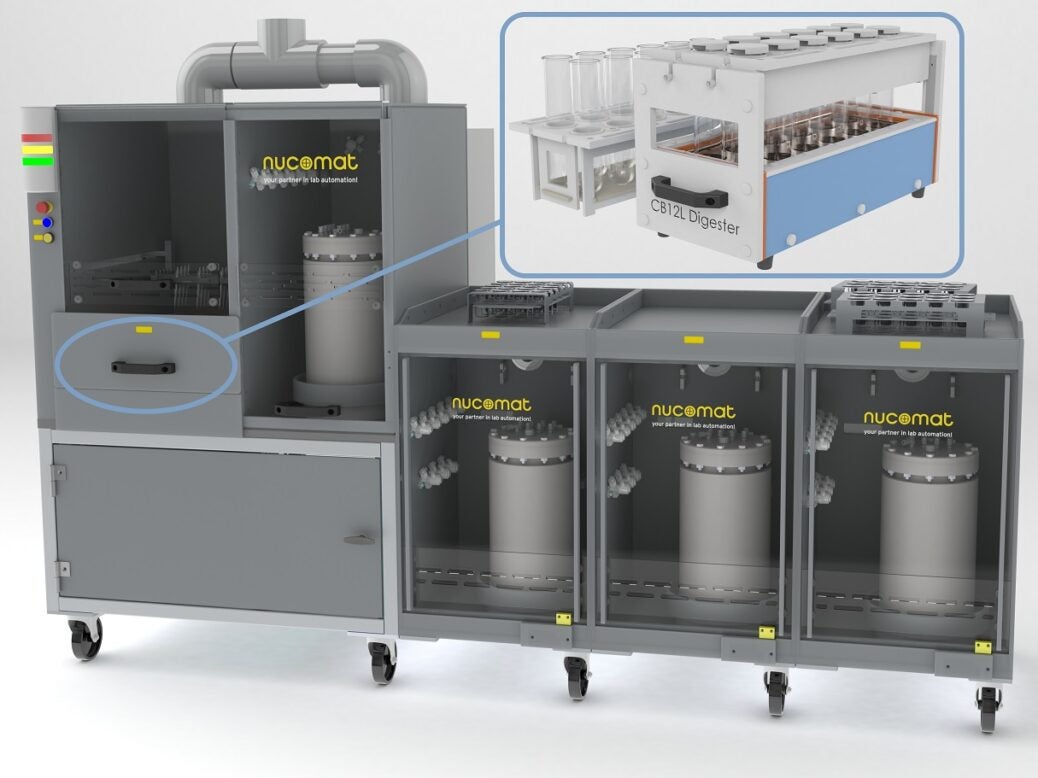 Sample analysis is a critical part of any mining process to understand the ore composition and enable processing. The use of hazardous chemicals, as well as requirements around accuracy and turnaround time, pose significant challenges, especially in remote locations where it may be difficult to find qualified laboratory technicians.
Innovative new technologies can shift the balance in overcoming these challenges. To deliver on this, Nucomat and ColdBlock Technologies Inc. are collaborating to deliver a new product that will greatly simplify the sample preparation process for mineral analysis.
The project
Resource Industry Association, Amira Global, is facilitating Amira Project P1196A to demonstrate how focused short-wave infra-red digestion combined with automation can help mining companies perform multi-mineral analysis with higher efficiency and safety. Five member companies will test the newly integrated ColdBlock Digestion technology and Nucomat's automated reagent dispensing technology. The project is set to begin during the second quarter of 2021 with final results expected by years end.
The technology team
Nucomat is a provider of custom laboratory automation solutions with more than 30 years of experience in mining applications across the globe. Their automated solutions alter the sample preparation process by avoiding contact with hazardous chemicals, increasing accuracy, and removing repetitive work to enable laboratory technicians to focus on what really matters.
Free White Paper
ColdBlock Technologies Inc. has developed a revolutionary focused short-wave infrared Radiation (FSWIR) digestion technology that utilizes less harmful reagents in the digestion process, eliminates the use of lead (as commonly used in fire assay) for gold assay, increases sample throughput and reduces sample preparation costs up to 50%.
Compact Sample Preparation Unit
Using their combined technologies, Nucomat and ColdBlock are launching the Compact Sample Preparation Unit (CSPU) with ColdBlock™ Digestion Technology. The CSPU is an affordable modular system that completely automates liquid handling in the labour-intensive and hazardous sample preparation process. It was designed to provide a robust and safe automation solution at a reasonable price point, without the complexity and cost of large-scale automation.
It features:
Accurate and fast liquid dispensing of up to 4 reagents
Integrated ColdBlock™ Digestion
Making samples up to mass
Gravimetric control
Outstanding acid resistance
Automated refill of acid from bulk containers
Configurable operation
LIMS integration
The configurable nature of CSPU allows it to be used across a wide range of applications, including base and precious metal applications. With its integrated ColdBlock digester (applicable to large size samples) it can even replace fire assay. Additionally, as the system is modular laboratories can configure it to their specific needs, limiting both cost and required laboratory space. For reference, a full-option CSPU with four reagents has a footprint of 1m by 2.5m, of which 1.5m width can still be used as a workbench.
Why use the CSPU over traditional sample preparation?
The CSPU provides distinct advantages over manual operation such as:
No operator contact with acids
Reduced turnaround time
Reduced operational cost
Full traceability of sample preparation
Acquiring the technology
Currently, Nucomat and ColdBlock are validating the CSPU technology through Amira Project P1196A. It provides a way for early adopters to assess the technology at reduced cost and confirm the benefits within their process through an extensive technological and economical assessment (TEA report). Once the technology is validated it will become commercially available, currently targeted for Q4 of 2021.
To become one of five early adaptors or understand the technology better, reach out to:
Amira Global, (Adele Seymon at adele.seymon@amira.global)
ColdBlock or
Nucomat