NUCOMAT
Automated Sample Preparation for Mining Analytical Laboratories

Address
Spieveldstraat 45,
Industriepark E17/3265,
9160 Lokeren,
Belgium
Phone
NUCOMAT provides automated sample preparation, handling and testing solutions for quality control laboratories in the mining sector. We aim to help our customers to improve laboratory safety and efficiency by offering a comprehensive service from design concept to turnkey solutions.
Our automated sample preparation systems have been developed to perform wet chemistry analysis.
Applications include gold analysis in silver prills and the determination of copper and silver in ore and copper concentrate samples. These automated systems can significantly improve the efficiency and safety of lab operations.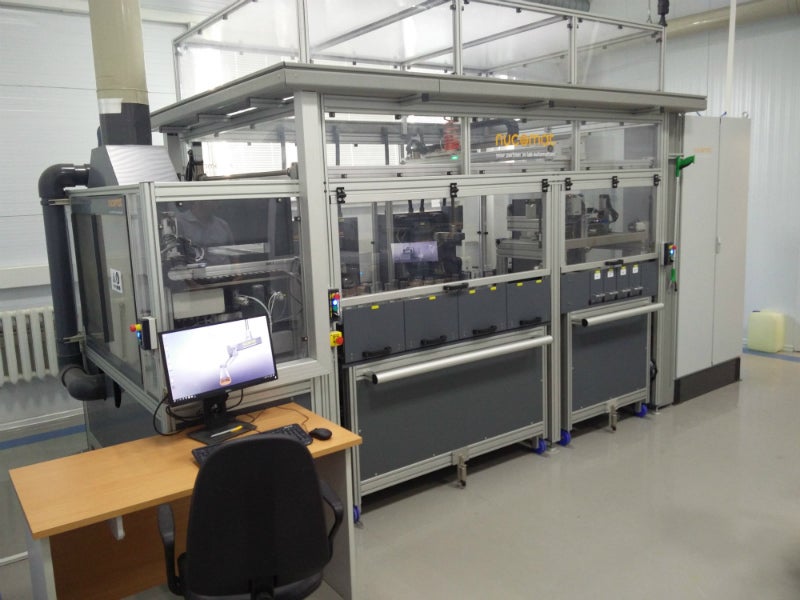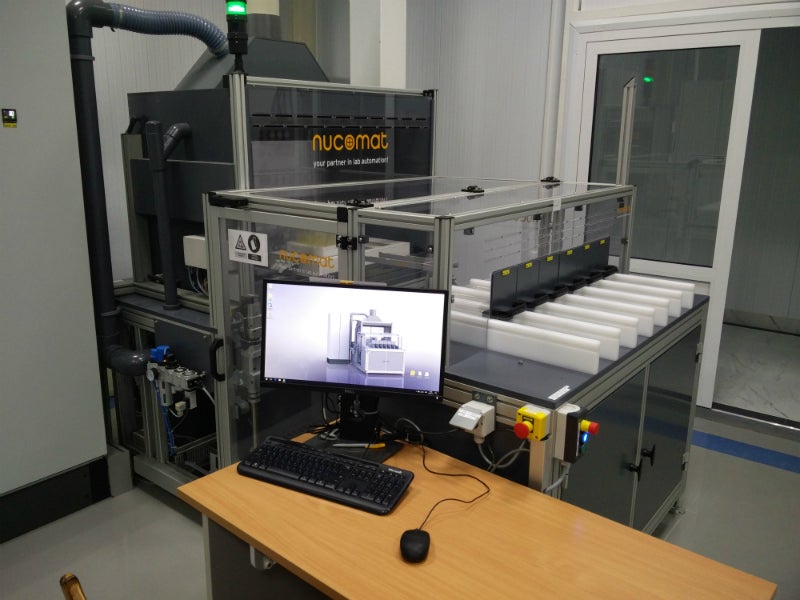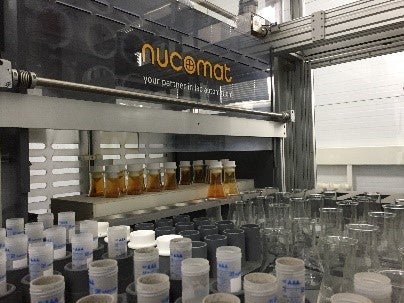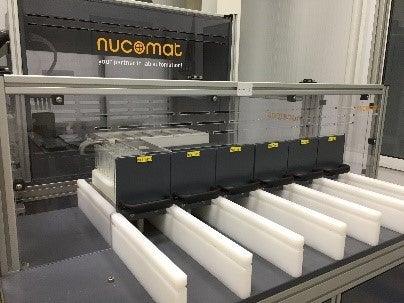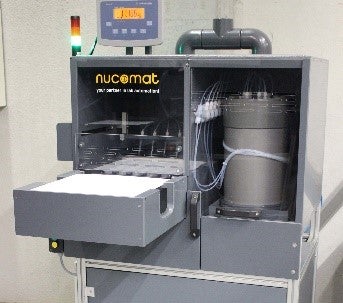 Automated sample preparation systems for mining samples
NUCOMAT's automated systems enable wet chemistry sample preparation of up to 500 blast hole and exploration samples a day.
They also enable automatic multi-species determination of the ore samples.
In a typical sequence, an operator manually loads blast hole or exploration samples into the system where they are automatically dispensed into flasks. Unused samples can be archived while reference samples can also be prepared at customer-defined intervals.
An environmentally contained cell safely enables liquids, including acids, to be added to flasks. Bulk quantities of liquid chemicals are safely stored for automatic dispensing.
Flask contents are heated, mixed, dissolved and filtered before an accurate quantity transferred to a test tube for further analysis. In addition, inline or offline inductively coupled plasma (ICP) and/or atomic absorption spectroscopy (AAS) analysis can be performed on each sample.
Features of NUCOMAT's automated system include:
24/7 operation
Modular design allows for flexibility
Online, real-time sample loading
Improved precision and accuracy
Optimal safety for lab personnel
Drastically reduced health risk
A wide range of reagent addition possibilities, including strong acids
Integrated quality control
Automatic system restart after power failure
Closed-loop labware utilisation with built-in washing station
Sample preparation for ICP and/or AAS analysis
Laboratory information management system (LIMS) compatibility
Nucomat's solutions for mining analytical laboratories
Nucomat offers a number of automated sample preparation systems for wet chemistry digestion of ore samples. Applications include gold analysis from silver prills among others.
Automated WetChem systems for sample preparation
NUCOMAT's WetChem system is specifically designed for the chemical analysis of mining samples, as many different analyses are typically performed such as AAS and ICP.
The sample preparation procedure is very often time-consuming and involves the dissolution of ground samples using concentrated acids.
The automation of the sample prep process results in several advantages such as improved lab safety, increased throughput of up to 500 samples a day and the possibility to run the machine under a 24/7 regime.
Automated Silverprill systems for sample preparation
NUCOMAT's automated Silverprill system analyses the presence of different elements by dissolving silver prills.
The solution can be equipped with an AAS instrument for inline chemical analysis.
Silverprill offers enhanced quality and safety and a daily throughput of up to 1,500 samples through an automated preparation process.
High-speed mini-dispenser systems for reagents and acids
NUCOMAT's high-speed automated dispenser can be used for reagent or acid gravimetric dispensing in a fast, accurate and safe way.
The system is suitable for any laboratory that requires fast reagent additions to standard test tubes. It can also be embedded in a safety enclosure.
Benefits of automated sample preparation
The traditional mining analytical laboratory requires all processes from logging-in samples to manually executing the sample preparation. As a result, the mining process is labour-intensive and since the control samples require a fast turnaround time, the need for manual labour only increases.
In an automated mining laboratory, the mining samples are advanced through analytical processes without the need for manual labour, reducing the processing time and improving the quality of analysis.
In comparison to manual systems, these automated systems offer operator safety, traceability and repeatability, gravimetric accuracy, validated results and web-based remote control.
NUCOMAT offers a range of services for quality control laboratories, including automated sample preparation, handling and testing solutions.
NUCOMAT
Spieveldstraat 45
Industriepark E17/3265
9160 Lokeren
Belgium



Telephone Number




Fax Number




Email Address




Links