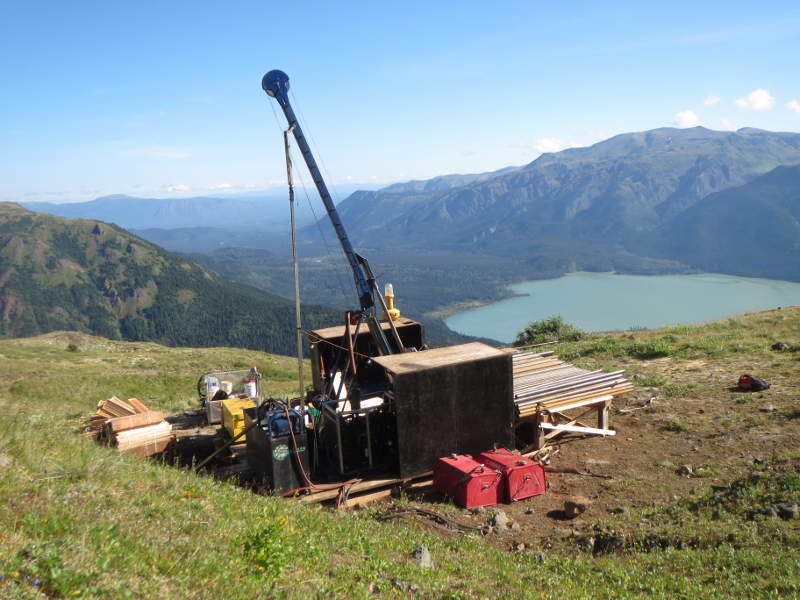 The Spectrum-GJ copper-gold project in British Columbia, Canada, comprises two deposits namely the Donnelly Deposit and the Spectrum Central Zone. Image courtesy of Skeena Resources.
Skeena Resources' Spectrum-GJ copper-gold project is situated within the Golden Triangle of north-west British Columbia, Canada. It is a combination of two deposits namely the Donnelly Deposit at GJ (Donnelly) and the Spectrum Central Zone (Spectrum).
Preliminary economic assessment (PEA) for the copper-gold project commenced in December 2016 and the results were announced in April 2017.
The project is estimated to produce 1.61Moz of gold, 7.54Moz of silver, and 998.99Mlb of copper through its 25-year mine life, according to the PEA report.
Location, geology and mineralisation
The project area is located in the Liard Mining Division within the Stikine River region of north-west British Columbia, approximately 200km north of Stewart. Located 30km west of Imperial Metals' Red Chris Mine, the project is spread over 43,500ha and comprises 93 contiguous mineral claims.
The Spectrum and Donnelly deposits are a combination of lower-grade, porphyry-style Cu-Au deposits with high-grade gold veins, veinlets, stockworks, and shear zones containing Ag, As, Cu and Zn.
The intrusive rocks of the project area fall within the Stikine Arch structural domain and are typically fine to medium-grained dykes, sills and plutons of Early Jurassic age. The rock compositions vary from diorite to granodiorite, monzodiorite, monzonite and syenite.
"Preliminary economic assessment (PEA) for the copper-gold project commenced in December 2016 and the results were announced in April 2017."
At the Central Zone, porphyry-style Cu-Au mineralisation occurs within a north-south trending, moderately west-dipping and structural panel of Triassic Stuhini volcaniclastic lithologies intruded by monzonite dykes.
Most of the mineralisation is contained as quartz-pyrite-chalcopyrite with or without magnetite veinlets, stockworks, fracture fills and fine grained disseminations of pyrite and chalcopyrite.
The porphyry Cu-Au Donnelly deposit extends over 3.5km.
Spectrum-GJ project reserves
The indicated and inferred mineral resources at Spectrum Central Zone are estimated to be 61Mt, while the indicated and inferred resources at GJ Donnelly deposit are estimated to be 243.5Mt.
The Spectrum Central Zone is estimated to contain 1.39Moz of gold, 3.98Moz of silver and 144.1Mlb of copper, while the GJ Donnelly deposit is estimated to contain 2.42Moz of gold, 14.67Moz of silver and 1,320.5Mlbs of copper.
Mining and processing of ore from Spectrum-GJ
Conventional truck and shovel method of open-pit mining is proposed to be conducted at Spectrum-GJ project, with a staged approach to production output.
Ore from Donnelly will be processed at a rate of 10,000 tonnes per day (tpd), increasing to 20,000tpd in the sixth year with the addition of Spectrum ore, and will ultimately reach 30,000tpd in the 12th year.
The ore will be processed in three stages, with the first stage involving 100% feed to the processing plant from the Donnelly Pit. Gold gravity concentrate will be produced from the feed during this stage for sale in the market.
The processing plant will be a conventional copper/gold porphyry processing unit with a throughput of 213.74Mt. It will include a centrally located flotation unit and a single life-of-mine tailings storage facility. A conventional carbon-in-leach (CIL) plant is proposed to be installed during the sixth year for improved gold recovery.
The ore will undergo two stages of crushing and ball milling followed by rougher flotation, concentrate regrinding and cleaner flotation resulting in the production of a pulp containing the final concentrate. The concentrate will be further dewatered by thickening and filtration before loading onto trucks for delivery.
In the second stage, 5,000tpd of run-of-mine (ROM) feed from Spectrum Pit and 15,000tpd from the Donnelly Pit will be blended to produce doré.
Rougher copper tailings will be subjected to a desulphurisation pyrite float, and the resulting concentrate will be combined with the copper first cleaner tails, thickened, and cyanide leached with carbon through a leach circuit.
Activated carbon from the leach circuit, loaded with gold and silver, will be stripped and regenerated through a conventional carbon handling circuit. It will be followed by elution and regeneration, electro-winning, calcination, and finally smelting into doré.
The third phase, starting from production year 12, will process the Donnelly pit feed at a rate of 30,000tpd. It will utilise the cone crusher that is used for secondary crushing in the first stage for pebble crushing.
Sale of products
The final products generated at the Spectrum-GJ plant will be a Cu-Au-(Ag) concentrate during all the three stages, a gold-rich gravity concentrate in the first stage and gold-silver doré during the second and third stages.
The entire Cu-Au-(Ag) concentrate will be transported by B-Train truck from the plant to the bulk container facility at Port of Stewart, B.C. for onward shipment to the Far East.
The gold-rich gravity concentrate and the gold-silver doré are proposed to be transported to a precious metals refinery in North America, while the refined product will be sold to precious metals traders.
Infrastructure facilities at Spectrum-GJ
Power supply for the mine will be provided through B.C. Hydro's 287kV Northwest transmission line. A new take-off sub-station is being proposed to be constructed adjacent to the Willow Creek Road turnoff from Highway 37 and connected through a 33km-long new powerline connecting to the project substation.
Workers will be accommodated at a single, central and permanent camp facility to be located at the mine infrastructure area.