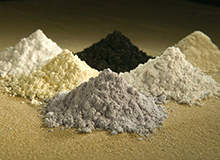 The Nechalacho rare earth elements (REE) project being developed by Avalon Rare Metals in Thor Lake, Northwest Territories, Canada, is one of the world's most advanced and large, heavy rare earth development projects. It is also host to the world's second biggest tantalum deposit and third biggest niobium deposit.
Feasibility study for the project was completed in April 2013 and approval was received from the federal government in November 2013. A Type A land use permit (LUP) was received from the Mackenzie Valley Land and Water Board (MVLWB) in April 2014, followed by Type B water licence (WL) in May 2014. Commercial production is anticipated to begin by 2017.
The rare earth element project includes the construction of a 2,000t a day underground mine, a concentrator, a hydrometallurgical processing plant at Pine Point, and a rare earth refinery at Geismar, Louisiana, US, with a capacity of 10,000t a year of separated rare earth oxides.
"The property is made up of five contiguous mining leases totalling 10,449 acres and three mineral claims totalling 4,597 acres."
The project is estimated to be developed at a capital cost of $1.58bn. It is expected to produce approximately 9,286t of total rare earth oxides (TREO), 19,763t of zirconium oxide, 2,230t of niobium oxide and 243t of tantalum oxide annually during its expected mine life of 20 years.
Nechalacho REE project details, geology and mineralisation
The Nechalacho deposit is located in the Mackenzie mining district of the Northwest Territories, approximately 100km south-east of Yellowknife city. The property is made up of five contiguous mining leases totalling 10,449 acres and three mineral claims totalling 4,597 acres.
The deposit is exceptional among hard rock rare earth deposits with large size and high proportion of heavy rare earths (greater than 20% TREO). The deposit occurs within the Blatchford Lake Complex (BLC), which includes Archaean Yellowknife Supergroup meta-sedimentary rocks of the southern Slave geologic province.
At Nechalacho, light rare earth elements (LREE) are found principally in allanite, monazite, bastnaesite and synchysite, while yttrium, heavy rare earth elements (HREE), niobium and tantalum are mostly found in fergusonite. Other elements such as niobium are found in ferrocolumbite, heavy rare earth elements, niobium, tantalum and zirconium in zircon, gallium in biotite, and chlorite and feldspar in albitised feldspathic rocks.
Reserves
As of 3 May 2013, the mine was estimated to contain 14.6 million tonnes (Mt) of proven and probable mineral reserves.
Mining and processing of ore at Nechalacho
An underground mining method, using mechanised cut-and-fill and long-hole methods with paste backfill, is proposed to be used.
Ore will be processed at three plants, namely the concentrator at the Nechalacho mine site, the hydrometallurgical plant at the Pine Point site and the rare earth refinery at the Geismar site.
The concentrator will have a design capacity of 2,000t/d initially and will be expanded to 4,000t/d later. The ore will be initially fed to the primary crusher and the fine crushed ore product will be delivered by conveyor to a surface fine ore bin, which will feed the crushing and grinding circuit.
The grinding circuit will be a conventional rod mill/ball mill operation, wherein the rod mill will be operated in open circuit and the ball mill in closed circuit with classifying hydrocyclones. The cyclone overflow will gravitate to two stages of magnetic separation followed by a desliming circuit. The magnetics from the magnetic separation circuit and the fines from the desliming circuit will be routed to tailings. The deslimed slurry will be transported to the flotation circuit.
---
---
The Whabouchi lithium deposit is a combined open-pit and underground mining project in the James Bay area of Quebec, Canada.
---
The flotation circuit will comprise three stages of bulk flotation, four stages of cleaner flotation and a single cleaner scavenger stage. Flotation concentrate will be delivered to a gravity separation circuit for further refining before being thickened and filtered to final product concentrate. The light material (gravity tailings) will be returned to the bulk rougher flotation circuit.
The flotation concentrate produced at the concentrator will be transported to the hydrometallurgical plant at Pine Point to produce a mixed rare earth precipitate and an enriched zirconium concentrate (EZC).
The enriched zirconium concentrate is planned to be sold to third parties, while the rare earth precipitate will be shipped by rail to the Geismar site for leaching and separation of rare earths.
Rare earth metal refining agreement
Avalon and Solvay entered a rare earth refining agreement in March 2014 to process the rare earth concentrate produced at Nechalacho into pure rare earth oxides for a period of ten years.
Under the agreement, Avalon will ship rare earth concentrate containing 98.5% REO to Solvay's separation and refining plant in La Rochelle. Solvay will process the concentrate and return separated oxides of praseodymium (Pr), neodymium (Nd), europium (Eu), gadolinium (Gd), terbium (Tb), dysprosium (Dy), lutetium (Lu) and yttrium (Y) ranging in purity between 99.5% and 99.99%.
Solvay is also entitled to purchase selected REO from Avalon, while the unsold rare earth products will be sold and delivered directly from the La Rochelle plant.
Contractors involved
SNC-Lavalin prepared the feasibility study report for the Nechalacho rare earth elements project.