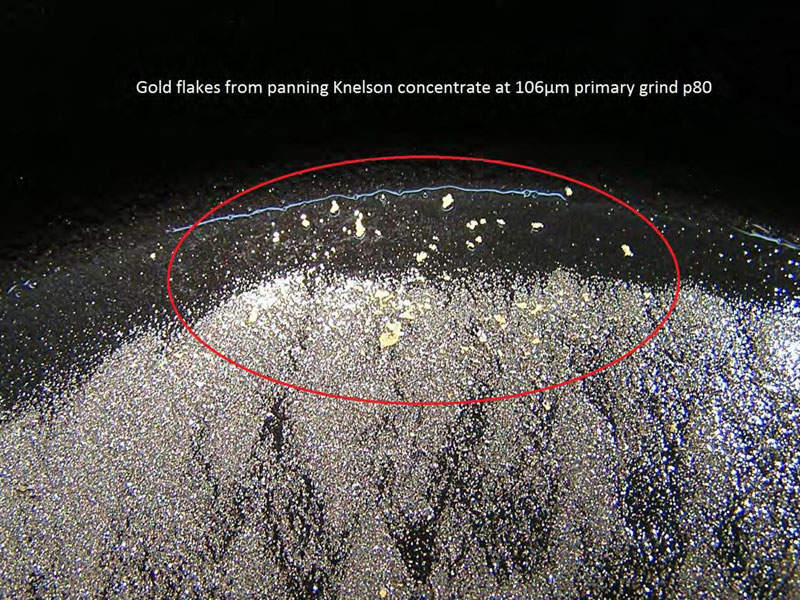 The Makabingui project's open-pit design enables 99% gold recovery. Image courtesy of Bassari Resources Limited.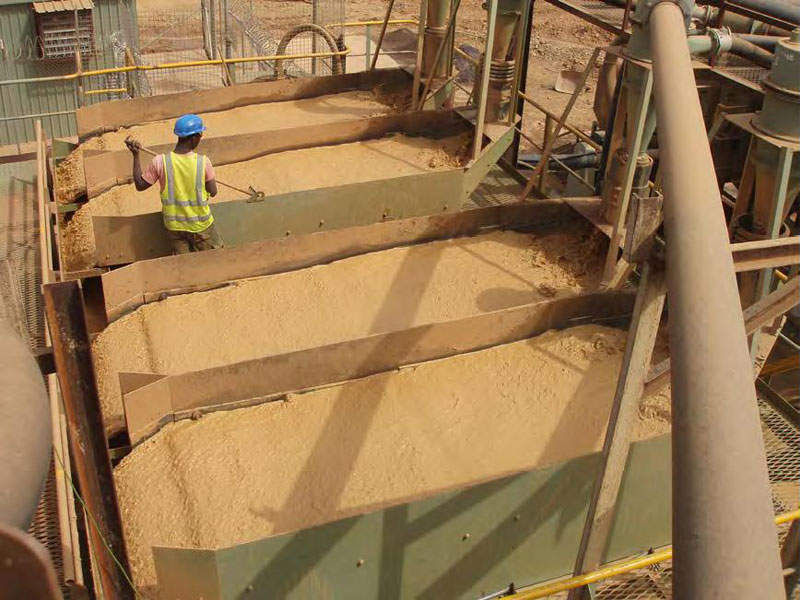 The four existing gravity jigs at the Makabingui plant used for gold processing. Image courtesy of Bassari Resources Limited.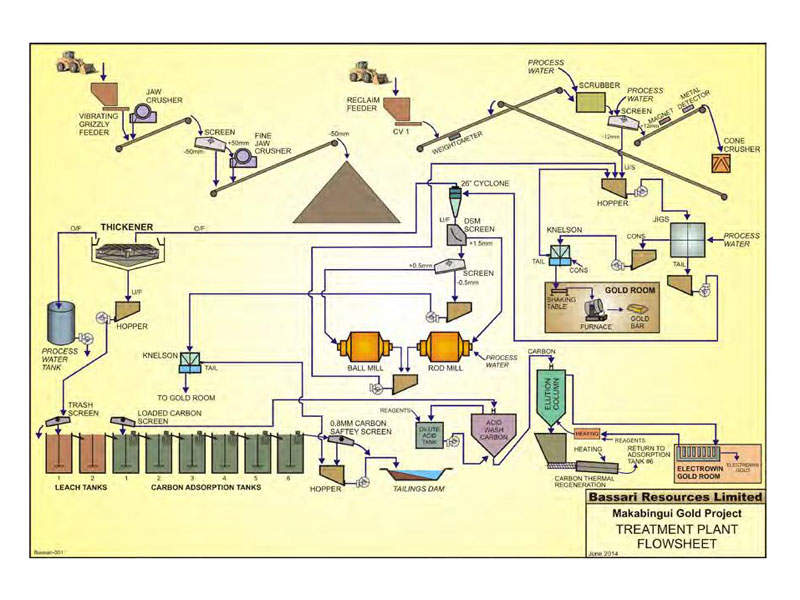 The existing processing plant at the mine has an average throughput of 300 kilo-tonnes per annum. Image courtesy of Bassari Resources Limited.
The Makabingui gold project is an advanced stage gold project located in Senegal, Western Africa. The mine is owned by a joint venture of Bassari Resources and WATIC, which owns three contiguous exploration permits covering 850km² in the highly prospective Birimian Kenieba Inlier near Senegal. Makabingui gold resource is located in one of the three permits, Sambarabougou.
The feasibility study (FS) for the project was completed in June 2014, followed by an underground scoping study in September 2014. The JV received exploitation permits to develop the gold deposit from the Ministry of Mines in November 2016.
The mine will have an initial life of 3.4 years and produce 50,000oz of gold a year.
Makabingui gold project geology and mineralisation
The three contiguous permits span across an 80km strike of the Main Transcurrent Shear Zone, which is a clearly defined gold-mineralised structural corridor.
"The JV received exploitation permits to develop the gold deposit from the Ministry of Mines in November 2016."
The Makabingui resource contains a large number of shallow east dipping zones of gold mineralisation hosted by a gabbroic intrusive and contact metasediments.
The mineralisation is associated with quartz veins and stockworks with silica, sericite, biotite and carbonate alteration, as well as variable amounts of sulphides, pyrite and arsenopyrite.
Reserves at the gold mine
The Makabingui project hosts indicated and inferred resources of 11.9Mt graded at 2.6g/t Au, containing 1Moz of gold.
Indicated resources are estimated to be 2.6Mt graded at 4.0g/t Au, containing 336,000oz of gold, and inferred resources are estimated to be 9.3Mt graded at 2.2g/t Au, containing 669,000oz of gold.
The total open-pit ore reserve at the mine is estimated at 0.86Mt graded at 5.7g/t, containing 158,000oz of gold.
Mining and processing at Makabingui gold project
The initial mine development plan includes open-cut mining, which will use existing infrastructure, equipment and processing plant.
A scoping study to identify the potential for underground mining has been conducted to extend the resource base. The study recommended underground mining to access the deeper resources of the mine, once the initial phase of open-cut mining operations is completed. A larger facility along with the existing facilities is planned for the underground mining operation.
Ore processing at the plant will be done using an existing 300,000t/y processing plant. Two-stage processing involving a stage-1 circuit for maximising gravity recoverable gold and a stage-two conventional carbon-in-leach (CIL) circuit will be used to process the ore.
Infrastructure at the gold mine
The mine development will initially utilise existing plant infrastructure, including the processing plant. An upgrade to the processing plant has been proposed to minimise pump flows achieved by simplifying process circuits.
Water for plant operations will be supplied through a 500l water storage dam located close to the site.
Other infrastructure at the plant include a fleet of heavy mobile equipment and light vehicles, including a caterpillar grader, loader, bell trucks, excavators, coaster bus, and truck and semi-trailer. The equipment is wholly owned by the company and will be used to conduct pre-development works and mining operations.
An existing camp set-up, known as Douta Camp, can accommodate 120 people and features offices, dining hall, laundry and shower block. The camp compound also has a core shed, a vehicle maintenance facility, fuel storage area, and medical centre.
Contractors involved
The feasibility study for the project was conducted by independent consultants, including Australian Mine Design & Development, Xstract Mining Consultants, Trevor Clark & Associates, Binks Metallurgical & Environmental Resources, Timora and Australian Minmet Metallurgical Laboratories.
Processing plant equipment required for its upgrade is being supplied by Vanture International, a China-based sourcing and procurement firm.
Financing
With the existing infrastructure in place, the African gold mine is estimated to require a capital investment of $12.1m and an operating investment of $117m.
The JV is considering a number of alternatives to fund the development of the gold project. It raised $556,414 in September 2014 by issuing more than 201 million shortfall shares at an issue price of 2¢ per new share.