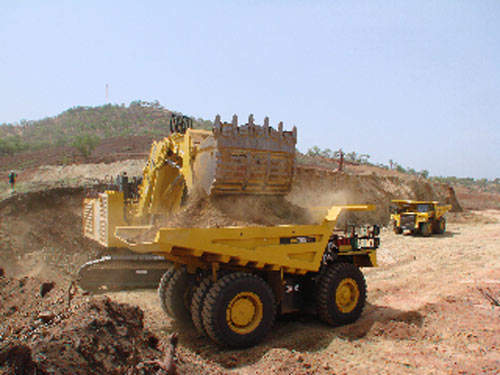 Sabodala is located in Senegal, some 650km east of the capital Dakar. The project contains two deposits – Sabodala and Niakafiri – which lie in a granted 20km² mining concession.
The project is 90% owned through MDL's operating company Sabodala Gold Operations SA, 10% by the Government of the Republic of Senegal.
Cost to completion is about $90m, including a $12.2m contingency provision. During the first quarter of 2008, the company negotiated a debt financing package to provide total facilities of $130m for the completion of the construction and development phases of Sabodala, and an asset-based finance lease for the site mining fleet.
In April 2008, the company announced it had commenced drawdown of the first component of the debt financing package. The $35m revolving working capital facility is being provided by RMB Australia Holdings Ltd and Macquarie Bank Ltd.
GEOLOGY
The Sabodala and Niakafiri gold deposits are situated in the Mako Mafic Volcanic Belt and lie within the west Birimian gold province, which is host to some of the world's largest gold deposits.
Sabodala is sited on a small hill of unweathered metabasalts. Locally, the volcanics are intruded by subvolcanic dolerite and gabbro sills and dykes, as well as quartz-feldspar porphyry and unfoliated rhyolite dykes. The gold mineralisation is associated with quartz, sericite, ankerite/siderite veining and orange-coloured silica-albite-carbonate-pyrite alteration. The main sulphide mineral is pyrite, although free gold does occur.
The Niakafiri deposit, about 3km south of Sabodala, is interpreted to be a westerly-dipping shear-hosted mineralised system. Underlying rock types comprise structurally modified and sheared mafic and ultramafic volcanics and, in both the oxide and primary zone, fuchsite alteration is common. The bulk of the mineralisation at Niakafiri is controlled by the main shear foliation, with most of the mineralisation hosted within the pyritic alteration zones.
RESERVES
Proven plus probable mineral reserves for the two deposits total 18.3Mt, grading 2.39g/t for 1.4Moz of contained gold.
Of these total reserves, the mineable (diluted) reserve for the Sabodala deposit is an estimated 15.8Mt at an average grade of 2.49g/t for 1,264,000oz at a 0.8g/t cut-off grade, while the mineable open-pit reserve estimate for the Niakafiri deposit is 2.5Mt grading 1.76g/t for 142,000oz at a 0.5g/t cut-off.
MDL also estimates that potential underground zones beneath the 210m pit bottom contain 1.7Mt of undiluted measured and indicated resources averaging 4.7g/t above a 3g/t cut-off grade. Collectively, these zones are estimated to contain about 265,000oz, warranting the evaluation of underground mining options.
PRODUCTION
The deposits will be mined by conventional open-pit methods. Ore mining is starting in June 2008 with a target of 500,000t of ore to be placed on the pad prior to mill start-up by the September 2008 quarter. The mine is expected to produce about 150,000oz of gold annually over its scheduled ten-year life, and the plan is to split production into four phases – Sabodala 1, 2 and 3, and Niakafiri.
PROCESSING
MDL is building a metallurgical processing facility designed to process 2Mt per annum of gold ore, or about 6,000t/day, operating on a 24/7 basis. The processing will be based on a conventional single-crush, SAG mill and pebble-crush comminution circuit followed by gravity concentration of the mill circuit product.
"MDL is building a metallurgical processing facility designed to process 2Mt per annum of gold ore, or about 6,000t/day, operating on a 24/7 basis."
The gravity concentrate will then be reground and intensively leached before recombined with gravity tails for conventional CIL treatment. Metallurgical testwork has indicated that gold recoveries of about 90% will be achieved.
Power will come from a 25MW heavy fuel oil power station being built and commissioned by Wartsila on the site, which is due to be completed in August 2008.
Process and raw water will be stored in dams with a capacity of 5.8Mm³ located next to the plant site. Pumps mounted on pontoons or in the decant structure will deliver water via a pipeline to the plant site raw water storage tank.
Process water will be a mixture of raw water, thickener overflow solution and tailings return water. Raw water will supplement the process water circuit via the tailings thickener overflow. Tailing returns water will be pumped from the tailings decant tower using a submersible pump to the process water pond.
The EPCM contractor for the project is Ausenco Ltd, of Australia.