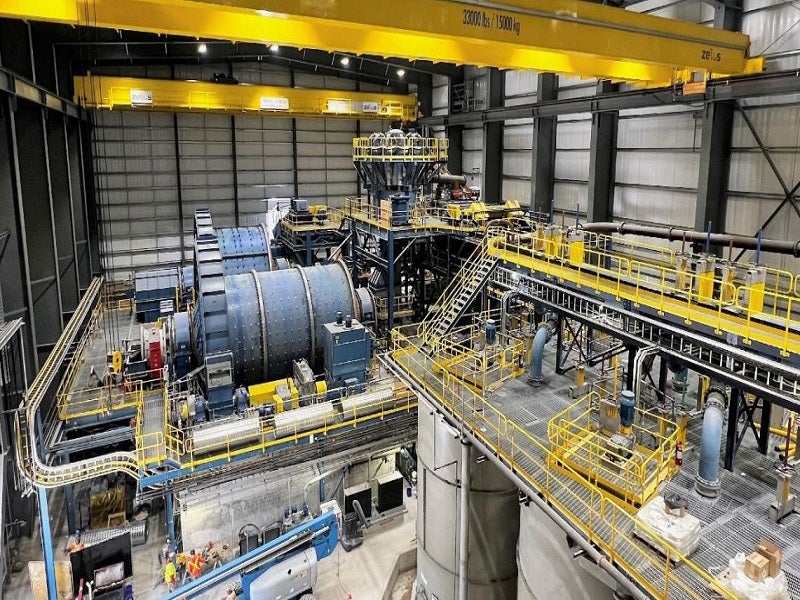 The Magino processing plant is designed to achieve an average gold recovery rate of 91.8% over the life of mine. Credit: Argonaut Gold.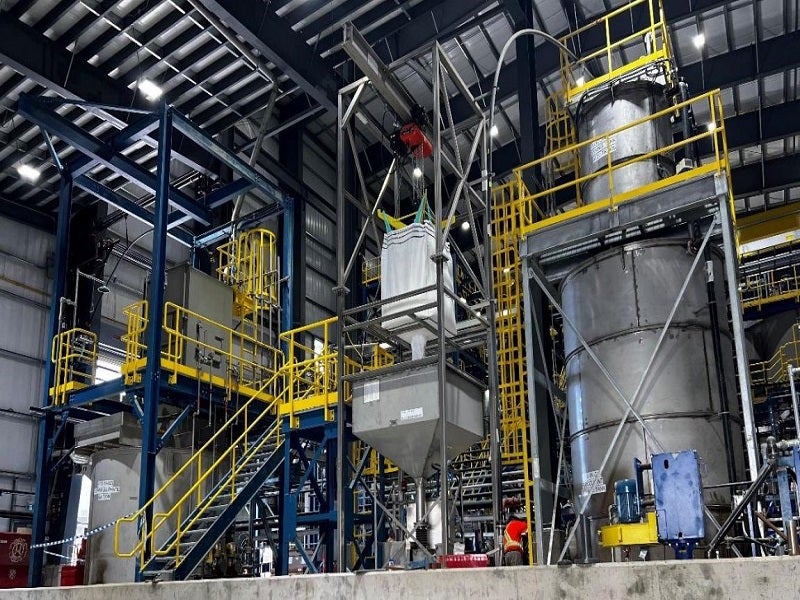 The processing facility has a throughput of 10,000tpd. Credit: Argonaut Gold.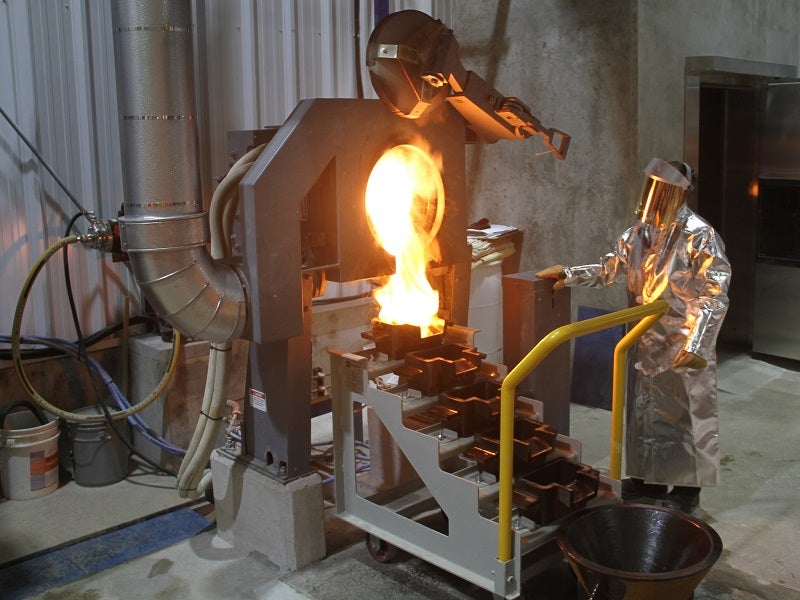 The project achieved its first gold pour in June 2023. Credit: Argonaut Gold.
The Magino gold project is an operating open-pit mine located in Ontario, Canada. It is 100% owned by Argonaut Gold through its subsidiary Prodigy Gold (Prodigy).
The preliminary feasibility study (PFS) for the project was completed in January 2014 and was further updated in January 2016 while the feasibility study was published in December 2017. An updated technical report on the property was completed in March 2022.
The project has a mining life of 19 years, lasting until 2041. The capital investment for the project is estimated at approximately C$980m ($755m).
Pre-production operations at the mine commenced in the first quarter of 2021. Construction was 80% complete by the end of 2022. The project achieved its first gold pour in June 2023 and is expected to produce up to 81,000 ounces (oz) of gold in 2023. Commercial production is expected to begin in the third quarter of 2023.
Argonaut Gold sold a 2% net smelter return royalty on the Magino project and surrounding land package to Franco-Nevada, a royalty and streaming company focused on gold, for a consideration of $52.5m in October 2022.
Location of the Magino Gold Project
The Magino Gold Project is located in Finan Township, Ontario, approximately 10km south-east of Dubreuilville, 40km north-east of Wawa, and 195km north of Sault Sainte Marie.
The property comprises seven patented mining claims, 69 unpatented mining claims, and four leased mining claims, encompassing a total area of 2,204.5ha.
Geology and mineralisation of the Magino project
The project is located in the geological Wawa sub-province of the Precambrian Canadian Shield, which hosts felsic to intermediate pyroclastic metavolcanic rocks and mafic metavolcanic rocks. Gold mineralisation at the site occurs in veins within the Webb Lake Granodiorite stock.
The granadiorite contains between 5% and 10% veins of carbonate, quartz, tourmaline and pyrite in various orientations. The mineralised veins are between 2m and 4.5m wide, with a strike length ranging from 25m and 70m.
Magino gold project reserves
The proven and probable mineral reserves at Magino were estimated at 63.3 million tonnes (mt), grading 1.16g/t gold with contained gold of 2.36 million ounces, as of December 2022.
Mining methods at the Magino gold project
Magino is a conventional open-pit mining operation with drilling and blasting, load, and haul methods.
The mining fleet consists of two 7m³ hydraulic excavators, a 15m³ hydraulic shovel for bulk mining of waste areas and a large wheel loader as a backup loading unit. The hauling fleet consists of 140t class trucks.
The project is being developed in five mining phases, in addition to the borrow pit north of the main pit. Phase one involves extracting relatively high-grade, low waste ratio material in the middle of the deposit.
Phase two will extend the pit to the northeast while phase three will extend the pit to the southwest. Phases four and five will push the pit to the final wall position in the northeast and southwest, respectively.
Gold processing at Magino
The Magino processing plant has a throughput of 10,000 tonnes per day (tpd) with an average gold head grade of 1.15g/t.
The run-of-mine (ROM) ore undergoes crushing in a primary jaw crusher and a secondary cone crusher. The crushed ore is fed to a semi-autogenous grinding (SAG) mill and a ball mill. The ball mill discharge passes through cyclones and a gravity circuit to remove coarse gold.
The cyclone overflow is thickened in a pre-leach thickener and mixed with lime and cyanide and leached for 30 hours. The pregnant leach solution is transferred to the carbon-in-pulp (CIP) circuit where dissolved gold and silver particles are adsorbed onto activated carbon.
The loaded carbon containing gold and silver particulates are acid washed, and carbon stripped in an AARL elution circuit and passed through electrowinning circuits to recover gold and silver.
The filtered electrowinning sludge is then smelted in a furnace to produce the final gold doré product.
Infrastructure details of the Magino gold project
The Magino property is accessible via a 14km-long gravel road west of Dubreuilville, which is located on Highway 519. Additional access is available via Road 48, a 24km-long gravel road from Dubreuilville.
The project benefits from its proximity to existing road and rail infrastructure. It involves the upgrade of the existing road near the project site.
The power requirement for the site will be met through an on-site 22MW liquefied natural gas (LNG) power plant owned and operated by Argonaut. To be located next to the power generation plant, the LNG storage facility will consist of four 200m³ vertical tanks, along with a gas vaporisation system and a vaporised fuel buffer tank. Construction is ongoing and the plant is expected to become operational in 2023.
The raw water supply for the project is sourced from Goudreau Lake and is treated and stored for use as potable water. The process water requirements are met from pre-leach thickener overflow, and TMF decant water, with raw water providing additional make-up water requirements.
Other major infrastructure for the project include a waste rock management facility (WRMF), a tailings management facility (TMF), an explosives storage facility, a garage, a warehouse, fuel storage facilities, a sewage treatment plant, communications systems, and main buildings, which house administrative offices, site security offices, accommodation camps, and a laboratory.
Contractors involved in the Canadian gold project
The updated PFS was compiled by JDS Energy & Mining with inputs from Resource Modeling for the geology and resource estimate, SLR International for the geotechnical, tailings, hydrogeology, tailings management facility and surface water management studies, and DENM Engineering for the metallurgical review.
LJB Mineral Services, Kirkham Geosystems, and Rockland were involved in compiling the PFS, along with JDS Energy & Mining and SLR International.
The latest metallurgical testwork for the project was conducted in two phases by McClelland Laboratories, whereas three separate series of column leach tests to probe the feasibility of heap leaching material from the project were conducted by Kappes Cassidy and Associates (KCA).
Ausenco Engineering Canada (Ausenco) signed a contract in January 2021 to provide engineering, procurement, construction and commissioning services for the Magino processing facility and other parts of the Magino construction project.
Sigfusson Northern, a general contracting and heavy civil construction company, was selected to perform earthworks including site access, site roads, plant area, water quality control pond (WQCP), TMF, and a fish habitat, which will offset the loss of fish habitat due to removal of lakes for mine construction.
Wartsilla Canada was contracted to supply the LNG-fuelled engine power plant for the project in 2022. The contract includes the delivery of four Wärtsilä 34SG gas engines, electrical equipment, and ancillary equipment, in addition to plant commissioning.
1916563 Ontario, operating as LET'S ROLL 'IDEATION' CONSULTING (LRIC), was engaged to provide catering and cleaning services for the accommodation camp.
Mining equipment finance solutions provider Komatsu Finance received a contract for the lease/purchase of mining equipment.