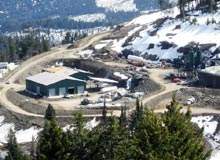 Almost 20 years after Crown Resources Corporation submitted an application to mine for gold at Buckhorn Mountain, Washington State, production finally began in 2008 through its now-parent company Kinross.
Despite creating about 180 new jobs for the local community, the proposed mine always faced strong opposition from local environmental groups.
"Buckhorn mine is located in Washington State, approximately 76km from Kinross's Kettle River gold mining facility."
Buckhorn gold mine
Buckhorn mine is located in north-central Washington State, approximately 76km from Kinross's Kettle River gold mining facility. Crown Resources Corporation initially applied for a licence to build an open-pit mine at the top of the 5,600 mountain near the Canadian border.
This application received strong disapproval from local residents and environmentalists that wanted to protect the natural beauty of Okanogan National Forest, where the mountain is located. In 1992, the Okanogan Highlands Alliance was formed to consolidate activists' activities.
In 1996, Kinross purchased Crown Resources Corporation for more than $100m and along with the acquisition gained the Buckhorn site. Since then, Kinross has built 8.5 miles of road, has installed buried power cables, built an administration building as well as a fuelling facility and power distribution plant. In total, Kinross has invested a further $100m at the mine. It has also changed all mining applications from open-pit to an underground mine.
Production
In April 2008, the last legal barrier to starting production was removed and ore began to be produced in October. Production for 2008 was between 25,000oz and 30,000oz, incurred at a cost of between $365 and $385 an ounce.
The gold mine has an estimated 100Moz of deposits and an estimated mine life of between seven and eight years. It has a target production rate of 900t of ore a day. In 2010, the mine produced about 198,810oz of gold..
As of December 2010, the proven and probable reserves equate to 1,545Mt at a grade of 11.30g/t.
The ore is mined through three horizontal tunnels, called adits, through which equipment, personnel and rock are transported in and out. These measure 12ft × 12ft and penetrate into the mountain by 1,000ft. Ore is extracted through openings in the mountain which is later filled to be used in combination of cemented sand, gravel and development rock.
Environment and water treatment
The Department of Ecology has allowed the go-ahead of the mine based on certain environmental conditions.
"The Buckhorn gold mine proposal always faced strong opposition from local environmental groups."
Most significantly, Kinross will spend $150,000 a year while the mine is in production and another $75,000 a year after extraction is complete on ensuring no groundwater or surface water pollution.
An extensive water management plan has been prepared and must be adhered to and contains clauses such as reusing groundwater to minimise usage. The mine also features a state-of-the-art water treatment facility. In addition, conditions of the permit include conducting stream and wetland augmentation using treated water, riparian habitat enhancement and preservation as well as the provision of wildlife watering facilities.
Buckhorn gold mine key players
Kinross is the third-largest primary gold producer by reserves in North America. It also has mines in Russia, Brazil and Chile, and in total employees about 5,000 people. In addition, to the Crown Resources acquisition in July 2008 it closed a friendly-acquisition of Aurelian Resources in which it gained a major gold deposit.