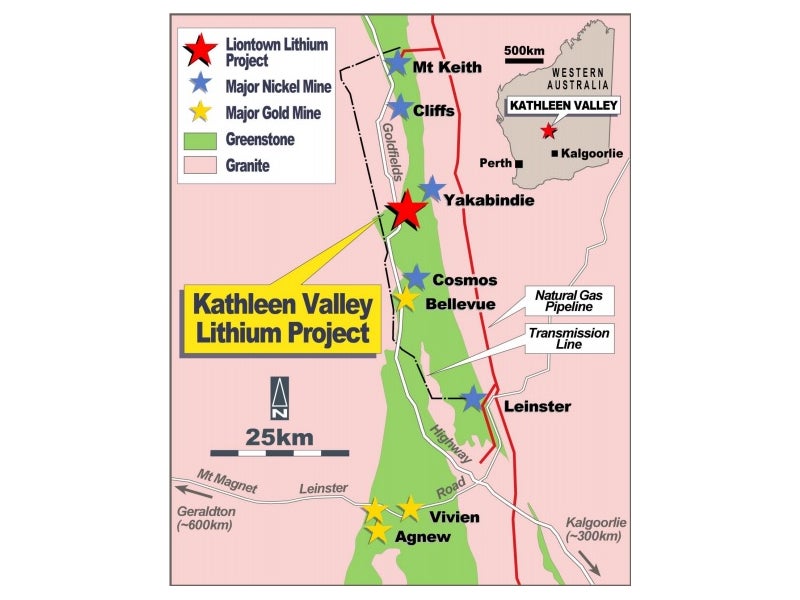 Liontown Resources is developing the high-grade Kathleen Valley lithium-tantalum project near Perth, Western Australia. Image courtesy of Liontown Resources Limited.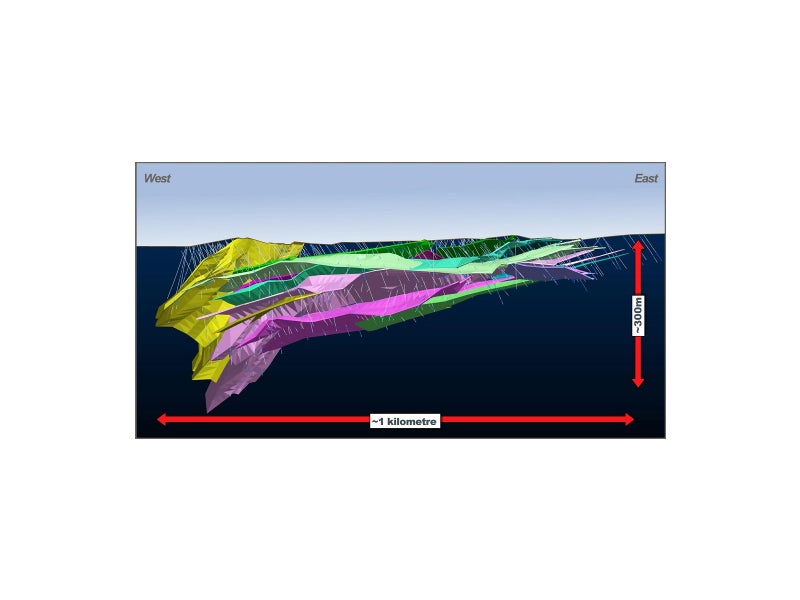 Approximately 360,000tpa of lithium concentrate is anticipated to be produced from the open-pit Kathleen Valley. Image courtesy of Liontown Resources Limited.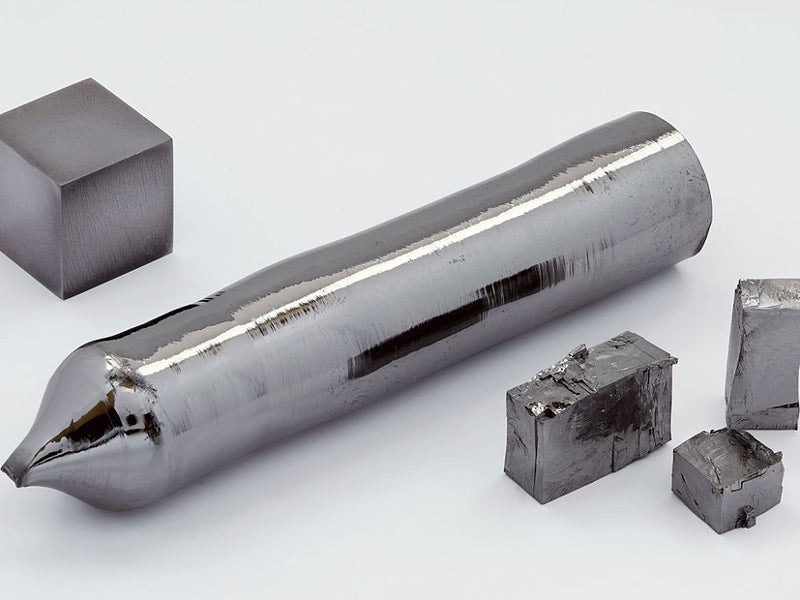 The project is estimated contain combined mineral resources of 74.9Mt. Image courtesy of Alchemist-hp.
The Kathleen Valley project is a high-grade lithium-tantalum project being developed near Perth, Western Australia.
Liontown Resources is developing the project with an estimated capital expenditure of A$232m ($167m).
The scoping study of the project was completed in January 2019 while the pre-feasibility study (PFS) is scheduled for completion in the fourth quarter of 2019.
The project is estimated to produce approximately 360,000t of lithium concentrate a year through its anticipated nine-year mine life.
Kathleen Valley lithium-tantalum project location, geology, and mineralisation
The project is located within the lithium-rich Eastern Goldfields of the Archaean Yilgarn Craton and comprises the Kathleen's Corner and Mt Mann deposits.
The project is contained within one exploration licence (EL) and four mining leases (MLs), which were acquired from Ramelius Resources in 2016. LRL (Aust), a wholly owned subsidiary of Liontown Resources (LTR), currently holds the MLs.
The project is located on the western portion of the Norseman-Wiluna Belt within the Archaean Yilgarn Craton. Most of the lithium mineralisation is contained within spodumene-bearing pegmatites belonging to a series of Lithium–Cesium–Tantalum (LCT) type rare metal pegmatites.
Kathleen Valley comprises 17 mineralised pegmatites within two pegmatite swarms trending north-west/south-east. The pegmatite swarms are expected to merge to form a single, moderately dipping mineralised body.
Reserves
The Kathleen Valley is estimated to contain combined resources of 74.9 million tonnes (Mt), graded at 1.3% Li2O and 140ppm Ta2O5.
It is estimated to contain 0.97Mt of Li2O or 2.5Mt of lithium carbonate-equivalent (LCE) and 23 million pounds (Mlb) of Ta2O5, according to July 2019 estimates.
Mining method at Kathleen Valley lithium-tantalum project
Liontown proposes to apply conventional open-pit mining methods at the lithium-tantalum project.
The open-pit will be designed to recover 15.7Mt of ore from two pits namely North and South. The Northern pit is expected to host 0.7Mt of ore and 8.3Mt of waste, while the Southern pit contains 15.0Mt of contained ore and 121.4Mt of waste.
The mining rate is expected to be 22Mtpa for the first two years, which will be increased to 34Mtpa from the fourth year.
Ore processing at Kathleen Valley
The processing plant at the Kathleen Valley project is capable of processing 2Mtpa of ore and will comprise a mineral processing concentrator with associated services and ancillaries.
Run-of-mine (ROM) ore will be passed through three-stage crushing and a two-stage dense media separation to produce a primary concentrate, a coarse tail, and a middling product for further treatment.
The middling product will further undergo a ball milling process, followed by low-intensity and high-intensity magnetic separation to remove ferrous impurities.
The material will then pass through a three-stage flotation to produce a fine spodumene concentrate and fine tails. The fine tails and middling products will be pre-concentrated to produce a tantalum concentrate, which will be thickened and filtered.
Infrastructure facilities
Main access to the Kathleen Valley project is through Goldfields Highway, which is located approximately 2km west of the mine.
Power for the project is proposed to be sourced from the nearby 132kV Transalta overhead power line. A tee-off sub-station and a transformer will be constructed to reduce the voltage from 132kV to 33kV and transfer it to the high-voltage (HV) switch room.
Raw water required by the processing plant will be supplied by a borefield while tails thickeners and a return system will be used to maximise water recycling.
Workers will be accommodated at a 200-person camp, which will feature sewage treatment, and potable and fire water systems.
Contractors involved
LT Resources prepared the project scoping study in association with consultants such as Lycopodium Minerals, Optiro, Orelogy Consulting, Nagrom, Knight Piesold, AQ2, MBS, and Botanica.
Optiro prepared the updated mineral resource estimates for the Kathleen Valley lithium-tantalum project, in addition to participating in the scoping study preparation.