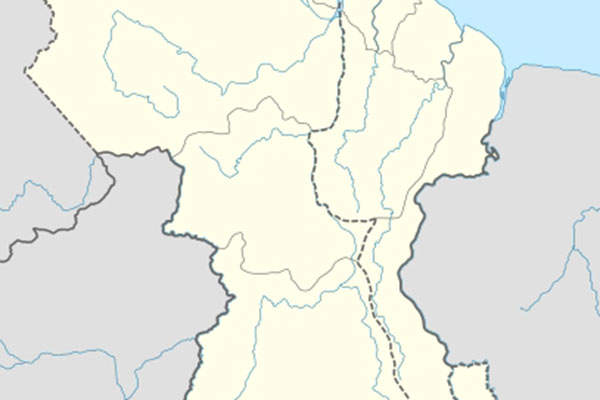 The Eagle Mountain gold project is located near Georgetown, Guyana, South America. Image: courtesy of Unukalhai.
The open pit Eagle Mountain saprolite gold mine will operate at 1,000tpd and will be ramped up to 4,000tpd by the fourth year of operation. Image: courtesy of Goldsource Mines Inc.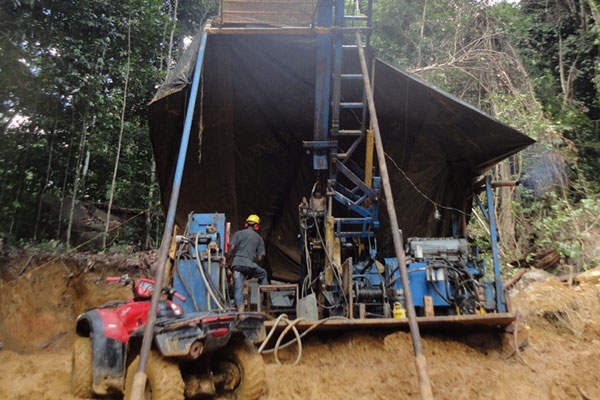 Drilling works undertaken at the Eagle Mountain mine site. Image: courtesy of Goldsource Mines Inc.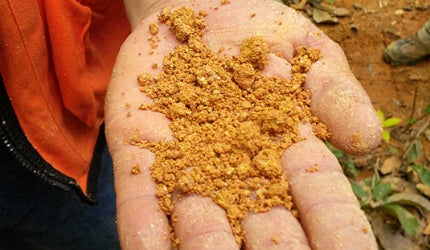 Eagle Mountain Saprolite Gold Project is a low-cost gold mine located within the 5,050ha Eagle Mountain Prospecting Licence (EMPL), approximately 230km south-west of the Georgetown, Guyana, South America. Goldsource Mines (Goldsource), through its Guyanese subsidiary Stronghold Guyana, holds 100% interest in the gold deposit.
The project includes the development of a standard open-cut mine in phases, with the first phase of development comprised of a 1,000t/d gravity plant, which is expected to be expanded gradually to 4,000tpd in four years.
Construction of the Eagle Mountain mine and processing plant began in March 2015 and production is expected to commence in the second half of 2015.
Eagle Mountain gold mine geology and mineralisation
---
---
The Aurora gold project being developed by Guyana Goldfields (GGL) is located in Cuyuni-Mazaruni, Guyana, South America.
---
Kilroy Mining was awarded mining permit for 250ha of the Eagle Mountain gold deposit, in August 2014. Stronghold and Kilroy will jointly operate the gold property, and Kilroy is also eligible for government royalties as well as a 2% net smelter return royalty as compensation.
Approximately 40% of the gold resources at Eagle Mountain contain mineralised saprolite, while the remaining constitute fresh rock. Saprolite and fresh rock remain open laterally and to depth, signifying strong mineralisation.
The property is located within Palaeoproterozoic greenstone rocks of the northern portion of the Guiana Shield. Barama-Mazaruni Supergroup rocks found in this region contain folded, lower greenschist meta-volcanic and meta-sedimentary rocks.
The gold mineralisation is hosted by a composite granodiorite pluton that enters into the greenstone rocks. The mineralisation is structurally controlled with a sub-horizontal thrusting event being the gold-bearing host.
Mineral reserves at Eagle Mountain
"Approximately 40% of the gold resources at Eagle Mountain contain mineralised saprolite, while the remaining constitute fresh rock."
As of July 2014, the Eagle Mountain project is estimated to contain indicated saprolite resources of 1.59 million tonnes (Mt) grading 1.45g/t of Au, and fresh rock material of 2.33Mt grading 1.52g/t Au.
Mining and processing of ore at the Eagle Mountain mine
Conventional open cut mining, using excavators, bulldozers, and wheel loaders for excavation and separation of materials, will be applied at the gold mine.
Ore from the mine will be loaded by excavator or wheel-loader into portable grizzly-scrubber-screening unit, while material of less than 2mm size will be delivered directly to the processing facility through a slurry line. The oversize material will be stockpiled for future processing.
The run-of-mine, mineralised material will be delivered to a dump pocket in front of the scrubber-screening plant. It will then be reclaimed from the dump pocket by vibrating grizzly feeder and screened. The screened material will be placed in a pipeline, comprising an estimated underflow pulp of 50% solids, and transported to the processing facility by gravity.
The material will then pass through the SB2500 Falcon concentrators to produce gold concentrate, which is tabled to produce a final concentrate. The final concentrate will be purified in a refinery furnace and doré bars will be produced.
Financing of Eagle Mountain mine phase I
Goldsource completed a non-brokered, private placement to provide $7.1m for the first phase of the open cut mine construction in December 2014.
Infrastructure facilities
The site will be accessed by a 7km-long unpaved road, which connects the Mahdia town. The road will undergo rehabilitation to enable the transportation of heavy equipment for the mine.
Power supply for all the facilities at the mine will be provided by diesel generators feeding the surface substation. A backup generator will also be provided for emergency purposes.
Freshwater required by the processing facility will be pumped from sumps in nearby streams.