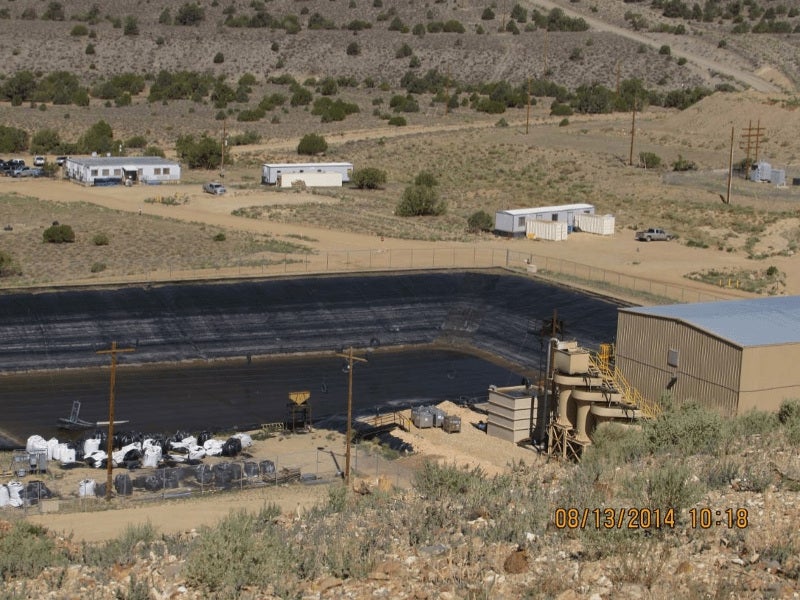 Borealis gold project is currently entangled in a legal battle alleging mismanagement by the controlling shareholder Waterton Global Resource Management. Image courtesy of Bockhold Investment Management.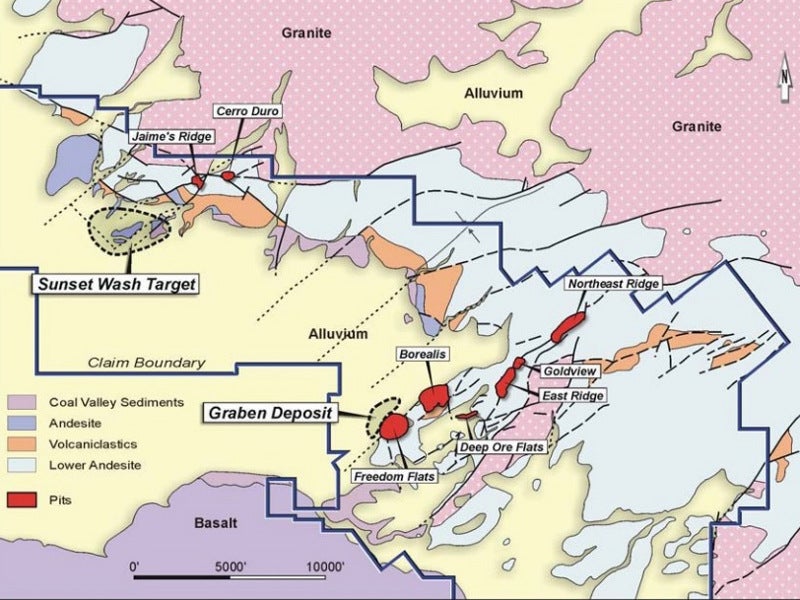 The district geology is made up of Miocene pyroclastics/tuffs and andesite and dacite flows as well as laharic breccias. Image courtesy of Gryphon Gold Corporation.
The historical mine is neighboured by several known deposits such as the Freedom Flats, Crocodile Ridge, Graben, and Deep Ore Flats. Image courtesy of Gryphon Gold Corporation.
The Borealis gold project is an open-pit heap leach mine located near Hawthorne, Mineral County, Nevada, US. The mine is located 26km from Hawthorne in the Walker Lane Mineral Belt and 19km from the California border.
The mine was owned and operated by Borealis Mining Company (BMC), a wholly owned subsidiary of Gryphon Gold, until Waterton Global Resource Management (Waterton) acquired 60% controlling interest in the mine in January 2013.
The project is currently entangled in a legal battle alleging mismanagement by Waterton, which led to the bankruptcy of Gryphon Gold.
Controversy surrounding the Borealis gold project
Before Waterton acquired a controlling interest in BMC, Gryphon made all attempts to reopen the mine by launching a re-leaching operation, which used previously leached ore instead of freshly mined ore to extract gold.
Former Gryphon CFO and interim CEO James O'Neil secured $1.5m in bridge loan financing in 2012 from Waterton at 15% a year in order to continue the re-leaching operation. The interest rate was much higher than the standard rate, which breached the Sec. 347 of the Criminal Code of Canada.
O'Neil also went on to obtain a $15m senior secured credit facility in April 2012 followed by another $20m in September 2012.
O'Neil did not consider the alternative financing options proposed by Murray Bockhold and Jerry Baughman (former Gryphon director and stockholder) but finalised a debt for equity transaction with Waterton in January 2013 to gain a controlling interest in BMC, it was alleged.
In July 2013, Gryphon transferred 120,000 membership units in the Borealis gold project to Waterton towards payment due June 2013 under the senior credit facility. The transaction reduced Gryphon's project stake to 36% (with 3.6 million membership units).
Gryphon was losing its equity interest in BMC as it could not generate revenues to make payments to Waterton. To avoid this situation, the stockholders filed for appointment of a receiver to put Gryphon into bankruptcy.
In July 2013, Gryphon filed for a voluntary petition under Chapter 11 of the United States Bankruptcy Code, in July 2013. The bankruptcy petition was dismissed and the project was placed under care and maintenance in 2015. Waterton secured approval to re-open the Borealis mine from the Nevada Division of Environmental Protection, in September 2016.
Lawsuits filed by Gryphon
Multiple forensic audits and valuations of the mine conducted during the bankruptcy proceedings revealed that Waterton purposely decreased the value of the mine to provide enough evidence to the bankruptcy court that the mine was profitable.
Gryphon filed a lawsuit in July 2018 against Waterton alleging that it drove the company into bankruptcy. It alleged that Waterton conducted mining at night when the Borealis mine was on care and maintenance. It also alleged that Waterton provided loans with an intention to lead to an immediate default, enabling Waterton to take control of the mine.
The intention was to secure control and divert valuable $45m gold/silver-laded carbon to a holding pond during Gryphon's bankruptcy. A temporary restraining order (TRO) was issued in August 2018, which stopped Waterton to collect the contents of the pond. In July 2018, the Second Judicial District Court, State of Nevada, Washoe County, appointed Murray Bockhold as the custodian for Gryphon.
In April 2019, Gryphon and Murray Bockhold filed a second amended complaint in the Second Judicial Court in the State of Nevada in a $300m lawsuit against Waterton. They applied for a motion seeking a preliminary injunction against Waterton and requested a temporary restraining order to prevent the removal of any and all carbon from the pregnant pond at Borealis mine.
Supply agreement
A gold and silver supply agreement was entered with Waterton for the sale of the entire production from the Borealis mine. The agreement further provides Waterton with a 1% discount on all purchases during the loan term plus three years, subject to a maximum of 150,000oz of gold.
Reserves
As of March 2011, the Borealis project was estimated to contain proven and probable oxide and mixed oxide reserves of 17.2Mt of ore grading 0.021 ounces per short ton (oz/t) of gold and 0.13oz/t of silver. The contained volumes were estimated to be 368,800oz of gold and 2.2Moz of silver.
Mining and processing
The Borealis project is made up of eight open-pit mines namely Northeast Ridge, Gold View, East Ridge, Deep Ore Flats, Borealis, Freedom Flats, Jaime's Ridge, and Cerro Duro.
The ore mined from the surface was crushed and processed through conventional cyanide-agglomerated heap leaching processes using both permanent and reusable pads. Precious metals were recovered through the Merrill-Crowe process.
The project also comprises adsorption, desorption and refining (ADR) plant, which generates a barren cyanide solution. The solution is mixed with the ore and the resulting pregnant leach solution is collected and pumped to the ADR plant. Gold and silver are removed from the solution by using a carbon circuit followed by pressure stripping.
Concentrated pregnant solution from the strip circuit undergoes an electro-winning process to recover precious metals as metallic sludge. Residual mercury is separated from the sludge, dried, and mixed with fluxes to produce gold and silver doré.
Infrastructure facilities
The project receives electric power from the NV Energy power grid, while water is provided by a 375gpm well field located three miles away and transported through a 10in-diameter buried steel pipeline.
Borealis gold project geology and mineralisation
The Borealis gold project contains epithermal style mineralisation comprising Miocene pyroclastic rocks/tuffs and laharic breccias.
Pediment gravels present at the project host volcanic rocks along the mountain front, which hosts the hydrothermal alteration.
Most of the mineralisation at the site is associated with hydrothermal breccias along with pervasive silica and sulphides.