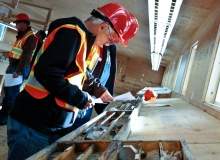 Blackwater Gold Project is located 160km southwest of Prince George and 100km south of Vanderhoof in central British Columbia, Canada. It is spread over approximately 15,000ha on the northern flanks of Mt. Davidson.
The property was earlier jointly owned by Richfield Ventures and Silver Quest Resources. Silver Quest took a stake in the project in 2005 whereas Richfield acquired its stake in 2009.
New Gold became 100% owner of the project by acquiring Richfield and Silver Quest in June and December 2011 respectively.
The deposit was discovered and explored by Granges in 1973. Richfield Ventures identified bulk gold potential at the project in 2009. It commenced phase one diamond drilling at the mine in August 2009.
Following acquisition of 100% interest in the mine, New Gold announced a $20m exploration programme in June 2011 for carrying out enhanced drilling at the site. As of May 2012, 151 holes totalling 57,064m have been drilled at the mine.
Future developments planned at Blackwater
New Gold expects to complete a Preliminary Economic Assessment of the project in September 2012. It plans to complete the final feasibility by 2013 and begin construction activity in 2015.
Reserves and estimated gold levels
As of July 2012, the Blackwater gold project contains inferred resources of 98.9 million tonnes graded at 0.77g/t containing 2.5 million ounces (moz) of gold.
The indicated resources are estimated at 230.6 million tons graded at 0.96g/t containing 7.1moz of gold. The estimates were prepared at a cut-off grade of 0.4g/t of gold.
Production and geology at the Blackwater mine
"As of July 2012, the Blackwater gold project contains inferred resources of 98 million tonnes graded at 0.77g/t containing 2.5 million ounces (moz) of gold."
The mine life based on current estimates is ten to 15 years.
Blackwater is categorised as a low sulphide epithermal gold-silver deposit. The property is situated in the Nechako Uplift, an elevated structural block hosting stratified rocks of the Jurassic age beside Eocene rocks.
Basalts of the Chilcotin Group overlie these rocks. The Jurassic related rocks are volcanic, volcaniclastic and sedimentary types. Gold mineralisation occurs in highly siliceous breccias derived from the late Cretaceous volcanic rocks that overlie these Jurassic rocks.
Mining and processing at the Canadian gold project
The mining and processing methods to be adopted at the mine will be finalised after evaluating the possible methods and trade-offs.
"New Gold completed a Preliminary Economic Assessment (PEA) of the project in September 2012."
Preliminary metallurgical testing carried out in 2010, however, proved to be positive for cyanidation which recovered 92% gold and 47% silver on an average. Gravity concentration tests on the other hand resulted in 51% gold recovery.
A 45° wall slope Lerchs Grossman test pit was also created to test open pit mining methods and classify the blocks.
New Gold anticipates the mining cost of the Blackwater project to be in the range of C$1.2 to C$1.6 a tonne. Processing costs are expected to be in the range of C$4 to C$6 per tonne milled. The general and administrative expenses will likely be in the range of C$0.8 to C$1. These estimates are based on the costs of other projects comparable to the Blackwater.
Transport, handling and environmental considerations at Blackwater gold mine
The mine is well connected by an access road from Vanderhoof. A railway line is also in place adjacent to Vanderhoof. In addition, Vanderhoof, Quesnel and Prince George, which are located less than 500km distance to the mine, have bases that can provide helicopter access to the project area.
The Nechako Plateau in which the Blackwater project is located is impacted by mountain-pine-beetle infestation which log roads, disturbing the removal of impacted trees.
There are limited inhabitants in the area. The entire drainage of the project area is confined to Davidson Creek / Nechako River. New Gold sees no adverse impact on the environment within the Blackwater Creek catchment.