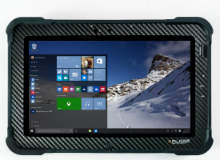 Despite being only 2.4lbs, the XSlate B10 provides clients with a well-rounded experience, with more of the core strength, power needed, security, workflow flexibility, and rugged mobility needed for use in adverse environments.
With sealed ports, new pen and touch capabilities and a companion keyboard, the Xplore B10 rugged tablet is ideal for workers who need a desktop data experience even when they're mobile in the field. The new G2 office dock and kickstand provide a productive stationary computing environment, and an integrated fingerprint reader enables instant authentication.
Top rated protection
Thrive in challenging environments with MIL-STD-810G, IP65, and sealed tablet ports.
All ports, all the time
There are eight total ports standard, including two USB 3.0 ports, Micro SDXC, Micro HDMI-out, RJ45, True Serial, USB 3.0, with optional HDMI-in port for an unrivaled bonus.
Reliable uptime
Up to 20 hours of operation with hot-swappable second battery option, ultra-fast 4G LTE broadband and 802.11ac Wi-Fi data access means reliable uptime.
Powerful Performance
Windows® 7/8.1/10, Intel® Broadwell generation Core-Series processors and 8GB Ram.