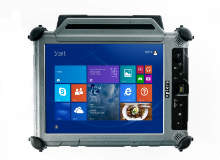 As one of the toughest rugged tablets on the market, the Xplore XC6 series stands out in terms of performance, features, durability, and resiliency.
We've put each XC6 ultra-rugged tablet model through rigorous challenges and tests according to MIL-STD-810G standards and beyond, to ensure it thrives in hazardous locations and factory environments alike. The XC6 tough mobile computing platform is offered in five different configurations to suit the individual requirements of clients' businesses, and every one of the models boasts the same ultra-rugged chassis, high-performance processing core, and durable mobile computing experience. No matter which XC6 model you choose, you'll reap the benefits of one of the most rugged tablets worldwide.
Drop-ready and resilient around water and dust exposure
MIL-STD-810G Certified and IP67 Rated with an industry-high 7ft drop rating.
Processing power to meet your needs
Choose from Intel® Celeron 2980U 1.60GHz, 4th Gen Intel Core™, Intel i5 Processor plus Turbo Boost to i7-4650U 1.7 GHz (3.3GHz Turbo Boost).
Optimised for rugged indoor and outdoor environments
Digitiser and multi-touch resistive display works with gloves and while soaking wet.
Integrated smartcard / CAC reader option
Multi-factor authentication protection against unauthorised data access.