Surface and underground mining operations can have a significant impact on the environment around them. Consequently, there are often multiple conditions, such as water quality, that must be monitored to ensure environmental compliance.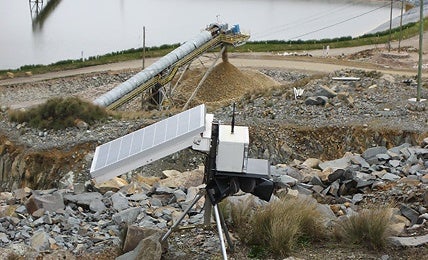 Mining operations have to be responsive to regulatory requirements. Campbell Scientific's water quality monitoring and control systems reduce risk and save money by automating data collection and reporting processes.
Designed for unattended, long-term monitoring, the systems are reliable regardless of salinity level, pollution level, or other harsh environmental conditions. Campbell Scientific systems measure all relevant parameters, including pH, conductivity, temperature, turbidity, dissolved oxygen, level, flow and discharge.
Real-time water quality measurement data is collected in a central location for easy viewing on-site or remotely. Specified time, event, or measured conditions can cause the system to automatically control various devices, such as pumps, mixers, valves and gates. Alarms can be automated to quickly and efficiently communicate the need to adapt operations to field conditions.
Campbell Scientific offers training courses that can be customised to meet your specific needs to help ensure your water quality system provides the site condition data you need today and into the future. Campbell Scientific equipment integrates seamlessly with Vista Data Vision software. Call us today to discuss your needs.
The CR1000 module measures sensors, drives direct communications and telecommunications, reduces data, controls external devices, and stores data and programs in on-board, non-volatile storage.
Campbell Scientific's stand-alone data acquisition systems are versatile, rugged and powerful; factors that make them ideal for geotechnical and mining applications. Their versatility begins with...