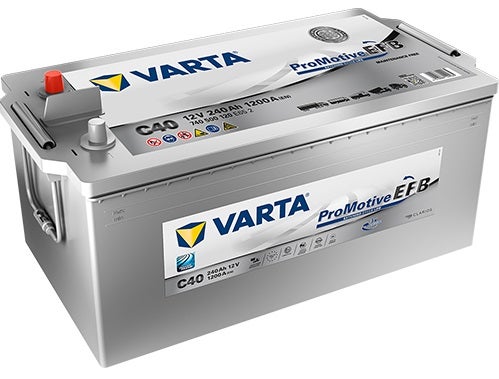 The VARTA Promotive EFB is an effective battery for high energy demanding commercial vehicles. Unmatched performance merges with the highest vibration resistance to provide absolute reliability and longer life. This makes the VARTA Promotive EFB the ideal electrical storage solution for the mining industry.
Since its launch in 2014, the VARTA Promotive EFB battery has brought the performance of wet batteries to a new level. VARTA Promotive EFB is the ideal battery solution for a range of heavy-duty mining vehicles, including:
Personal transport vehicles
Haulage vehicles
LHD Loaders
Mining scalers
Underground graders
Roadheader vehicles
Mobile rock breakers
Mining utility vehicles.
Promotive EFB Key Benefits
Most effective solution for high energy demands including hoteling with the highest vibration requirements to minimise the impact on the battery components that can cause electrical failure.
The innovative technology used to create the VARTA Promotive EFB can meet much higher requirements than conventional wet batteries and provide up to 40% longer life.
The patented mixing element in VARTA Promotive EFB eliminate the problem of acid stratification to prevent downtime and extend the life of the battery.
100% maintenance-free: there is no need to top up internal battery fluids or provide other battery maintenance, reducing vehicle downtime.
Laboratory tests and field trials have shown that the VARTA Promotive EFB can meet much higher requirements than conventional wet batteries, which significantly increases their service life in the vehicle.
Made in Germany.
Meets all criteria of the commercial vehicle manufacturers as original spare part.
Why VARTA® Promotive EFB Batteries?
Powered by Clarios, VARTA® Promotive EFB batteries are trusted by customers globally. VARTA® Promotive EFB batteries provide longer life, less acid stratification and reliable performance in all applications.
Premium Solutions and Superior Performance
With history going back more than 125 years, VARTA® is part of Clarios, a world leader in advanced energy storage solutions.
Innovative commercial battery solutions
VARTA® batteries are expertly engineered to emit up to 20% fewer emissions than standard commercial batteries. Thus, VARTA® commercial batteries are ideal for those seeking advanced fuel-saving innovations and reliable energy storage solutions within the mining sector.
Unrivalled technology
VARTA® batteries deliver a premium experience, with the use of precision technologies and exceptional production facilities reflected in every aspect of the final product.
Powering you into the future
We're constantly striving towards improvement, operating at the frontier of market innovation. Paving the future of energy storage technology, our team deliver highly specialised commercial battery solutions you can rely on now and in the years to come.