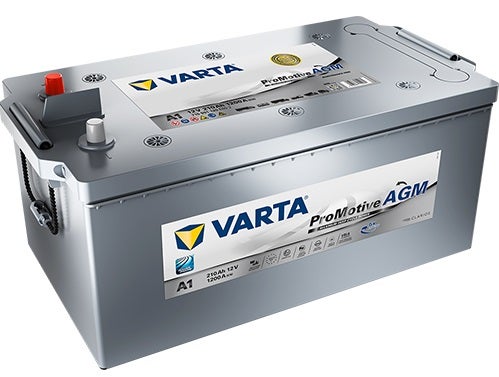 Promotive AGM efficient technology provides heavy commercial vehicles with a high degree of reliability to a range of heavy industries, including the mining industry.
VARTA ProMotive AGM batteries represent a significant breakthrough in commercial vehicle battery development. It is the only battery for unlocking the highest demanding applications and power-consuming functions that are typical when running mining vehicle, without the battery wearing out and causing downtime. It has been developed in collaboration with leading commercial vehicle manufacturers to support innovations that will be standard equipment for commercial vehicles in the future.
VARTA Promotive AGM is the ideal battery solution for a range of commercial vehicles, including:
Personal transport vehicles
Haulage vehicles
LHD Loaders
Mining scalers
Underground graders
Roadheader vehicles
Mobile rock breakers
Mining utility vehicles.
Promotive AGM Key Benefits
Made in Germany, more than 70 million Promotive AGM batteries have been supplied to vehicle manufacturers and workshops around the world
Patented PowerFrame® grid for reliable starting power, fast recharge and corrosion resistance. The PowerFrame grid design is optimised for maximum performance and ensures excellent starting characteristics even with low charge levels.
Exclusive to VARTA Promotive AGM batteries, a reinforced battery case has been developed to ensure uniform compression over the battery's lifetime.
Extensive experience in manufacturing processes and close contact with commercial vehicle manufacturers has guaranteed the success of VARTA Promotive AGM batteries.
Made in Germany.
Meets all criteria of the commercial vehicle manufacturers as original spare part.
Hoteling on Wheels
Modern mining vehicles are now equipped with a range of functions to increase driver comfort and make long stays in the cab more pleasant. However, these large number of electrical components also drain the battery. VARTA Promotive AGM is ideal for advanced hoteling functions:
6 times the cycle life compared to conventional batteries.
Highest vibration resistance.
Fulfils all of the requirements of governmental regulations on higher emission standards.
Suitable for end of frame installation (EURO 5/6).
For advanced hoteling function with parking cooler.
Premium Solutions and Superior Performance
With history going back more than 125 years, VARTA® is part of Clarios, a world leader in advanced energy storage solutions.
Innovative commercial battery solutions
VARTA® batteries are expertly engineered to emit up to 20% fewer emissions than standard commercial batteries. Thus, VARTA® commercial batteries are ideal for those seeking advanced fuel-saving innovations and reliable energy storage solutions within the mining sector.
Unrivalled technology
VARTA® batteries deliver a premium experience, with the use of precision technologies and exceptional production facilities reflected in every aspect of the final product.
Powering you into the future
We're constantly striving towards improvement, operating at the frontier of market innovation. Paving the future of energy storage technology, our team deliver highly specialised commercial battery solutions you can rely on now and in the years to come.