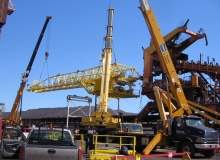 EMS-TECH Inc offers efficient, cost-effective repair and rebuild services.
It may be economical or environmentally beneficial to repair, overhaul or rebuild equipment to improve and maximise performance. If maintenance and repair is required, EMS-TECH can refurbish your old equipment, giving it a new lease on life and an effective means of adding profit to your bottom line.
Older equipment that appears to be near the end of its life can be rejuvenated two or three times, boosting its economic contribution.