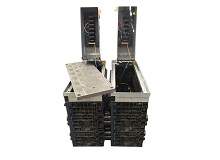 Urban residential planning and development in the 21st century has focused on the efficient use of infrastructure and community facilities resulting in higher population densities with small-footprint green street housing The challenge of providing energy services into a concentrated public access areas has caused problems using traditional methods. Shared driveways and narrow frontages with above ground electrical services do not compliment architectural and environmental requirements.
Weber South Pacific has developed a range of electrical protected supply points as in-ground installations. While very unobtrusive, it is operationally accessible and safe for the public domain with the added benefit of being functional under stormwater run-off and even complete flood events.
Product summary
The basis of an underground distribution pillar (UDP) is a cable pit that is made from the large range of modules at our disposal. To date, units delivered are replacements for the traditional above ground pillars in networks that require switching or protection at the pillar.
The main principle of the UDP is that of a diver's bell. The switchgear is mounted in a watertight bell and a cover is provided to prevent the ingress of vermin as added protection. Water entering the pit cannot penetrate the watertight bell and allows the switchgear to operate in a dry environment. When the trafficable lid is removed any water present in the pit can be observed and pumped out prior to raising the bell. This ensures no compromise to the dry bell interior. The bell can be hinged to provide an appropriate working height for the operator.
The pits are made using recycled glass reinforced polycarbonate. The product design ensures that a correctly installed pit will be stable in surrounding earth over its serviceable life and are suitable for installation in trafficable areas up to 40t (class E to AS3996).