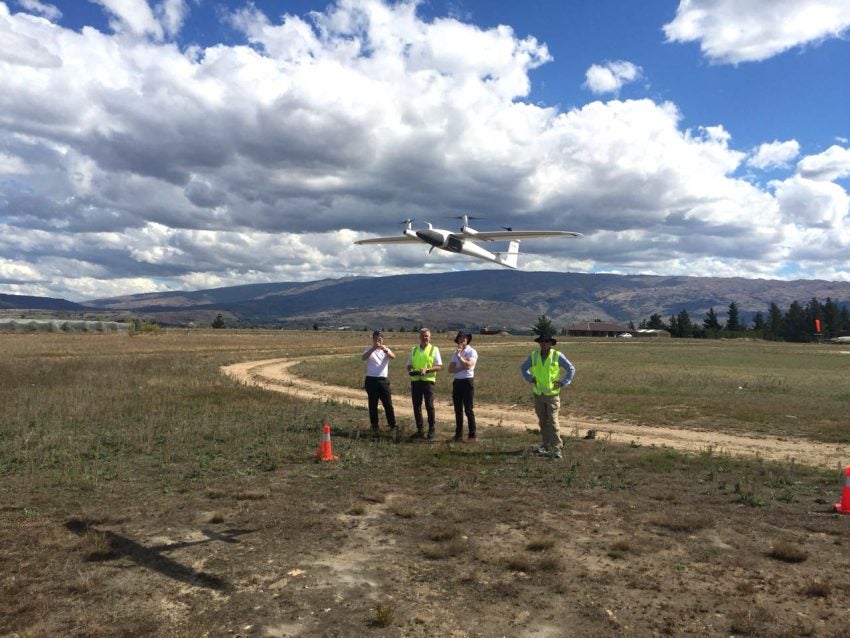 The Trinity F9 with a maximum take-off weight of 4.5kg (9.9lb) combines high efficiency, flexible mission capabilities, is portable and has a small footprint. The result is the world's most compact electric VTOL fixed-wing drone available today.
The Elapor® hull provides the ideal compromise of lightness and durability. Combined with a carbon fiber skeleton, this results in a handy UAV that is ready to launch in just a few seconds. The three-rotor configuration enables it to achieve perfect VTOL capabilities and a highly-efficient long range flight. The perfect weight and balance of the Trinity keeps the rear rotor in the ideal thrust-to-size ratio in both VTOL and forward flight modes.
Command and Control range of 5km or less
Thanks to 2.4GHz telemetry, the Trinity F9 is also equipped for missions beyond visual line of sight (BVLOS). The command and control range is guaranteed for at least 5km.
The long range of the Trinity F9 makes it ideal for large area applications. Thanks to the included ADS-B transponder, the pilot has an overview of mission-relevant airspace and other aircraft in every situation. In addition, this feature is often a requirement due to national legal framework.
The abbreviation 'F9' stands for the integration of an advanced PPK GPS receiver, which in combination with the included iBase base station guarantees an absolute accuracy of 2-5 cm. Especially for stock pile volume calculations in large areas the Trinity F9 shows the advantages of long flight time and flexible payload configuration with highest accuracy.
Durable and flexible eVTOL UAV
Preconfigured camera options for RGB or multispectral mission requirements are available to the customer. In addition, individual systems can be integrated into the 550g (1.2lb) payload bay.
The Trinity F9 is the perfect VTOL platform for agriculture, forestry, mining and 3D reconstruction applications. The safety for the pilot (difficult launch site) as well as the sensor technology is always given.