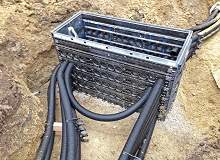 Weber South Pacific's trafficable cable pits are suitable for a wide range of applications from the smallest cable access point to large HV pits and culverts under padmounted transformers. Sizes range from 250mm x 250mm to 4,400mm x 2,200mm with depths varying up to 3,000mm.
Pits are manufactured using 100% recycled modified polycarbonate. They can be delivered to site complete or in pieces for ease of handling. Where site access for heavy lifting equipment is difficult on site assembly can carried out by two people. Lid options using composites rather than cast iron assists this process.
The modular system includes a wide range of sizes for trafficable applications similar to class E to AS3996. While this standard sets the criteria for pit lids only, Weber's partner Langmatz has had the pit range tested to ensure it is fit for purpose without further bracing or reinforcement.
The German civil engineering organisation DiBT has independently confirmed the suitability of these products for trafficable applications.
Locking
A wide range of lid locking options is available. These range from the standard D bolt to customer specific designs for additional security.
The wide range of applications serviced by the product range are:
Culverts for padmounted transformers and HV switching stations up to a load weight of 40t
Cable access points with draw in pulley facilities
Housing in-ground / underground low-voltage switchgear
Cable pits to fit over existing conduits
Mounting point for street cabinets (traffic lights, low voltage distribution pillars etc) to provide good cable access
Telecommunications pits for optical fibre equipment
Housing electrical and telecommunications equipment inground in a dry environment
Housing power distribution in-ground / underground for temporary market sites
HV cable pits
Trafficable pits for housing water meters