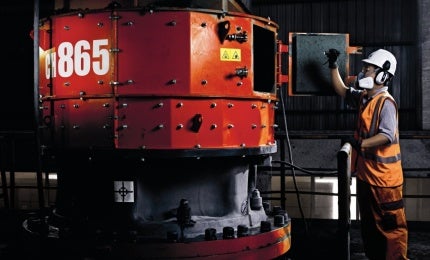 Sandvik has developed two new mid-range mining crushers, the Sandvik CH860 and Sandvik CH865.
Sandvik CH860 – a high-capacity secondary crusher
Sandvik CH865 – a high-reduction tertiary and pebble crusher
The advanced crushers are equipped with powerful functions to outperform, driving productivity and boosting profits.
Sandvik's new line offers more than double the performance of crushers in the class, and performs up to 30% better in certain applications.
Each Sandvik CH860 and Sandvik CH865 crusher is supplied to customers as a complete package designed to meet the exact requirements of your mine, to guarantee maximum performance and savings on sub-optimal equipment.
The mid-range crushers have a 500kW motor to delivers higher power and crushing force at maximum throw. The aggressive crushing action processes more ore for the same product size, affording greater throughput.
The increased crushing force facilitates higher size reduction, resulting in a finer product size and less circulating load in closed circuits. This is ideal for tertiary / pebble applications.
Key features of the Sandvik mid-range crushers include:
Increased productivity and more flexible application options
Automated crush control system with overload protection
Top servicing and plastic-free liner fastening
Tough and rugged main shaft
Sandvik Mining and Rock Solutions, together with Newtrax Technologies, is introducing the next generation of...