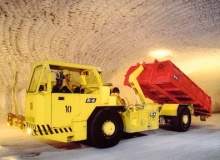 The Taurus hauler with roll-on / roll-off system is designed for multi-tasking.
The vehicle's platforms are made to match the customer's specifications to ensure that they meet the daily operational requirements. After the vehicle been has parked, the base unit can be connected to the mine's electrical mains for an autonomous power supply.
The platforms are multi-purpose: without using a crane, they can be mounted on one base vehicle and tilted or unloaded. This allows for a variety of different applications to use only one diesel-powered vehicle.
The Taurus all-rounder has a wide range of applications, including:
Heavy-duty mine design
All-wheel drive and steering
ROPS / FOPS cabin
Load capacity up to 15t
Climbing ability up to 40%
Simple and easy operation
Disassembled according to shaft dimensions