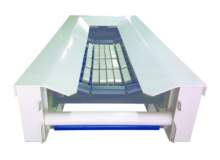 Tail Sections located at the in-by of the belt drive are an essential piece to any conveyor system. West River's custom-built tail sections are available in a variety of heights and belt widths from 36in to 96in and are manufactured to withstand the harshest mining conditions.
West River can design many different types of tail sections for various conveyor requirements, including conveyor length and horsepower. Using both spiral and winged-type tail pulleys, MSHA-approved impact beds and West River's special-designed glide beds, West River can build tail sections to customer specifications.
West River's proven heavy-duty structural design and quick turnaround time have made its tail sections a desirable option.