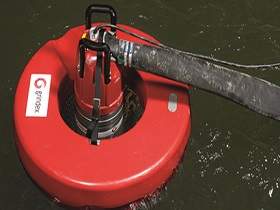 For some applications, even the best pump needs complementary equipment. Grindex's unique accessories are designed and manufactured specifically to fit our pumps, enhancing their efficiency and flexibility even more.
Enhance the usability and flexibility of our pumps with the help of our hydraulic accessories. They make it possible to perform jobs at more applications and provides wear protection for extra tough conditions.
The Grindex pump raft keeps the pump at surface level, eliminating problems of deep submerged operation; problems with long cables and hoses, and the complications of lifting a pump from great depths are avoided. Furthermore, unnecessary wear from pumping sand and mud are minimized. The rafts are made of oil-resistant polyethylene filled with expanding polystyrene, and the complete range of Grindex pumps are covered through four different raft models.
Take advantage of our complementary products ,  from hoses and flanges to bends and quick coupling,  for connecting our pumps and other gear.
– Start equipment, regulators, and cables
– Our electronic devices and durable, leak-free cables enable smarter, smoother, safer operation and supervision of the pumps and their performance.