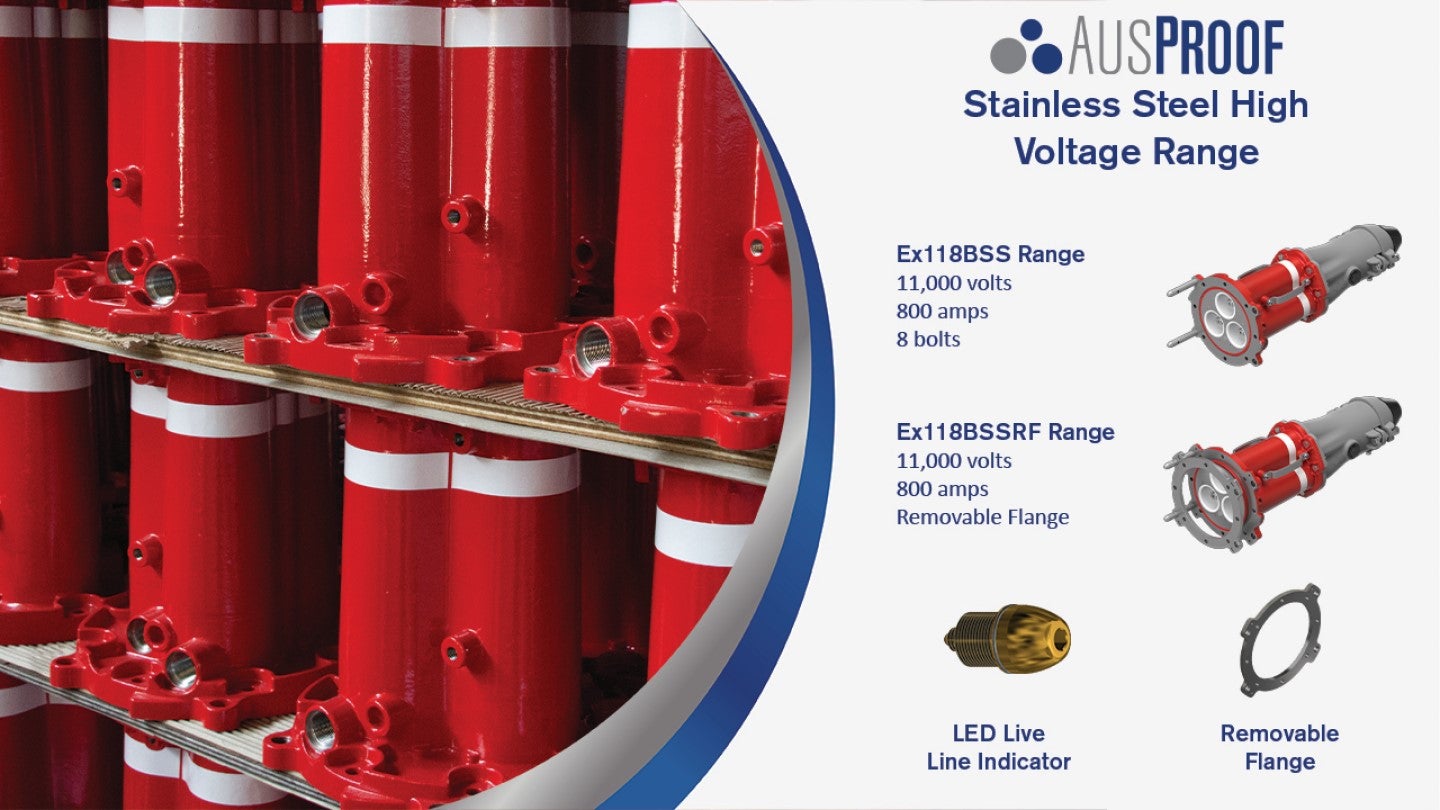 AusProof's Stainless Steel High Voltage Range, also known as 'flameproof couplers', have been in production for nearly 30 years, are Ex-certified, and are suitable for use in underground mining, underground operational sites, and Group 1 hazardous locations. Available High Voltage Stainless Steel products include:
the Ex118BSS, rated to 800 amps with a current carrying capacity of 11,000 volts; and
the Ex118BSSRF, rated to 800 amps with a current carrying capacity of 11,000 volts and featuring the Removable Flange.
Working tirelessly for nearly 30 years, AusProof always strives to provide the industry with safe, reliable and modern equipment to give customers peace of mind, particularly when working around high voltages. Their on-site Research and Development team continuously looks for opportunities to enhance AusProof products and design new ones, with the couplers of this range a great example of this drive to redesign and reinvent. The Ex118BSS and Ex118BSSRF are the only products currently on the market in the flameproof range that can have their glands tensioned at any time without the need for cable termination or component removal.
The Removable Flange feature of the Ex118BSSRF is what makes it unique, the hard work and dedication of AusProof's Research and Development powerhouse seeing this product released in 2015. Offering the industry an alternative coupler that takes the guesswork out of flameproof path maintenance, this feature reduces off-site maintenance costs and site downtime with its simple replacement method. With the short, quick removal of four countersunk screws, no specialised skills are necessary as there is no cable termination in this process, and repairs can be conducted without risking damage to any vital components.
AusProof's revamped and revolutionary LED Live Line Indicator is available as an add-on for increased site awareness and safety. This product remains battery-free to prevent false positives in a way that does not interfere with coupler operation in any way, and allows for quick and easy identification of a coupler and cable that is live and active.
Each component in the stainless steel range has been thoroughly researched and developed by AusProof to ensure that each individual part works together seamlessly to create a reliable and high quality integrated system. Designed and manufactured to be compliant to AS/NZS1300:2009, AS/NZS 60079.0.2008 and AS/NZS 60079.1.2008 certification, additional features of AusProof's high voltage stainless steel couplers include:
IP66 rating
Pilot protection
Higher resistance to damage on flameproof paths
Silicon seal for face
Full phase to earth segregation
To get in touch with your local state sales representative for more information and pricing details, AusProof's contact details can be found on their profile. Further information on these products, as well as access to downloadable technical manuals, flameproof certifications and product dimensions for the Ex118BSS and Ex118BSSRF product ranges, can be accessed on the AusProof website.