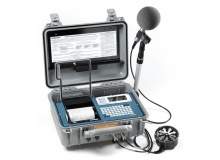 Instrument set-up and management is made simple with the full QWERTY keyboard and removable CompactFlash memory capable of storing more than 10,000 events
GeoSonics / Vibra-Tech is a leader in manufacturing quality, user-friendly seismographs for the quarry and construction industries.
All of the company's seismographs are complete vibration and sound monitoring systems with LCD displays and heavy-duty twistlock metal cable connections. The instrument cases are manufactured with the toughest structural resin available, offering customers the most water-resistant seismographs on the market. Basic compliance reporting software is included with each unit at no additional cost. All units are manufactured in the US.
GeoSonics / Vibra-Tech's standard SSU series seismographs feature:
An ISEE compliant external geophone with a 0.0025 in./sec. resolution
2Hz to 250Hz linear microphone
Internal memory
Easy-to-read four-line by 20-character LCD
Heavy-duty stick and twist metal connectors
Long-life rechargeable lead-acid battery
Two independent threshold alarms
Imperial / metric support
Flexible user interface for on-site programming
Free analysis software
One-year warranty
Key features of the SSU 5500:
Removable 128MB CompactFlash memory card capable of storing 10,000 full waveform events
Data from the card can be transferred using any compact PC card slot (internal or USB)
Large built-in thermal printer
Standard QWERTY keypad