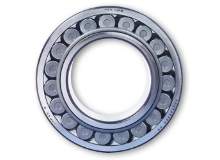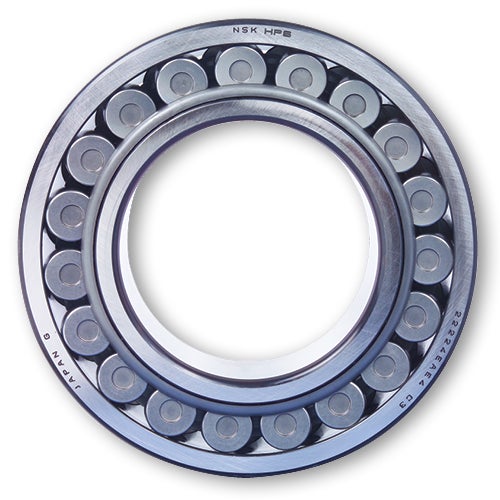 NSK's Long-Life Spherical Roller Bearings for vibrating equipment are engineered specifically to contend with high-speeds, shock loading, misalignment, marginal lubrication and frequent vibration of equipment used in mining, aggregate, cement and construction industries.
High-performance NSKHPS™ material engineering and optimised internal bearing design along with tightly controlled internal clearance and dimensional tolerances deliver increased load ratings and extended operating life under the most severe conditions common to these applications.
Design features:
Manufactured from high-strength, ultra-clean steel for greater fatigue strength
Heavy-duty precision machined one-piece brass cage
Contoured roller pockets for controlling roller skew and optimizing lubrication flow
Improved raceway surface finish and geometry promotes reduced operating temperature and improved lubrication
Self-aligning ability with floating guide ring
Internal radial clearance set at upper 2/3 of ISO standard bearings for optimal operating clearance and reduced heat generation
Available with the option NSK Tough Steel for reduced wear and improved seizure resistance in severely contaminated environments
Availability from 40mm to 200mm bore diameter
Operating benefits:
As much as twice the service life of conventional bearings
Reduced maintenance costs
High dynamic load ratings: increased by 1.25 times
Highly resistant to heavy or shock loads
High-speed performance and low operating temperature rise
Better roller guidance and smooth running: reduced bearing damage from slippage, surface fatigue, flaking
Greater operational reliability with increased productivity and reduced maintenance costs
Importance of fits
Proper fits are imperative for optimizing the operating life of spherical roller bearings in vibrating equipment. By ensuring appropriate interference between mating surfaces, inner ring to shaft, outer ring to housing, the risk of circumferential displacement during operation is minimised and so to the possibility of premature bearing failure due to slippage of the bearing rings (creep).
In order to ensure reliable bearing mounting, it is recommended to inspect fits prior to installation: measure and record shaft and housing dimensions and review the values with the recommendations For additional verification or consultation, contact NSK.
Performance and economy with tough steel
Utilizing advanced material engineering and heat treatment technology, NSK's High TF Tough Steel (HTF) design of VE series spherical roller bearings provide improved resistance to wear and seizure in contaminated lubrication conditions.
Compared to bearings made with conventional carburized steel, HTF bearings offer:
Over seven times the service life with contaminated lubrication, and 1.5 times the life where the lubricant is clean
Less than one-half the rate of wear and a 20% improvement in seizure resistance
Tough Steel technology can be applied to a wide range of bearing types including spherical, cylindrical and tapered roller bearings, as well as deep groove and angular contact ball bearings as used in mining and aggregate applications subject to similarly severe service conditions.
For availability and other information on High TF Tough Steel (HTF) shaker screen bearings, please contact NSK directly.