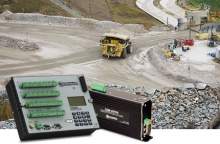 Keep people safe and mining operations open with Campbell Scientific's slope stability systems. Slope stability data can be acquired from known problem areas or a network of measurement and control systems strategically positioned around a mine. Campbell Scientific's field-rugged equipment makes reliable measurements in harsh or unsafe conditions not suitable for personnel.
Real-time slope stability measurement data can be collected in a central location for easy viewing and, more importantly, for informed decision-making. Alarms can be integrated as part of a warning system to quickly and efficiently communicate the need to move equipment or evacuate an area.
Campbell Scientific offers training courses that can be customised to meet your specific needs to help ensure your slope stability system provides the site condition data you need today and into the future. Campbell Scientific equipment integrates seamlessly with Vista Data Vision software. Call us today to discuss your needs.