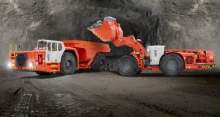 Stronger and safer trucks for the future of mining
Move tons faster, safer and at a lower cost with the new Sandvik TH551 and TH663 underground trucks.
The Sandvik new generation of underground trucks is designed to deliver power, performance and productivity.
Environment, health and safety
The Sandvik TH551 and TH663 boast more than 60 safety features to protect operators, maintenance staff and the trucks themselves. It has a first-class operator cabin that is 35% larger than previous models, has a fully-adjustable seat and a front frame suspension.
Daily maintenance can be conducted from the ground level and there are safety rails and clearly marked step ways to reduce accidents when a person needs to climb on to the machine.
The TH551 can also be equipped with a low-emission Tier 4i engine, to improve underground working conditions and reduce ventilation requirements.
Productivity
Sandvik trucks have been designed for high, long-term productivity, massive hauling capacities, increased driving speed and up-time.
Sandvik offers matching LHDs for three-pass truck loading and upgraded capacity and driving speeds.
An on-board vehicle control and management (VCM) system, electrical wiring harnesses and an on-board tire management system can identify problems before they occur. The on-board jacking system enables faster and safer flat tire changes.
The time required for major component change has been significantly reduced.
Safety always comes first
Ergonomic and noise-suppressed ROPS- and FOPS-certified safety cabins are custom designed to provide enhanced operator safety. Each cabin includes a fully-adjustable operator's seat with retractable four-point safety belt and a trainer seat with retractable three-point safety belt.
Media
See more of the new Sandvik TH551 and TH663 underground trucks via the company's media links:
Visit the campaign site
Watch the film